Introducing our digital professional, Keith Russell - Director at Striata, Asia Pacific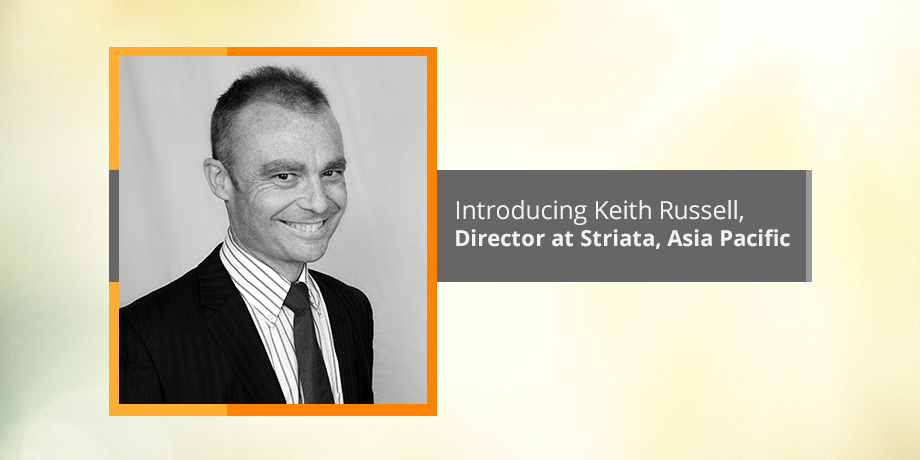 In this post in our blog series where we shine the spotlight on our executive staff members, we introduce you to another passionate digital professional, Keith Russell, Director at Striata, Asia Pacific.
Keith says what he appreciates most about Striata, is working with a smart, dedicated team whom you can rely on. From physics to mobile phones, to Striata – Read on to learn more about Keith's journey and why he thinks Striata is a great place to work…
What's your backstory (how did you come to be working for Striata)?
Though I studied Physics at university, since graduating, I've always worked in IT. Starting with British Gas as a Business Analyst and then moving to a mobile phone billing company (when mobile phones were still the size of briefcases!), maybe it was inevitable that I'd end up at Striata, were a lot of our business is in eBilling for telcos and utilities. The big step that put me in the position to help Striata was my move to Hong Kong (HK) in 1995, where I picked up the experience of servicing, managing and selling to Asian clients. It was this role that eventually led me to Striata.
How has the business changed since you joined?
Since joining, the company has grown significantly, with the expansion of the international teams and the move into different, but related solutions. Whilst the core eBilling, eStatement, and eMarketing solutions continue to be developed and enhanced, innovative solutions like the Secure Document Repository add new strings to Striata's bow, and add real value to our proposition. In addition to this, our sales pitch has changed subtly – no longer is it only cost savings over paper bills/statements, but now incorporates more security and customer digital experience elements.
What has remained constant in the business since you joined?
A (relative) constant over my 9 years with Striata is the staff. While we've lost some, often to see them return as 'boomerangs', a very large proportion have been with the company for longer than me and this provides a degree of stability that is unusual in any company, large or small. Also the corporate culture remains the same – the approachability of the management team, the "let's get it done" attitude at all levels and the propensity for all staff to chill out over a few beers in the office – one Friday of each month – all makes Striata a great place to work.
What do you appreciate most about working at Striata?
Working with a smart, dedicated team whom you can rely on is probably the best aspect of working at Striata.
What's your personal split between bills by mail and electronic bills?
Probably 80/20 for electronic bills. It would be more, but I can't bring myself to register for eBills/eStatements from companies that are in my sales pipeline. It would make them believe that their existing solution is good enough!
Is there any type of correspondence that is ONLY available to you through the mail?
Certain HK government bills are only available in paper form and some shares/security statements are also only available via post.
How many bills per month do you pay through an electronic payment (ePayment) method?
All! The majority (i.e. when it's available) are through autopay and the others are paid via the PPS service in HK.