Layout Editor
Create awesome email templates quickly and easily
Email marketing is a fast paced, dynamic discipline, often practiced with limited resources, time and budget. Email marketers need the ability to execute against fast turnaround times, while maintaining control over the company's corporate / digital identity and the campaign process.
If email marketers are not in control of campaign lead times, it's hard to be responsive to internal requirements and market changes. It's even harder to be nimble and quick to market with relevant customer messages.
Striata's Layout Editor solution
---
A theme-based, editing tool that gives email marketers in-house control over creating email campaign templates.
Layout Editor is a theme-based, innovative template editing tool, built to create email templates in the least number of clicks.
Let us develop a theme with a variety of brand approved layouts and pre-load it onto our platform. You simply choose a layout, input your copy and upload. Layouts can even be populated by non-technical staff.
Layout Editor is great for Digital Agencies and in-house digital marketing teams who want to control the template creation and email distribution process
When you implement our Layout Editor solution, you can expect:
---
Consistency
A single point of control for your digital/corporate identity across email marketing campaigns
Control
Control who can access, upload/edit template resources
Efficiency
Pre-defined and approved layouts to speed up campaign setup times
Best practice
Email templates that adhere to email best practice and are designed for mobile friendly reading
Complementary resources:
---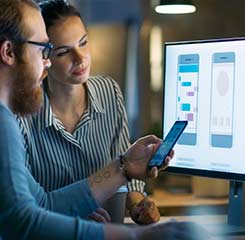 Striata Layout Editor Summary Overview
Create awesome email templates quickly and easily with Striata's innovative Layout Editor solution - a theme based template editing tool
Get in touch with us
Keen to find out more or get an expert's opinion?