Electronic Bill Payment and Presentment (EBPP)
Electronic Bill Presentment and Payment
Streamline your electronic billing and payment process. Enable payment from within the bill.
Traditionally, electronic billing solutions provide a static print version of a customer's bill by email or online with no immediate ability to make a payment. This approach no longer meets the needs of the digital consumer.
Your business cannot afford to ignore the opportunity to use regular communications, such as a bill, to present information in an engaging format, while providing your customer with a simple way to pay the amount due.
Striata's Electronic Bill Presentment and Payment (EBPP) solution
---
A convenient ebilling process which enables customers to pay the amount due, directly from a bill.
Designed to streamline the electronic billing and payment process, our EBPP solution enables the distribution of high volumes of bills and statements.
Your customers can make a payment from within the bill, set up recurring payments or save their details for easy future payments.
The solution provides an enhanced customer experience on all desktop and mobile devices. It adheres to anti-phishing standards and uses techniques that make it difficult to mimic or exploit.
Make bill payment a quick and convenient process, but not at the expense of exposing a person's personal and banking information.
Experience it for yourself! Check out our financial services demo, which you can view on any digital device – we will push an interactive demo directly to your inbox!
When you implement our EBPP solution, you can expect:
---
Cost reduction
Significant reduction in billing costs through paper turn-off
Improved collections
Faster payments which reduces days sales outstanding (DSO)
Satisfied customers
Repeat customers can make immediate electronic payments directly from their eBill
Security
A high level of focus on the protection of information during processing
Complementary resources
---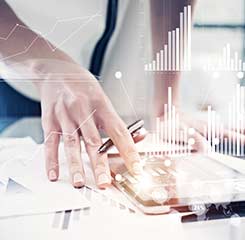 Striata City of Tallahassee Case Study
Florida municipal utility, the City of Tallahassee (COT) "Your Own Utilities", exceeded its 3-year paper bill suppression target of 12% in just 10 months with Striata's Email Bill Presentment and Payment solution (EBPP) - which they aptly named 'SmartBill'. By going paperless, COT has not only saved time and money, but also invested in the community through the reduction of associated waste and conserving energy and water.
Improve the customer experience with secure document delivery today