Multichannel communication
Multichannel communication
Create consistent customer experiences across multiple digital channels
Enhance the performance of each interaction with your customer
---
By using the most appropriate digital communication channel
Email is ideal for communicating lots of information in an attractive design with a proactive call-to-action
Mobile apps and web access work well for customer driven requests, enabling a customer to retrieve communication at their leisure from any device
A text message works for short, time critical notifications
To achieve successful multichannel communications that augment your brand and support your goals, you need to provide a consistent customer experience across all digital communication channels, namely email; mobile apps; text messages and telephone communications.
Get better results using multichannel digital communication
Match your message to the appropriate digital channel: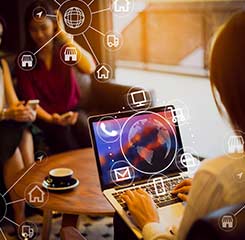 Striata Multichannel Customer Communication White Paper
Print Providers looking to reach their digital goals and achieve true multichannel communications should leverage the power of email and mobile messaging... This white paper explains why a specialist partner is needed for deep domain expertise and technical know-how
Get in touch with us
Keen to find out more or get an expert's opinion?