Secure Document Presentation (SDP)
Secure Document Presentation
Enable customers to interact with their personal information online, without sacrificing data security.
Documents generated by a business for its customers often contain personal information that must be protected. When a document includes identity, medical or banking information, the business must ensure that only the intended recipient can view the contents.
In the absence of a secure, online document presentation solution, your business is open to the financial and reputational risk that exists when publishing customer documents online without adequate protection.
Striata's Secure Document Presentation (SDP) solution
---
A highly secure method of providing online access to information contained in confidential documents.
Designed to interface with your existing customer portal and mobile apps, the SDP enables an enhanced customer experience through interactivity, without exposing security vulnerabilities which could put personal documents at risk.
Your customers have the ability to view their documents as either an interactive web or PDF experience, without sacrificing security.
The solution supports the presentation of any type of electronic document format including PDF, HTML, image files, spreadsheets through multiple access points.
We can help you present documents online in a format that is engaging and useful, without compromising the security of the document contents.
When you implement our SDP solution, you can expect:
---
Fast implementation
Quick implementation by integrating our back-end with existing customer interfaces
Compliance
Many layers of security that comply with the strictest of data privacy requirements
Satisfied customers
Improved service levels by enabling customers to service themselves
Security
A high level of focus on the protection of information during processing
Complementary resources
---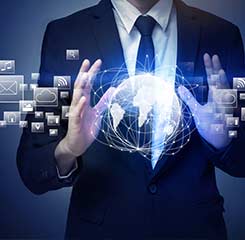 Striata Secure Document Presentation Overview
Secure Document Presentation (SDP) enables the presentation of a document as an interactive, dynamic, web or mobile app experience. The document contents are secured, available online, and viewed via a browser or mobile application.
Improve the customer experience with secure document delivery today