Use email to deliver a great customer experience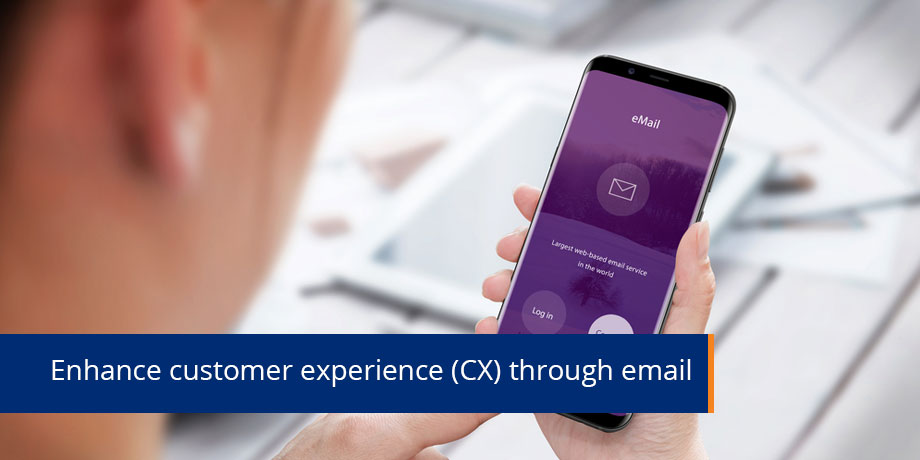 Customer expectations of their experience when dealing with a company are greater than ever before. While consumers are still cognisant of factors such as price and product offering, its what they experience when interacting with a company that is increasingly the key factor to retaining their business.
Today's consumers are looking for personalized services and customized products. They want information immediately through the channel and device they choose. They want the ability to self-serve and when they need to engage with their service providers to manage and improve their experience through value added services… they want that too.
Communication is a key factor in managing customer experience
As marketers, we strive to develop loyal customers; we dream about creating brand ambassadors that will spread news of our good works far and wide. We want to deliver the ultimate customer experience and a great way to achieve this is through consistent, relevant and meaningful email communications.
Every touch point and interaction a customer has with a business, impacts their overall experience and will be key in their decision whether or not to become repeat purchasers.
The value of personalization
Personalized customer communications is key to achieving a good customer experience. Email enables you to deliver a consistent, appropriate experience to each customer, based on segmenting and profiling your customer base. By using the customer data you have on hand – buying behaviour, buying history, frequency of purchases, likes and dislikes and the propensity to purchase – you are in a much stronger position to engage your customer more effectively.
Use email to engage with customers regularly on their journey with your business
The number one priority is to communicate regularly with your customers, while providing them with the information they need, when they need it and via the channel of their choice. Expecting them to call or visit a website is no longer a good enough customer experience.
To do this, an essential step is to map the many customer journeys. This will help you understand the most typical interactions with your business. Then plan to provide valuable and relevant information, as the customer moves through their lifecycle journey with your business.
There are many email communications that can enhance customer experience and drive loyalty during your customers' journey with your business:
It's important to keep customers engaged with your brand, even if they are not actively purchasing. The days of 'spray and pray' are over, as are the days of sending an email just because your schedule says so. A communication that is irrelevant and out of context will do more harm than good.
Make sure your email is designed to keep customers coming back
There's no excuse for sending an email that frustrates the recipient because it is badly designed. Always pay attention to the golden rules of email marketing:
Design the email so that it is compatible with all devices and email clients and can be consumed by your customers with no effort
Use clear, straight forward subject lines which tell your customers at a glance what the email is about and why they should open it
Personalize your email with content relevant to that segment/persona
Use awesome photos and illustrations to create an emotional connection – break up the text and clearly show what the offer is about
Offer a pleasant surprise in the email, like a coupon or reward
The market place is becoming increasingly more competitive and fast paced. Customer habits, buying behavior, attitudes and adoption of technology are constantly changing and this is presenting more challenges to marketers.
A successful marketer is one that will understand these dynamic changes, understands their customer and strives to deliver the right level of customer experience through the relevant channel.
Did you enjoy the read? Then be sure to subscribe to our blog to receive more great posts from our expert bloggers.