Designing a CX architecture for a consistent CX across all customer communication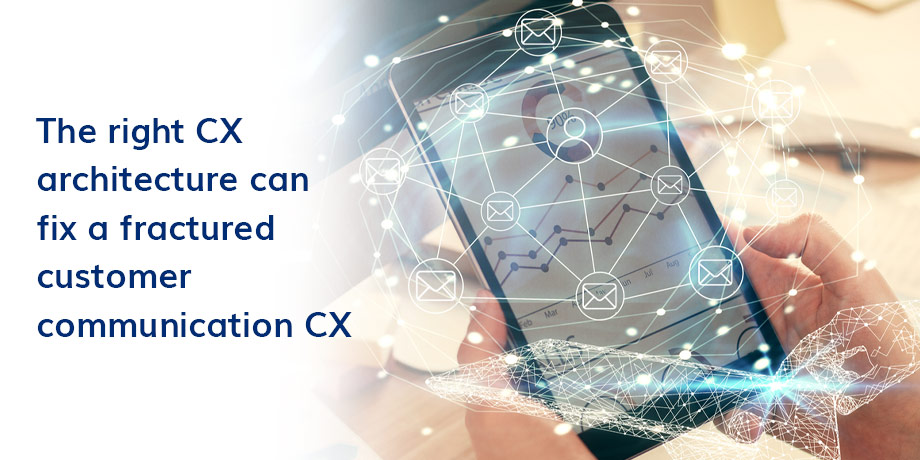 In my conversations with clients about building the ideal CX architecture, a number of goals have emerged as common and key to achieving success. The most common being an improved and consistent CX across all customer communication. 
While this may seem obvious, there are many ways in which communication can become fractured, so resolving this is not necessarily a quick fix. 
Most organizations have to deal with legacy systems, business silos and ownership of channels, all of which challenge their ability to create a consistent CX across communications. 
Data resides in different systems and messages are sent via different platforms. It's not a simple process to integrate disparate systems and platforms to create a single view of all the customer communication an organization distributes.
Add to that, the distributed responsibility for communication across customer journeys (acquisition vs servicing) and message types (marketing vs operational), and the result is customer communications that look nothing alike. 
From the customer's perspective, all communication they receive from one organization, regardless of the intention, channel, type or journey, should be consistent.
How can the right CX architecture fix a fractured Customer Experience?
Building a relationship with customers cannot be done in silence. Nor can it be done if the organization has no insight into the communications the customer has seen and whether they engaged with the information or not.
One of the most important outcomes that I always bring into the conversation is the ability to achieve a single view of customer communication. This allows the CX team to know what communication each customer is receiving, and to make note of the frequency, tone and branding. Once the team has a clear picture of the current communication status, it can begin to define a plan to align all the elements. 
Without this single view, it's likely that customers will continue to experience inconsistency across communications. 
This is what we refer to as a fractured CX. 
Learn how to align all your customer communications to extend your brand & ensure a great customer experience. With real world insights from one of our global customers.
Designing the technology stack for a single view of customer communication
There are many ways to approach the design of  the ideal CX architecture. Some organizations prefer to buy a solution, rather than build one in-house. One may opt for a single enterprise-level solution, while another adopts a best of breed approach. Each organization must consider what is best for their particular needs.
Investigating, purchasing and managing one enterprise platform sounds attractively simple. Especially when compared with how complex and time-consuming it can be to manage multiple vendors that each play different roles in a CX architecture. On the flip side, however, is the lack of flexibility. The more rigid the product is, the less opportunity there is to mould the right technology stack if the strategy or requirements change.
The alternative model is to find vendors that specialize in each of the required functions and to integrate these separate platforms and products to create a hybrid CX architecture. Having multiple vendors allows for best of breed solutions for each of the core CX functions.
Vendor management will require more effort though, but each specialist product provides the highest level of functionality and performance for that function.
While there is no definitive path to building the ideal architecture, it is vital that your CX technology stack supports a single view of customer communication.
Having a single view of customer communication enables you to:
Align the brand voice and tone of content
Control adherence to the digital identity to align the look and feel
Manage the frequency of messages that go to a customer
Balance and align communications across customer journeys
Provide a seamless, consistent experience across all communication
Understand how your customer is engaging with digital communication (and their individual calls to action) across the customer journey
Augment existing customer profile data to assist in building more accurate propensity models (ultimately aiding cross-sell and up-sell relevancy)
Security is as important as flexibility in the ideal CX architecture
In addition to designing a CX architecture that can flex as requirements evolve, security must be a key consideration. The privacy of customer data is of paramount importance. Customers entrust their personal information to organizations, with the expectation that it will remain private and secure.
Consumer trust is a major challenge in today's digital age, where cyber-crime escalates in volume and sophistication every year. This, coupled with the introduction of data privacy legislation such as the EU General Data Protection Regulations (GDPR) and California Consumer Privacy Act (CCPA), has made data privacy and security a key component of architecture design.
A consistent CX is proven to promote customer engagement and loyalty, both key factors in determining whether an organization succeeds, or not.
Does your CX technology stack support a single view of customer communication?