5 Steps towards an improved CX in financial services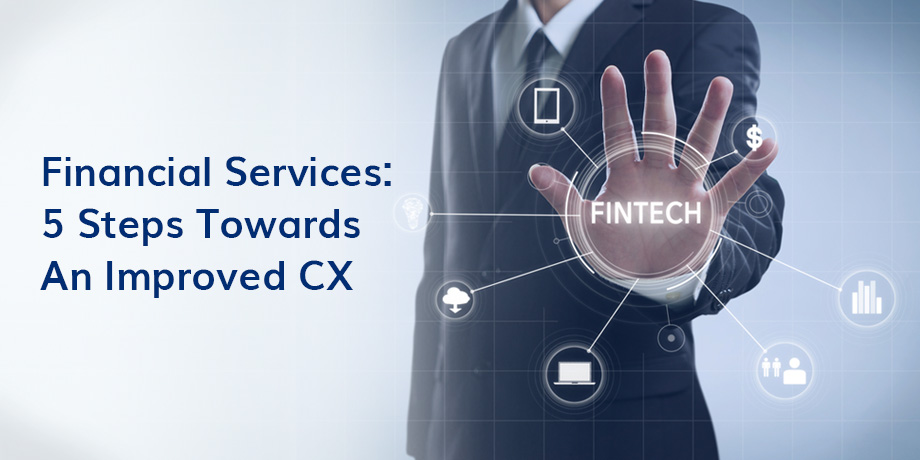 Customer expectations of how companies should engage with them have fundamentally changed. And legacy financial services providers haven't been able to innovate fast enough to keep up. 
Through a combination of digital disruption, technology, innovation and exposure to seamless CX in other industries, customers' expectations (when it comes to financial services), have evolved. 
Today's customers aren't making decisions based on how established a brand is, or whether it has a decades-long track record. They don't want to visit a bank branch, meet face-to-face with a wealth manager, or purchase an insurance policy through an agent or broker. 
What they do want is access to services and information in the moment, using the channel they choose.
In a survey of UK decision-makers, 82% of those interviewed said banks aren't innovating fast enough to meet consumer demand for digital services
Adapt, or continue to lose customers
Financial services companies that were slow to react to changing customer expectations are suffering the consequences. Disruptors persist in pushing the boundaries, changing the rules and gaining customers.  Other established brands are acquiring or partnering with digital technology innovators to enhance their offerings.
Achieving the right customer experience is vital if lagging financial services companies want to stem the tide of customers moving across to alternate providers. It is also the only way to win back those that have already jumped ship.
Today's financial services customers value different things:
Back then
Established brand
Long history
Face-to-face engagement
Local presence
Now
Personalization of communication and offers
Convenient, easy access to services
Lower fees
Self-service options
Automation that speeds up service delivery
A streamlined experience across digital interfaces
How to make the biggest impact in the shortest time
Delivering relevant and personalized information contributes massively to creating a great customer experience. Digital communication provides the opportunity for your company to engage via the terms and channels your customer prefers. 
As a quick win (relative to other enhancement opportunities) – it makes sense to start by improving the communications your customers already receive.  It's not feasible to upgrade all communications at once, so rather select a specific customer journey and focus on enhancing that experience. 
Watch our webinar to learn how to align all your customer communications to extend your brand and ensure a great customer experience. With real world insights from one of our global customers!
5 Steps towards achieving a measurable difference in CX
Step 1 – Select a specific customer journey as your starting point 
Start with an exclusive focus on a specific customer journey. Make sure it's a measurable one, so that you can showcase real results; and one that makes a significant impression (for maximum benefit).
A good example is the onboarding of customers for a new service, for example a credit card. Credit checks and legacy processes can be a slow and frustrating start for a customer. As do fractured communications that do not create a cohesive customer experience.
Step 2 – Describe the 'as-is' customer journey in detail, including all customer touchpoints
In this step, it is important to create a working group that involves all the roleplayers that impact the selected customer journey.
In the example above, the onboarding journey would involve, among other departments, credit vetting, card issuing and marketing.
Document the customer journey including all touchpoints, across all channels.  Make sure to identify the communications (digital and otherwise), that customers are already receiving as part of the 'as-is' journey, as these are the primary enhancement target.
Step 3 – Define the ideal customer journey
The next step may require a digital CX specialist to assist in designing the ideal customer journey. This is your chance to ignore operational realities, legacy systems and technical limitations.
Design a blue-sky, absolutely fabulous customer experience for the selected journey. It should cater for seamless crossover between channels, easy to use customer self-service and channels/tools that customers love using – like instant chat apps and voice assistants.
Step 4 – Complete an experience gap analysis 
When comparing your 'as-is' customer journey to your ideal customer journey, describe the gaps you can see between the starting point and the desired endpoint.  Your observations could be structured in the following way:
When the customer <successfully applies for a credit card>, he/she currently gets <an onboarding pack, consisting of the card and marketing material in the mail>. 
We want to change that experience so that the customer also receives <a series of relevant and helpful communications by email> and is able to <engage with the information> in order to <get the full benefit from their new card>.
It is also important to measure the time it takes to onboard a customer and how the customer feels at key points. This is the baseline on which you will measure the success of the upgraded process. 
Step 5 – Complete a resources gap analysis
For each statement describing a resources gap, ask your working group what is needed to close the gap and affect the change in CX.
This is your project plan and will spin off a number of action points for different areas of the business. The resources gap analysis should describe:
What is required to improve and align communications that already exist
What new communications need to be added to create a seamless experience
What sources of data are available to support the enhancements
What new sources of data will be required to achieve the end goal
Measurable benefits
It's important to keep your eye on the goal: delivering a seamless and enjoyable customer experience for the selected customer journey and measuring the benefits over time. 
Based on the above example, you want to be able to report that:
By changing the customer experience from <a single onboarding pack in the mail> to <a series of emails that provide value to the customer> we achieved:
A 25% improvement in customer satisfaction

25%

25%

A 30% increase in product usage over the first 2 months

30%

30%
This level of hyper-personalization will show new customers that you are aware of their individual circumstances and are able to anticipate their needs.
We can assist in designing the ideal customer journey for your financial services organization, with the ultimate goal of achieving a great CX through innovative and engaging digital customer communications