How to overcome 'work from home' challenges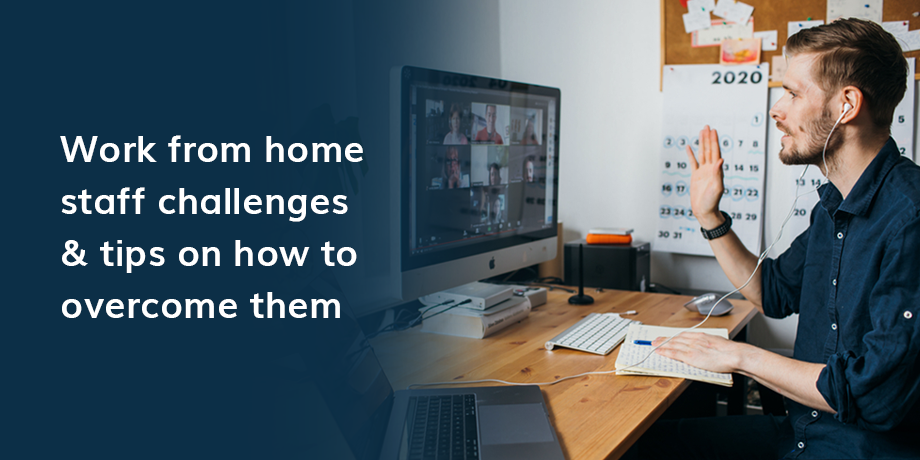 COVID-19 catapulted us about 5 years forward, fast-tracking digital transformation and testing our digital agility. It has been a year of change, change & more change. You might be congratulating yourself, "We did it!" but the transformation journey has just started. COVID-19 gave us the kick in the pants that we needed, but where to from here?
The pandemic has changed so many things, but the key items for organizations are:
Working remotely – All the same work principles apply when working from home.
Online meetings – Suddenly the calendar is fully booked, because people can't stop by your desk.
Adapting to the digital market – Reinventing your products, offerings and marketing strategy for a changing market
Do you have all the right tools to support a remote/online working environment?
Having the right tools is essential to creating the right work environment for your remote workers, while still adhering to company policies and procedures. Consider the following:
Visibility of information – storing all kinds of information centrally and having it accessible from anywhere is key.
Security – the new normal does introduce new security concerns. Make sure you have proper guidelines and controls in place.
Ease of use – tools and systems need to be easy to use and intuitive, otherwise they will be bypassed.
Speed of response – feedback and collaboration needs to be fast, so that no one is wasting time waiting for information.
Convenience for customers – now is the time to invest in a great support system that caters for multiple channels of communication, but keeps information in a central place.
Work from home staff challenges and tips on how to overcome them
WFH, especially for organizations and employees that are new to the concept, has its challenges – here are some tips to address them:
1. Where is Jack? You can't see if someone is at their desk now, never mind keep track of who is in the office versus at home. We are likely to see hybrid models emerge as restrictions slowly get lifted, and need to cater for that.
TIP: Work as if everyone is distributed, even if you are in the office. This will force the right systems to be in place and enforce the correct behavior.
2. Define "working." You have to judge effectiveness by work output, rather than by the fact that your staff members were warming a seat all day.
TIP: Define clear metrics upfront and ensure you can track them using your project and operational systems. Extend your daily stand-up calls to allow for a little more detail.
3. Back to professional. It was fun doing video calls in your PJ's and everyone was introduced to your adorable kids when they interrupted you. When working from home was a temporary response to a crisis, a lot of things were acceptable. In the long run, WFH employees need a professional environment and a more structured approach.
TIP: Set rules and expectations, and encourage staff to define a personal and professional routine.
4. Keep it secure. The past few months have been about survival and getting everyone working and connected. But, now it's time to take a step back and evaluate whether the tasks your IT teams carried out a mad rush are effective and secure. 
TIP: Send remote working security guidelines to staff.
5. Onboarding. It is one thing to bring a new hire into your office for induction, but an entirely different game when you hire someone who will not see the office or physically meet colleagues for six months or longer.
TIP: Adjust your onboarding process so that it is functional remotely and include a "meet" the team element, so that new hires don't feel isolated.
6. Maintain the culture. It seems like we need a whole new set of emojis to convey tone across digital communications. Personal connection builds trust, minimizes missed expectations, eases self-organization, and boosts morale. Make sure you nurture your personal connections while working remotely.
More tips for creating an engaged and productive remote workforce culture: 
Remember you can still pick up the phone or turn on the camera for a more personal touch.
Schedule an ongoing online meeting where the team can drop-in to ask questions, just like walking past your desk.
Schedule time for online team building – there are great games available for this such as House party and Spyfall.
Introduce a twist to your online staff meeting, such as an ugly sweater competition.
Plan fun weekly or monthly activities to incorporate into your team/employees' workday. For example, encourage staff to share funny 'working from home videos,' launch an art competition, or similar.
7. Focus on enhancing a different skill set – or build on a set of skills. Look for ways to accelerate skills that will help support those working remotely, such as:
Leadership skills. Deal with ambiguity head-on and provide clear but agile communications and decision making. Be empathetic, while building trust with teams and working seamlessly across boundaries.

TIP: Start meetings with a two-minute personal chat before you dive into the topic or schedule special, non-work-related calls. For example, online coffee chats.
Staff skills. Help your employees develop the ability to work independently and collaboratively, take greater personal accountability, network across the organization, and become an infinite learner.
TIP: Build in time for networking and learning, so that staff are not too busy to lift their heads.
8. Revamped workplace. Consider the practicalities of implementing the appropriate workplace procedures in the post-COVID era.
TIP: Communicate new workplace hygiene practices – send regular messages to provide clarity on actions taken with regards to safety.
The long list may seem daunting, but as long as you are moving forward, you are heading in the correct direction. "Seek progress rather than perfection".
Enjoy some additional reading on how to foster a digitally agile culture: