Why we should never stop talking about the value of automated communications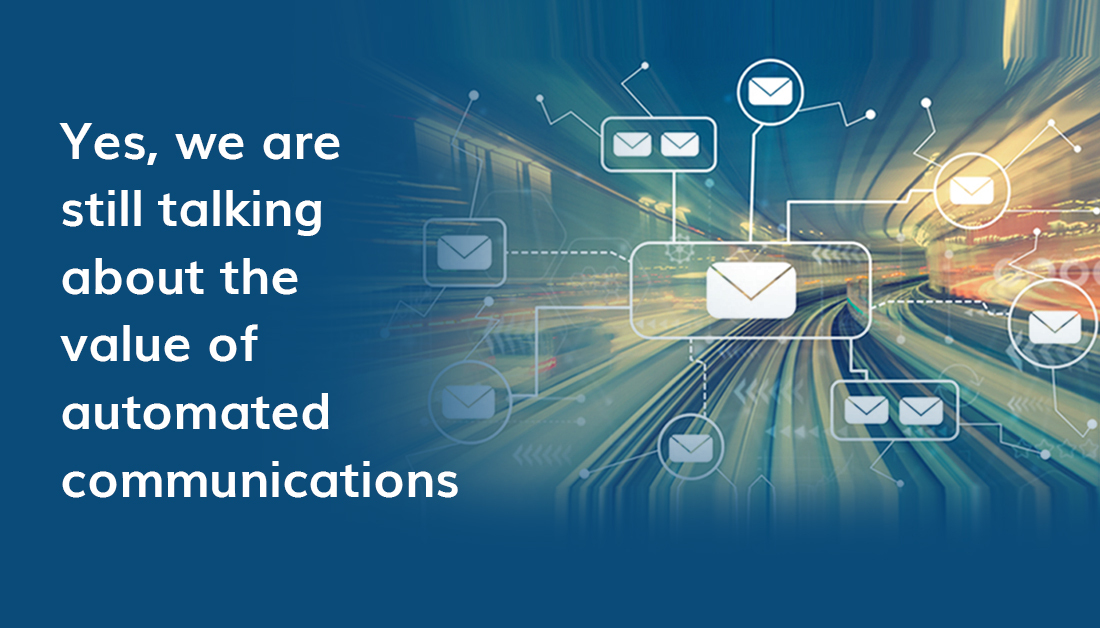 In the past few years a lot has been written about the value of automated communications and its impact on our businesses. We know how powerful automation is as a tool to gain operational efficiencies and increase sales, as well as revenue, but we also know that the world has changed and so have our customers' expectations.
75% of all companies already use at least one kind of marketing automation tool
Customers are no longer happy to settle for a "good enough" experience, they demand the perfect experience and marketers need to constantly look for ways to keep exceeding those expectations.
The best way to ensure that your business' focus remains on your customers and their expectations is to ensure that you really know who they are and what they really want. This is a tough ask and not something easy to achieve, so it is possibly the main reason why there is still so much talk about the benefits of automation.
5 Ways automated communications can be used to ensure a great customer communication experience:
1. Automate your onboarding process
Onboarding is really the time to let your business shine, it sets the tone for what will hopefully become a long and lucrative relationship with your customer – there is no other time to make a great first impression.
Use this opportunity to introduce your business, your products and services, explain the next steps or help the customer get started. Kicking things off on the right foot is essential!
2. Automate your transactional communications
For every action a customer takes, there should be a digital communication reaction, sometimes this is an acknowledgement – for example, a simple 'thank you for confirming your appointment.' And, with the addition of machine learning and AI intelligence, these communications can be purposeful and meaningful, thus adding value to your customers' experience.
Are your transactional messages contributing to a positive CX?
Learn how Striata can help enhance your transactional messaging – starting with identifying the relevant customer touchpoints.
3. Automate your customer lifecycle journey
Lots has been written about the importance of surprising and delighting your customer. Creating a fully automated customer communication journey means that you never forget a birthday, anniversary or important milestone. It also means that relevant content can be delivered to your customer at the right time and in the right medium to ensure maximum engagement
4. Automate customer satisfaction surveys
Customer satisfaction surveys like NPS (Net Promoter Score) and CSAT (Customer Satisfaction Score) measure a customer's sentiment towards your company over time. But, it's amazing how much we can learn about our customers if we just ask them!
People are willing to tell you what you need to know, if you just give them the opportunity to do so.
Sending a "How did we do?" survey after a customer interaction can provide you with invaluable insights on how to continuously improve your products and services.
5. Automate reports and customer insights
Possibly the single most important instrument we have when using automation to better understand our customers and their behaviour is that of reporting. Carefully monitoring purchasing data or analysing behavioural data allows us to tailor the next digital communication and indeed improve the experience to ensure customer satisfaction.
Generating dashboards and using AI tools to fully understand our customers, means that we can stay one step ahead of their wants and desires at all times.
So, why are we still talking about the value of automated communications? Because, it's clear that when automated communications are done right, it can help you generate the perfect customer experience. This, in turn, will solidify your relationship with your customers, assisting with acquisition and retention, all while increasing revenue and reducing your costs.
So, perhaps the better question is why would we ever stop talking about the value of automated communications?
Delight your customers, boost your revenue, reduce costs and improve customer experience with automated customer communications