T'was the season to be profitable! Thanks to memorable emails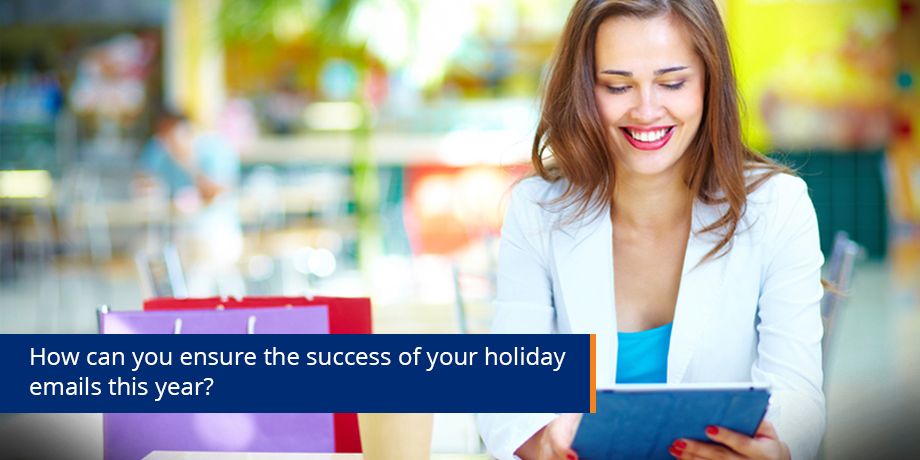 I love the holiday season! I know, I know…everybody does, but as email marketers, the holiday season is the time of the year that we really get to shine. As subscriber's inboxes get fuller, wish lists get longer and budgets get tighter, it's our chance to do what we do best – make memorable emails. Emails that spread some holiday cheer, break through the clutter, grab our subscribers' attention and ultimately help drive a sale.
For a lot of businesses, the holiday period, which in South African runs from mid-November to early January, is one of the most profitable times of the year. While this period is often dominated by retailers trying to maximize on sales, it's safe to say that all businesses shift their focus at this time of year. They all incorporate holiday themes and trends into their emails, even if it's only to help create long lasting relationships with their subscribers. It was interesting to note that holiday emails this past year (regardless of whether the email was sales orientated or not) were characterized by BIG images and BOLD copy.
I believe that considering these basic principles will help you achieve successful holiday emails:
Subject lines and preheaders – these matter and go a long way in helping to create a sense of urgency. Don't be scared to break the rules and use emojis or capital letters to help your message standout in a busy inbox and get noticed
Keep it short and sharp – there is a lot of noise in the inbox at this time of year. Customers are simply looking for the best deals at the best prices, so they tend not to read long, wordy emails. Showcase the deal clearly and add a strong and direct call to action that makes it easy for them to make a decision and take up an offer
Use data wisely – don't miss out on the opportunity to customize your email for each subscriber. Dynamic content and personalization go a long way toward ensuring that each subscriber gets the deals that excite them the most
Think mobile – this may seem obvious, but it's important to remember where and when people are reading your email. With many sales starting at midnight and/or people travelling over the holiday season, you should not only ensure that your email is mobile-friendly, but that it also renders correctly across all email clients
Sprinkle some festive magic – animated and interactive emails, combined with great images and typography, will help keep subscribes engaged throughout the festive season
Knowledge is power – keep your subscribers informed – everybody wants to ensure their gifts are delivered on time. Customers who purchase online want to be able to track their purchases
Below are just a few of my favorite emails that landed in my inbox over this holiday period.
Breaking the rules, breaks through the clutter
Emojis proved to be a great way to get emails to standout in the inbox this holiday season. With most free account and mobile devices rendering these emojis and symbols in color, the eye can't help but be drawn to them.

Black Friday and Cyber Monday – it's the deal that counts
According to dot.mailer the average consumer received 18 Black Friday emails. Clever subject lines detailing the offer within, as well as direct, easy to understand offers, combined with some cool GIFs helped make these emails memorable.
Subject line: Dori-Jo, our 80% off Black Friday is live! Click the email images to view the original images.
Hint at what is to come
With subscribers receiving multiple emails a day, it's important to ensure that your email is opened. A great way to do this, is to tease subscribers about what's next – this keeps them coming back email after email to see what deals are available to them. Netflorist did a great job of encouraging subscribers to keep coming back for more. It did this by including a "10 days of Christmas" countdown. Everyday, new and different deals were made available to subscribers for purchase. By concluding their 10 day countdown by the 14th of December, everyone was able to get their shopping done before the Christmas rush.
Knowledge is Power and timing is important
You need to ensure that your customers have all the information available to make well informed purchases – this helps avoid buyer's remorse and unhappy customers. The Take-a-lot email was a great informative and educational email that ensured customers knew what they needed to do to get their holiday purchases delivered by Christmas.
Clever Gifs create 'Festive Magic'
This email from Bobbi Brown cosmetics used a GIF to help create a sense of urgency and educate subscribers – they were able to encourage subscribes to finalize their purchases 'today'!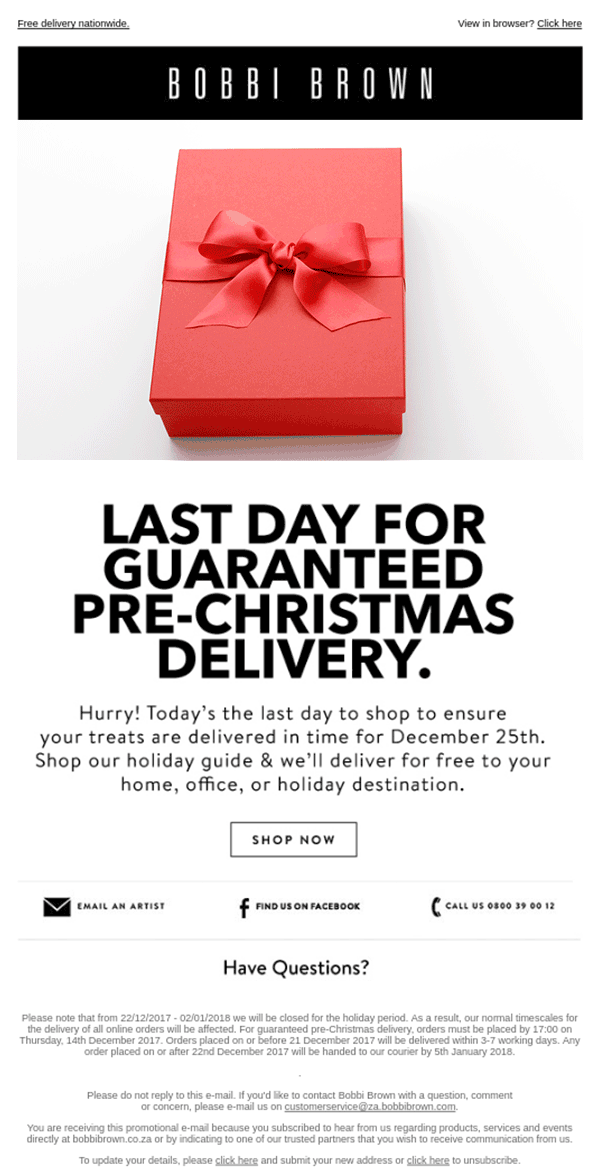 It's the deal that matters
Who doesn't like a bargain? During the holiday period everybody is looking for the best deals and the lowest prices. Using vouchers or coupons in emails is a great way to convey a tempting deal.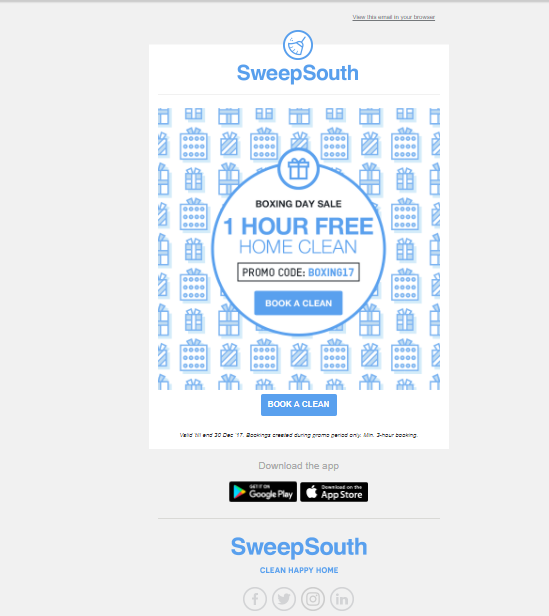 It's a good time of year to say "thank you"
While most emails are aimed at making sales at this time of year, you need to remember that your subscribers are just like you and me, so a good wish goes a long way in making the holidays special.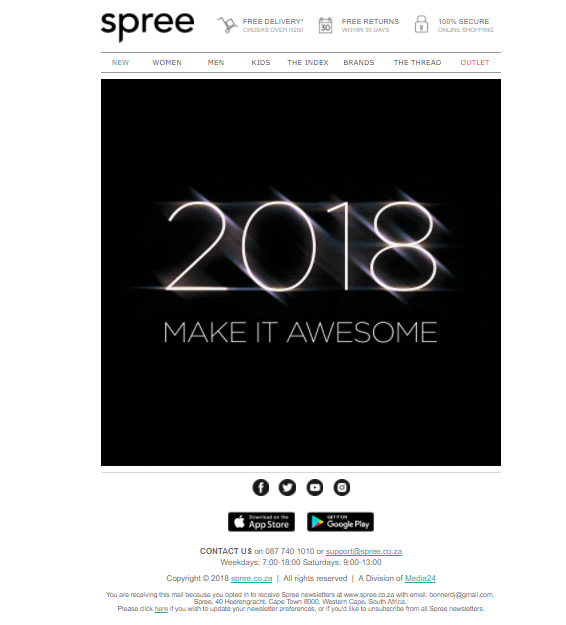 I wish you all a happy and healthy 2018, filled with memorable emails!