Digital agility is key to successful digital transformation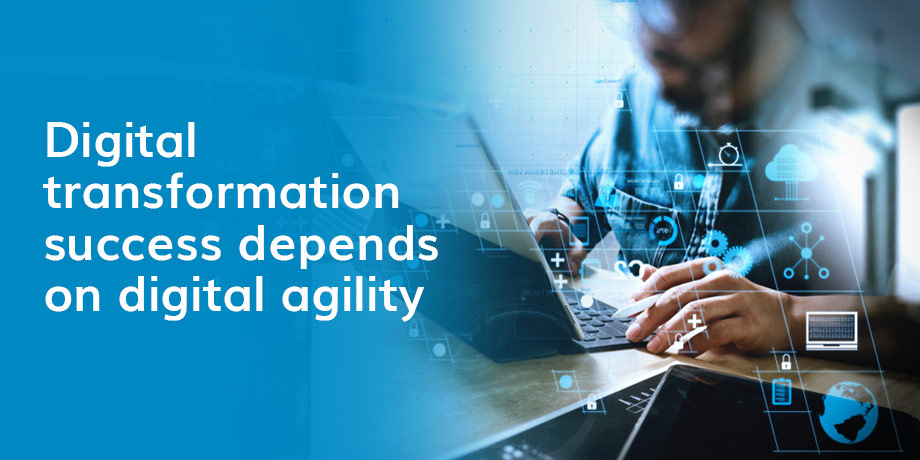 One of the most important challenges a business must tackle to compete in today's world is that of digital transformation. BigTech like Amazon, Apple and Tencent are leading the market in providing digital services and in leveraging the vast amounts of available data to stay ahead.
But, for most companies, digital transformation is a painfully slow process that is not guaranteed to be successful or result in real, tangible benefits.
Technology often gets the blame for this, but more often the issue lies with the culture of 'we've always done it this way'.
How do companies increase their chance of digital transformation success?
The key is digital agility. 
Alongside other challenges, such as 'implementing workforce enablement' and 'improving customer experience' – achieving digital agility is key to successful digital transformation.
What is digital agility?
The textbook definition of agility is, "the ability to move quickly and easily." So, digital agility is doing that with technology & tools on your side. Lots of things go into creating a digitally agile environment: awareness, technology, culture, CX, analysis, leadership, execution and more.
What is driving the move to digital agility?
Most of the drivers of digital agility are not new concepts for business: do things faster at a lower cost to remain competitive.
Businesses need to 'go digital' in order to decrease reliance on IT resources and speed up response to market changes.
Key to achieving these goals is the ability to be agile and flexible in the implementation of both internal workflows and customer-facing operations.
Digital agility is crucial in today's world – where change is a constant. No matter how big or small a business is, staying ahead of the competition requires being smart, lean and agile.
In my next post, I intend to zoom in on digital agility in product development, and how low-code tools are driving the right outcomes.