How low code tools are improving digital agility in product development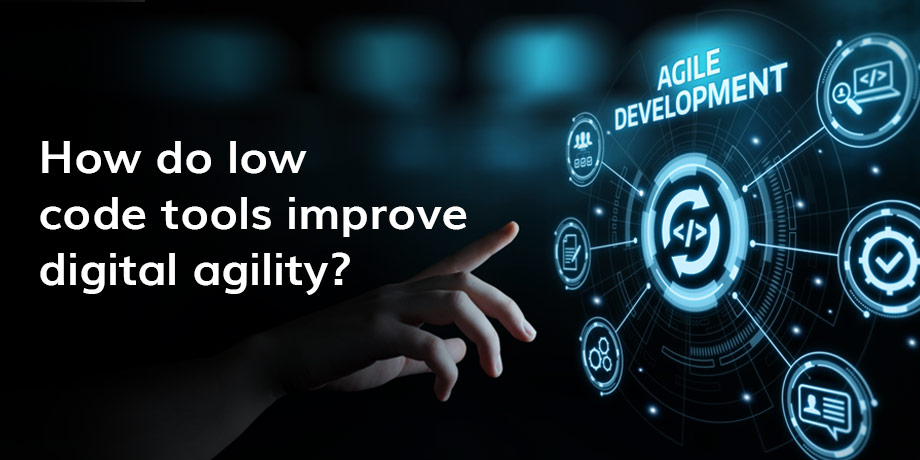 In my previous post, I explained the meaning and relevance of digital agility in today's competitive landscape. In this post, I want to zoom in on one of the cornerstones of digital agility, namely low-code tools, and how they are improving digital agility in product development.
According to Gartner, 2020 will see at least 50% of all new business applications being created with high-productivity toolsets, such as low-code and no-code application development platforms.
What are low-code tools?
Low-code tools are designed to enable businesses to automate manual processes and even create their own applications by using a visual drag-and-drop process, instead of coding software from scratch. Quite often, low-code tools are deployed with a set of standard connectors, along with the ability to write your own connector.
According to Forrester, an overwhelming 84% of companies have embraced low-code development to reduce strain on IT resources, increase speed-to-market, and involve business leaders in the process of digital asset development.
A recent study by IDC found that low-code tools can result in up to 72% faster development cycles, and a 123% increase in productivity for business process teams.
The benefits of implementing low-code tools
By eliminating, or greatly minimizing the need for manual processes and custom code, a business can expect tangible benefits in the product development department:
Faster time to market
Reduced strain (and reliance) on IT departments
Ability to hire non-developers to take over tasks
Reduction in bugs caused by human error
Freedom to experiment and innovate

However, a business that relies on manual processes and custom-developed code will suffer from a combination of the following challenges in product development:
Systems development is too slow and creates a growing backlog
Spend on application development keeps increasing
Developers are crucial, yet hard to find and retain
IT personnel are stressed
Disparate systems require loads of maintenance

In the business described above, it's likely that digital transformation has stalled.
How low-code tools improve digital agility
By adopting low-code tools, product development teams are not as reliant on coding skills. The business analyst, in consultation with the user, designs the solution and can effectively build the application on the fly, rather than documenting requirements and handing them over for implementation.
Using an agile approach, the product development team can swiftly test the viability of an idea.
Not everyone will be keen on a low-code approach
There are some barriers to overcome in adopting a low-code approach. These include:
Resistance to change – Most often, people do what they're paid for. Developers, develop. Developers who may have spent many years perfecting their craft are hesitant to discard the flexibility they have when custom-coding their apps. This is despite the easier construction and quicker time to market that low-code platforms provide.
Lack of standard connectors – Quite often, low-code tools are deployed with a set of standard connectors, along with the ability to write your own connector. The trick is to select the right tools, and to avoid just shifting your development overhead (and backlog) from writing custom code connectors.
Limitations – While low-code platforms enable speedier development of UI and other common elements through templates, frameworks, and visual design tools, they also place limitations on developers. This is because the very nature of supplied components and methods implies a restriction to ensure adherence.

In my next post, I will look at what needs to change to create a culture of digital agility