How to plan for a changed customer engagement landscape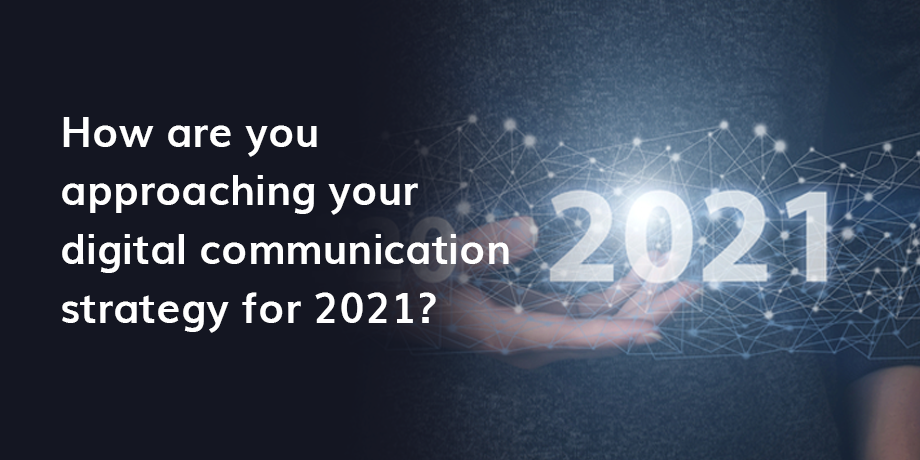 There is no doubt that 2020 has been a year of massive disruption.  For example, the sudden migration of consumers to digital channels for just about everything. While this is a major boost for digital communicators, the change was so abrupt that it most likely forced a deviation from digital transformation strategies and some short-term thinking in response.
It's understandable that the focus for many communication processes was on "get it working" rather than "make it a great customer experience."
For this, and other reasons, your 2021 digital communication strategy cannot be an upgrade of what you originally planned for 2020. That strategy no longer applies – we are operating in a new customer engagement landscape.
Customer expectations have changed
What customers expect from corporate communications changed dramatically in a short space of time. The issues that preoccupied human thinking prior to COVID-19 now seem less important. Topping the list are the basics: health, financial wellbeing, and relationships.
Apart from the products or services they pay for, customers want to feel a connection with their service providers. They want evidence that companies are prioritizing community over profit. And they are looking for brands that they can trust.
New digital users need extra care
Some of your customers had to move to digital channels because they could no longer use the channels they actually prefer. These digital-novices could be uncomfortable and unsure of their ability to use these channels appropriately. Without intervention, these customers may move back to physical processes when they are no longer restricted.
You can mitigate this by providing new users with information on how to use digital channels, the benefits of staying digital and the best ways to get support.
You also need to regularly reassure digital-novices that their information is safe and secure, while also educating them to recognize when their own online behavior is putting them at risk.
Approach your digital communication strategy for 2021 differently
Start with a review of all of your customer journeys, including every single customer communication.
Go back to basics by asking questions like:
Is this communication necessary?
What is the purpose? Is it effective? and
How does it make the customer feel?
It might help if you work out a rating system that provides easy insight into the importance and state of each communication you currently send.
If possible, benchmark the engagement received on the "old" communication as your starting point for measuring the success of the "new" communication.
You also need to look for gaps in your customer experience:
Where are you not communicating appropriately?
Which messages are just plain boring, ineffective (low engagement) or confusing in terms of what the customer is meant to do?
Now that you have a clear starting point on which to build your 2021 strategy, put it aside and focus for a while on building the ultimate customer experience.
Big picture: building the ultimate customer experience
It's important not to focus too much on operational, technical and budgetary limitations for this part of the process. You need to feel somewhat unrestrained to design the ultimate customer experience. 
The output from this exercise is a detailed description of the most influential factors in CX – relevance of content, personalization, creative design, call-to-action and the subsequent conversion process. This becomes the blueprint for enhancing your communication in 2021.
The end goal is for all communication, across all customer journeys, to align with this CX blueprint. No matter where a customer first touches the organization, or which journey they are currently on – the experience should be consistent.
A practical approach to defining your digital communication strategy 
It makes sense to prioritize customer journey enhancements that will produce the most immediate value to customers. 
Within the target journeys, identify the key communication and what needs to be done to align those messages with the CX blueprint. 

Map the requirements onto a time plan – there will be some short-term quick wins, but you must make allowance for larger projects that require more resources. 

Build flexibility into your digital communication strategy planning. We can no longer plan a 12-month strategy and stick to it. The digital landscape changes too much. 

Plan to revisit your strategy each quarter and prepare to be agile in how you approach and adapt to new requirements. 
We can help you transform your digital customer communication to improve customer engagement in 2021