Customer Journey Assessment
Customer Journey Assessment
Assessing your customer journey is key to developing a great CX
Customer journey mapping is a key component of an organization's CX strategy and the foundation of building a seamless customer experience.
Providing a great customer experience promotes customer retention, improves loyalty and increases purchase frequency, as well as average spend from engaged customers.
A customer journey assessment of your digital communication activity and optimal touch-points, helps to: Identify potential gaps in your current messages Provide opportunities to enhance those messages
Identify the gaps in your customer journey to improve your customer experience through digital communication
---
A customer journey assessment with Striata experts will help you identify the 'moments that matter' in your customer journey maps, where the gaps lie, and where you should focus your enhancement efforts for maximum impact.
When planning an assessment, our approach is as follows:
Be clear on the objective – i.e. mapping the "as-is" journey

Include representatives from all areas responsible for managing customer touch points

Continually remind the group to assess digital communication from the customer's viewpoint

Avoid being constrained by internal operations and technology limitations

Use the 80/20 approach to prioritize the most important touch points
Following the workshop, your organization will have a map of digital touch points to help you focus on achieving quick fixes within your broader CX enhancement strategy.
Contact us to discuss an assessment of the digital touchpoints that make up your customer journeys
Complementary resources
---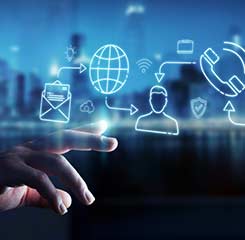 Customer Journey Messaging
Enhance your customer journey through digital messaging. Download the brochure