Show some love! Give your automated emails a makeover this February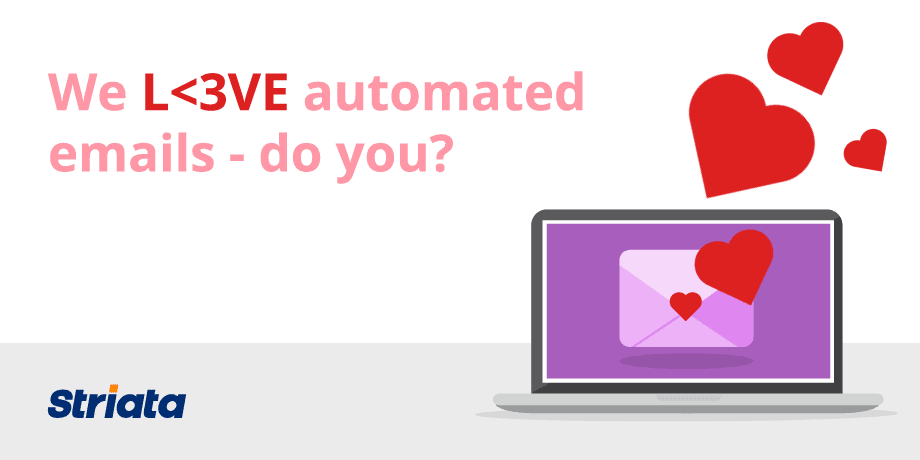 The office is decorated with red bunting and red balloons, every design brief is dripping with flower and chocolate deals, pink ribbons and hearts, while all copy includes "For Him" and "For Her" ideas.
Yip, queue the French music … it's February, the month of love!
Here at Striata we LOVE email which got me thinking, are you still in love with your automated emails?
Often, Welcome and Transactional or eCommerce emails are set up and forgotten about, resulting in them being outdated and dare I say it … ugly.
Give your automated emails a makeover this February – here are some tips:
Welcome Emails
Welcome emails should be like a first date. (And, no, I don't mean that welcome emails should be awkward.) They should:
Arrive on time
Welcome emails should be sent immediately after sign up. Customers are expecting to receive a confirmation of something right away, so get the timing right.
Be polite and introduce yourself
Personalize the email – address the customer by name. Introduce your brand and products/services.
Look good
Customers delete 80% of emails that don't look good on their mobile phones, so ensure that your welcome emails are responsive.
Bring flowers (or something)
This could be the start of a beautiful relationship, so why not give the new subscriber a voucher or discount? This way you can reduce your sales cycle between signup and sale.
Exchange details
Be sure to set expectations up front and invite new subscribers to join your social media community. But more importantly, this is a perfect opportunity to include a link to your preference center, so you can learn more about the new subscriber.
Include stuff about yourself – brag a little (in a cool, by the way, style)
Just because.
eCommerce Emails
Do an audit on these at least every quarter. Even if you are just reviewing subject line and design.
Subject line
Keep subject lines short and to the point. Just state the facts.
Once customers have bought something online and money is out of their account, a well written subject line can help them feel confident about the process.
Design
How do your receipt emails look on mobile? Ensure that the table with product description and pricing isn't breaking.
Make sure that your designs are based on your latest company branding.
Re look at content hierarchy: is the most important information up front and center? Even on mobile.
Clutter – I know that adding marketing banners to transactional emails is a great idea, but be sure not to deviate from the primary call to action or message.
Until next time…
I'm off to watch Sleepless in Seattle and You've Got Mail (get it? You've got mail …)