It's an integrated messaging world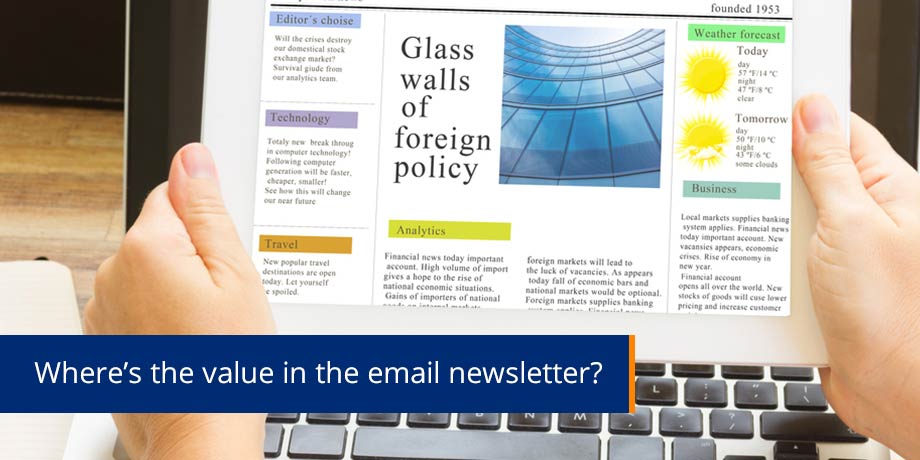 Having been in email marketing for the better part of 10 years, I believe in the medium, so why then do I find myself unsubscribing from countless email newsletters that offered so much value in the past?
The answer: Those same companies post their newsletter articles on their Twitter feed either at the same time or worse – a few days before the newsletter is distributed. By the time that newsletter arrives in my inbox, it's old news. I've most likely already read and tweeted any snippets or articles of interest that appear in that email.
So where's the value in the email newsletter?
Email still has a stronghold in the notifications market, because aside from a web page, it is your repository for all purchase confirmations, welcome notices, eStatements… to name a few.
But in the marketing space the value needs to be about exclusivity, and personalization, otherwise customers just won't sign up, open and click rates will continue to decline and unsubscribes will increase.
Email subscribers want to receive exclusive deals based on their interests. What are they getting in that email that they can't get anywhere else? And yes, pictures do sell compared to 140 characters on Twitter, but are you providing the right content to keep email subscribers glued to their screens when your email comes rushing in, along with 100 others?
Competing for a share of eyeballs
It's not just other email marketing messages you're competing against. In a world where all messages come into one platform, like Rockmelt for example, message notifications look the same, whether they are for Facebook, Twitter or an email. So it's time to differentiate email content to ensure that the same message doesn't appear three times, just because they're a fan on Facebook, follow you on Twitter, and subscribe to your email. You need to make them want to open that email with personalized and unique content.
Let's not forget that email doesn't stand alone in the messaging world, so social sharing links are really important on your marketing emails. If the content is relevant and targeted, those customers will want to share that information – spreading your message further. This is also a great opportunity to increase email sign-ups by including registration for email marketing on all landing pages that are likely to be shared on social networks. You can make it easy to share your email pearls of wisdom by creating 140 character pullouts that can be easily shared in other media.
Email – the evolving stalwart of messaging
The way we use email is constantly evolving, and so should email marketing evolve to match consumers' behavior. Email is such a powerful medium when used correctly, which can achieve a far greater ROI than other messaging mediums. Think about how people read email and where they get information, then reinvent that email newsletter to provide the content that will make your newsletter stand out. And why? Because email newsletters work when they are strategically planned and the content is personalized and relevant.
Are you communicating with your customers regularly and effectively – Need more info? An eMarketing specialist is just a click away …
Improve the customer experience with secure document delivery today