How to stop fintechs and insuretechs from eating your lunch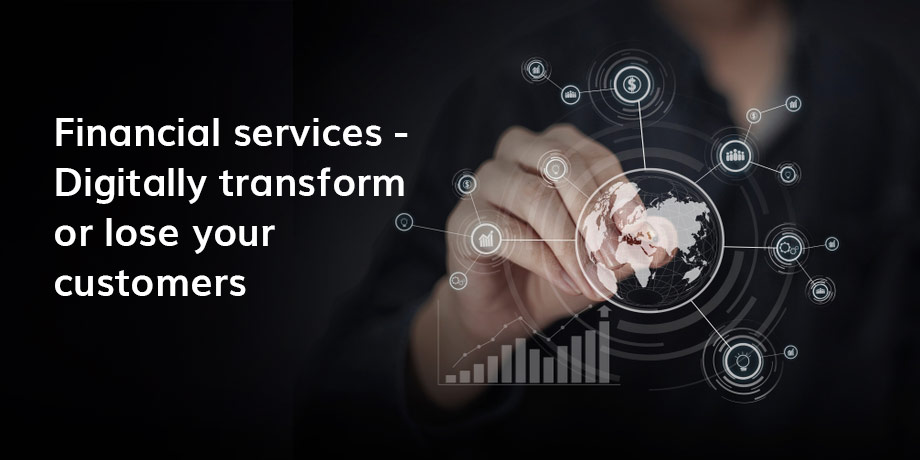 Disruption has become an almost abused term in recent years. Everyone wants to be the next Uber, the next Amazon, the next big, innovative, disruptor.
The reality for most organizations is that big ships take time to turn. Paper-driven processes and legacy systems are still the norm in many companies. While most have started their journeys, digital transformation is still not very advanced in many sectors.
A Gartner opinion piece, from January this year, baldly states: "Almost half of global financial services organizations are still in a very early or even immature stage of their digital transformation journey."
A Forbes piece, also from January, speaks about the need for traditional financial services providers to start updating their back-office functions.
It's long past time – financial services companies need to digitally transform.
Why is this important? Because while the big ships are slowly turning, fintechs and insuretechs are stealing their customers.
And they are doing that by providing a great customer experience.
New customers, new engagement methods
The always-connected generation doesn't want to go to a bank branch. They want to interact via a mobile app or web page. They don't want to fill in multiple forms to claim for their stolen car. They want an app, an online form, or, at worst, a phone call. They want to go to one online place where they can log everything simply and rapidly. Printing out piles of paper and appending signatures for days just isn't on the agenda.
In South Africa, insurance startups like Naked and Pineapple are breaking the mold and signing up new customers. In Europe, Business Comparison and Dinghy are shaking things up and offering new technology solutions to old economy problems.
They're all taking a different approach to what is a traditional sector. They all speak human, not insurance jargon. They know how to reach their target market where they are. Hint: On their smartphones, not trekking to the nearest branch of a large financial services company.
For banks, Thyme Bank and Bank Zero should serve to act as a big wake up call. These startups bill themselves as SA's first digital bank and South Africa's newest bank respectively. Both are digital and offer cheaper banking fees than their competitors (although it hasn't launched yet, Bank Zero has reduced fees as part of its offering).
What can the old guard do?
Start communicating like customers do.
The new kids on the block are out there wooing customers with mobile apps, creative communications strategies and lower fees. The old guard needs to step up and start providing real value to customers.
A good place to start is by improving digital communications.
In the internet age, everyone is drowning in a deluge of information. Customers are tired of just being a number and expect to be treated as unique individuals.
The first step to enhancing customer experience is to personalize communications. Companies can stand out by talking to customers about the things they care about, at every touchpoint.
For example, a retired widow wants to know how she can maximize her investments. But a family starting out wants information on saving for education costs or buying a bigger house.
Companies know enough about customers to tailor the information they send. Customers are loyal to brands that care about them. This builds brand loyalty – a rare commodity in the convenience era.
Hey Company X, it's not about you
Rather than asking yourself what you want from your customers when you communicate with them – ask what they want from you. Then tailor your communications channels and customer journey to provide just that.
Make sure they can get what they want in the easiest and most painless way possible. Start with a single customer journey. Tweak, refine, perfect and iterate elsewhere. Do that a few more times. Suddenly your company's digital transformation journey is accelerating nicely and your digital maturity is improving.
Hang on to your customers by making it easier to stay with you and get a great customer experience. This way, it's harder for them to switch to an alternative provider. Despite the fact that these providers are going all out to make the switching process seamless and convenient.
So, if you want your customers to stay, make it better for them to do so. If you get it right, you will keep and grow your customers, not lose them to fintechs and insuretechs that are all too ready to eat your lunch.