Ensure your paperless gateway isn't locked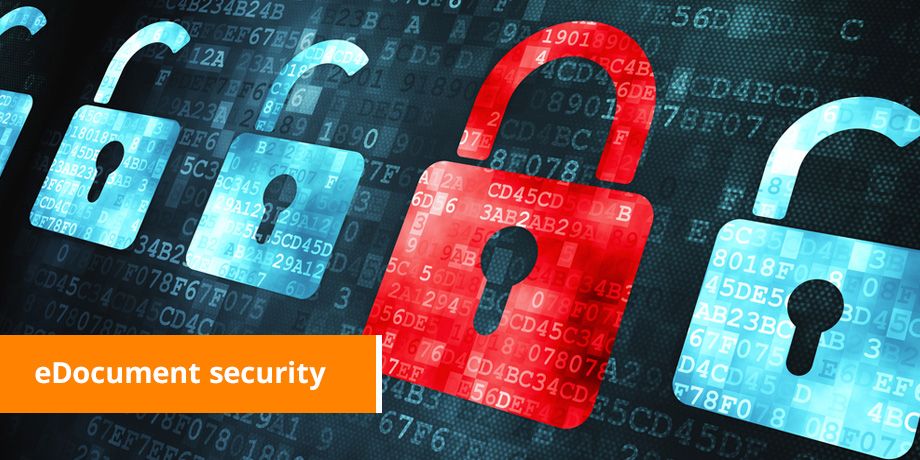 Great security, but no ROI? Perhaps your paperless gateway is locked …
Clearly something isn't working. I couldn't really put my finger on it until I started signing NDAs and hearing about banks' paperless adoption plans. Although everyone seemed to think they were doing something new and innovative, it felt like my iPod was on repeat. Some legitimate and worthwhile thoughts on customer security caused companies to initially pursue the same path: create a portal with a registration process and authentication or an app that requires more or less the same. Kudos on security, but not on the paperless ROI.
Security is not something to take lightly. We all depend on it, consumers and corporates alike. But surely there is a happy medium? Surely there is a way to secure data to an acceptable degree and offer customers less barriers to entry? Because at the moment, the paperless gateway for customers is actually locked.
Locks and customer security
Security and protecting your customers' data means locking it. Companies have been doing this for decades and what once started as a bank vault has now evolved. Today, a safe now means encryption, usernames and passwords, biometric verification devices, chip and PIN… the list is constantly expanding with more and more ways to LOCK your customers' data away, safe from cyber burglars.
Companies do this because protecting a customer's data has been shown to be inextricably linked to reputation. In a recent survey, a whopping 91% of banks felt that there were very strong connections between IT risks, customer satisfaction and brand reputation.  It's no wonder that EVERYONE IS DOING IT.
The problem with EVERYONE doing it is that security which once looked like this: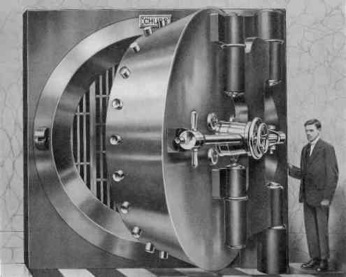 With so many portals and various biller sites, different usernames and passwords, the customer is no longer left with an experience of calm relief in knowing data, money and dirty secrets are safe. They are frustrated, not turning off paper and clogging up call centers looking for the keys.
Paper bill as secure as spit
There is an alternative to portals, apps and the frustration of registration: 'push' customers an exact replica of their paper bill to their email inbox. Use at least 128 Bit encryption to seal it all up. Then, ensure that the customer doesn't have to know anything more than (for example) their date of birth, and first three surname initials to open it. Sound too easy to be secure? Let's get back to basics.
Technophiles often joke about the humble letter. I have heard on many occasions that paper bills are only as secure as spit. Whilst it doesn't take a genius to open a letter and steal someone's identity, there are two things the simple letter has in common with pushing secure docs via email. If opened, a letter only carries risk of a one off security breach, just as an encrypted email attachment.
Secondly, they are both convenient. Customers don't have to ask for a paper statement or bill, they just receive it effortlessly. The familiar solution and progression from the post box is the email inbox, not a portal. A portal is like having to go to a post office to fetch your post.
Convinced of ease of use of push email billing, but still wondering about the security of birth dates and initials?
Shared secrets vs. passwords
Getting high paperless adoption means understanding that people are simple and the digital world is making things more and more difficult: remember this password, that username. And, don't dare drop your PIN sentry down the toilet lest you wait 20 minutes in the call centre queue to reorder. It causes fatigue and the more companies that produce apps and portals, the more tiring it all becomes.
I recently read a fantastic article about the most commonly chosen passwords. Top three passwords are:
password
123456
12345678
These remain unchanged from last year's list. I predict with confidence that next year customers will choose the same.
A 'shared secret' offers password fatigued customers an opportunity to use convenient and easy to remember information that is a heck of a lot more secure than the above. An alpha numeric password of 11 digits made of a customer's birthday and three initials would take 172,883 years to crack. #1 above, 'password' would take 6 hours to brute force but only one second using a password dictionary.
Drive a good customer experience with convenient security
Convenience means delivered, not fetched. Convenience means an unforgettable shared secret and no devices necessary to access account information or pay. Security is 128 Bit encryption. Security is ASSIGNING a robust, alphanumeric password. This is the Security that will also drive paper turn-off.
It's no wonder some big names in FI are seeing enormous demand for electronic document delivery to customers. Security is happy and so is the customer. We'd love to share some of their success stories with you, get in touch.
Improve the customer experience with secure document delivery today