Why the debt world needs to leverage the power of email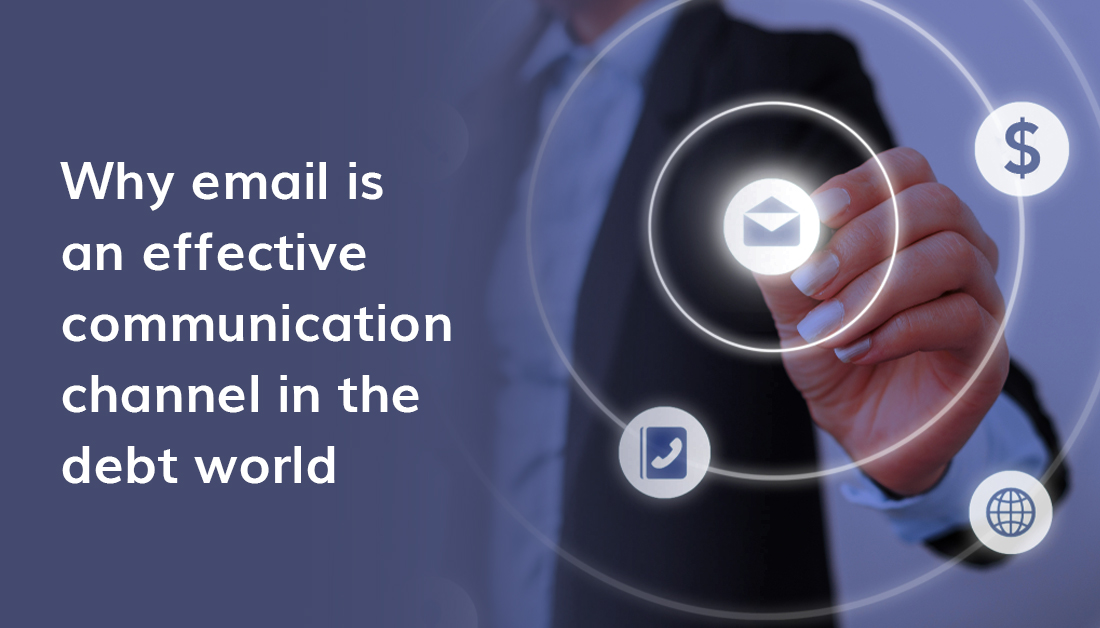 I recently had the pleasure of presenting at a debt management conference (hosted by TCI) and what made it even more exciting for me, is that I got to speak about my favourite topic – digital communications! And more specifically how, the 'debt world' can leverage the power of email to improve customer experience, speed up payment and build great customer relationships.
I have said it before and I will say it again 'email has stood the test of time' – its value as a communication channel is still undeniable.
Here are a few points from the presentation to further illustrate why I still believe email is an effective channel to consider:
The power of email (in stats)
There are many statistics that are available but I thought I would highlight a few. The volume of email being sent shows its importance and it is a channel that is still widely being used. Yes, there is an irrelevant email being sent, but if your email is relevant and contains the right message being sent at the right time then this will not be seen as spam and rather will help to build trust between your brand and your customer.
There was an estimated 4 billion email users in 2020 and this is expected to grow to 4.3 billion by 2023
Gmail has over 1 billion active monthly users
Over 300 billion emails were sent per day in 2020
Email is the number 1 activity on mobile and 85% of people say that mobile devices are a central part of everyday life.
You can receive email on all devices
Email has become the de facto business tool again
To receive email, there are no downloads or special apps required on your device
Those between ages of 18-24 check mobile on average of 74 times per day, ages 25-34 check 50 times per day, 35-44 check their device 35 times per day
The power of email in driving ROI
To explain the effectiveness of email, I like to refer to the 'communication equation,' where:
"Manufactured experiences = Engagement = Behavioural change = ROI"
When your goal is to create a successful digital strategy, it's important to consider that customer engagement is the key that unlocks everything! Therefore, getting your customer engaged has to be your primary objective.
You can achieve better engagement by sending the right communications at the right time via your customer's preferred communication channel. Or, delight your customer with a better-designed communication that is hyper-personalized, has one clear message and one call to action, ultimately streamlining the user experience.
So, while your goal is to create better customer engagement, you need a digital partner that can help you actually manufacture the experience to achieve this.
Here are a few digital communication ideas that can help manufacture that great customer experience:
Welcome email: Send a welcome email immediately when a customer takes up your product offering and guide your customer through the onboarding process
Operational or notification messages: Examples include payment reminder, payment confirmation, monthly statement, and then sending confirmations in response to your customer's action, such as the payment transaction
Collections Series: Guides your customer through a process if they have missed a payment. It helps maintain the trust, keeps your customer loyal and ensures smooth and easy payment
Customer lifecycle journey communications: Makes your customer's life easier by guiding them through the journey with your brand
The list is endless!
The power of email in creating the right customer experience in the 'debt world'
CX is so important these days and it is very topical. Customers are operating in a digital world and so organizations need to communicate with them digitally as well and focus on creating the right CX and UX.
Debt can be seen as a stigma. No customer actually wants to fall into debt, some may have done this by mistake. They may be reluctant to engage with a call centre agent, as they feel embarrassed and could also become aggressive. So, it is vital that you make debt recovery a self-service process and real-time across the various digital channels, as this will not only help the customer but also result in better returns.
Getting this right relies on having the correct customer data on hand. Remember that no customer is the same, their circumstances are very different and so, the communications you send them, should align with their unique needs and circumstances.
Data helps make informed decisions and also to segment a customer database, for example enabling the good debt customers to be separated from the bad debt customers, when segmenting your email database.
Everyone knows that customer communication needs to be meaningful, measurable, and provide the right level of user and personal experience. The power of data pretty much rests in the marketer's ability to personalize communication so it creates an engagement with an individual. In order to achieve this, we rely on data to help make informed decisions.
In my mind, email is the one channel that will outperform all others in accomplishing this. If you leverage data to compile a well-crafted message, and measure the results effectively, you will achieve an outstanding return on investment using email.
The value of Big Data
The value of Big Data is undeniable. It's made up of large and complex data sets, collected from a variety of sources. It provides marketers with better predictability for buying behavior and ROI.
Big Data also plays a valuable role in Customer Lifecycle Management (CLM) and enables automated triggered communications – which allow brands to deliver customer communications that effectively engage customers at vital touchpoints throughout their journey. This helps manufacture those great customer experiences I discussed earlier.
The power of email in lowering costs and speeding up payment
Including payment functionality within an email helps speed up the payment process and reduces call center costs, as it can drive payment for both current and overdue accounts. And based on customer data you can also provide various payment options i.e. give certain customers the option to select a preferred payment plan.
There is also huge value in digitizing collection notices.
Customers are 12% more likely to pay in early delinquency than when receiving paper notices.
Customers are 30% more likely to pay should it reach late delinquency.
The benefits of sending collection notices by email:
Save on paper, printing and postage
Speed to customers – customer receives collection notice immediately in inbox vs mailbox (delayed)
Drives faster payments – payment can be facilitated directly from within the email
Reduces Days Sales Outstanding
Avoid collections agency fees
Improve your bottom line
If you still aren't totally convinced about the power of email, specifically in the debt world, here are a few last points to consider:
Email can help create and build a relationship with your customer. Email is personal and engaging  (through the effective use of data, it can be personalized) so it helps you build and maintain great customer relationships. If you can get this right first, then your customer may not actually even go into debt (happy customers are paying customers!) And by sending relevant and informative communications frequently, you can establish a level of understanding in terms of payment expectations and methods, which could prevent customers from falling into a debt trap.
Email is measurable and trackable – you have evidence that your customer received the bill, as well as the overdue notices.
And last but not least, email is an affordable and effective channel to help manage your customers through the debt process.
We can help your organization leverage the power of email to improve customer experience, lower costs and speed up payment