Why you need a digital communications maturity framework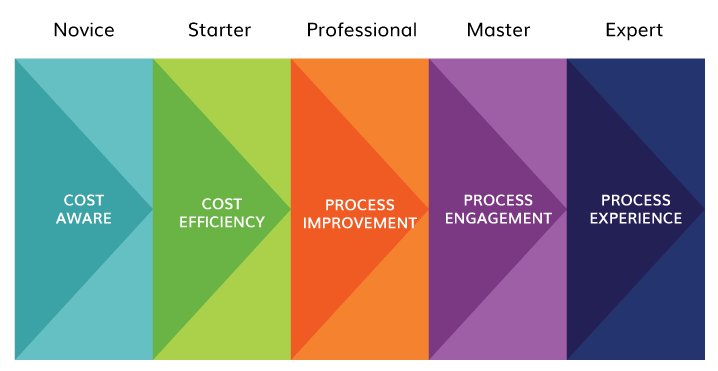 In today's fiercely competitive market, new technologies are fueling more innovative products and heightening consumer expectations. Businesses are compelled to improve the way they interact with their customers, just to remain relevant.
With a combination of limited resources, siloed teams and multiple system upgrades required to achieve the ultimate customer experience, the relentless pace of change can feel paralyzing.
Like it or not, customer experience is the top competitive differentiator in today's digital world.
A study by Gartner found that marketers responsible for customer experience expect to be competing 'mostly or completely' on the basis of CX by 2019. That's now!
The question – how can you start improving your customer experience immediately through incremental changes? And while simultaneously working to bring together all the elements required to achieve the bigger picture?
The answer – measure your current status on a digital communications maturity framework.
Communication is crucial to ensuring a good customer experience
Improving the customer experience is hugely reliant on communications, and consistency of communication is also key to a successful digital relationship. So, digital communication plays a vital role in creating a great customer experience.
Plotting the maturity of your organization's digital communication provides a basis from which you can plan your improvement strategy. First, this helps you to understand the incremental gains that will immediately start improving communications. It also provides a picture of how your organization compares in an increasingly competitive, digitally savvy industry.
Our Digital Communications Maturity Framework
At Striata we've spent a lot of time developing and refining our Digital Communications Maturity Framework, to help move the needle for our clients on two levels:
Identify and implement quick, short term wins to improve communication
Map the requirements to achieve the business's long term strategy for digital communication
Striata's Digital Maturity Framework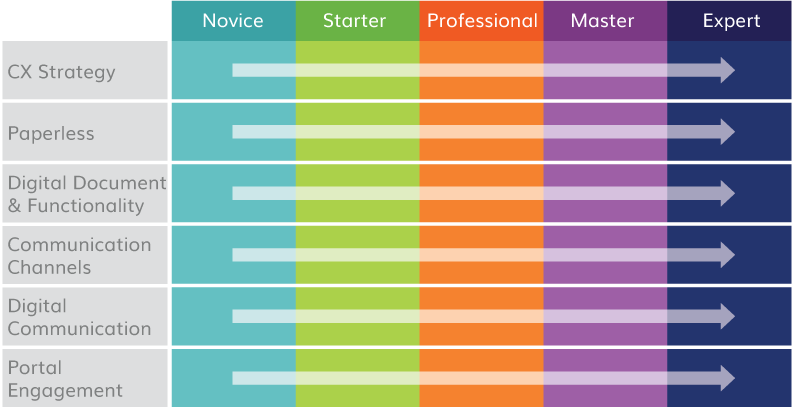 Our framework benchmarks an organization's capabilities across six key levels – working from Novice as the starting point to Expert as the ultimate goal.  The categories are focused on the communication and the complexities included to then place the organization within a particular level.
Documenting the 'as is' situation is crucial in understanding where each capability is positioned today. It forms the basis on which we work together to plot actions that will move your business towards the next status level within the framework.
The framework cannot exist in isolation, however, and neither is it a once-off exercise. This process only adds value if you use it in conjunction with your digital communications strategy, customer journey mapping and measure your progress along the way to keep moving towards Expert level.
Be truthful about your business drivers
When we start this process, I ask clients to write down why they want to enhance their digital communication and 9 times out of 10, the answer is to improve customer experience.
However, when prompted on specifics, it often becomes evident that cost efficiency is the goal and customer experience the nirvana.
Unfortunately, starting with cost efficiency as the main business driver is not conducive to creating a great customer experience.
Understanding where you lie within the framework based on the 'as is' capabilities will also help you understand the business drivers further. To this end, we've mapped out the maturity framework with the same six key categories that are then tied to business drivers. This enables further insight into what needs to change, in order to move along the framework.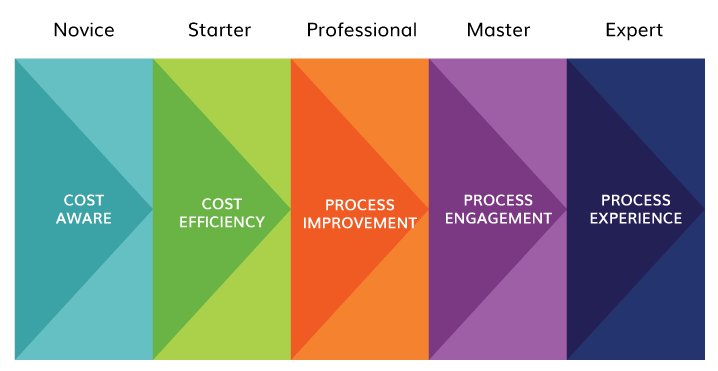 Getting started and moving forward
Does this approach resonate with you? We've developed a workshop in which we can review and plot your company against the maturity framework. The outcome of this workshop is a scoring of your existing digital communication initiatives.
From there, we work with you to develop the big picture – the digital transformation of your business's communication strategy.
We identify quick wins (practical and manageable next steps) that will quickly move your organization along the maturity continuum, and track your progress using the maturity framework scorecard.
As a digital communications specialist, we bring years of experience and capability in strategy, services and software that will help you transform your operational and marketing communications into a great customer experience.
Keen to discuss a digital communications maturity workshop?