The online bill is dead. Long live the email bill!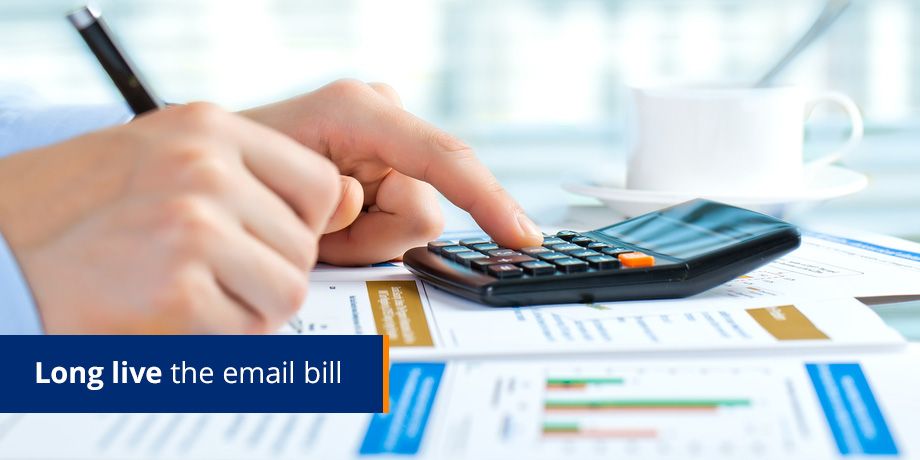 The Billing and Revenue Management group of ETIS, the IT Association for Telecommunications, recently had an epiphany!  They reckon that consumers don't want bills.  Clearly this is certainly true on one level – nobody likes being told they owe money.  But that wasn't what ETIS was saying… One of the telecoms operators, who has a portal eBilling solution, noticed that when the monthly reminder to customers telling them to view their bill online wasn't sent, the only noticeable difference was that billing inquiries to the call center  actually decreased!  And from this interesting anomaly, it leapt to the conclusion that "consumers don't want bills".  And that all the effort that its Marketing department had put in for years to up-sell and cross-sell from the eBill was just a waste of time – better to do away with the bill completely…
What's the Problem?
Only when reading this article in more detail does the real problem – and real solution – begin to surface.  The operator in question highlights that even with all the clever ideas and offers devised by Marketing, eBilling "was too much trouble for customers.  They got an email or a text saying that their bill was ready in the portal and not many went to look."  Now that shouldn't really come as a surprise – InfoTrends' The Future of Electronic Bill Presentment & Payment in North America study  in 2010 highlighted that only 14% of customers wanted to visit a biller's website to view a bill (compared to 46% who preferred receiving an eBill by email) – and portal usage is dropping these days rather than rising*. Basically, if the bill amount is pretty much what is expected and it can be paid through some sort of autopay, then the customer doesn't bother to view it.
Killing off eBilling
Interestingly, this same operator who believes customers don't want bills (or eBills) anymore, has a cunning plan. Its changing its eBilling solution!  Yes, its not going task customers to log onto the portal to view eBills. Instead customers will get a PDF eBill sent to them via email!
Interactive PDF email bills give customers what they want
Taking this new approach into account, it's also interesting to note that in the same ETIS session, it was highlighted that:
Enterprise customers will pay quickly if the bill is clear and matches their internal processes.
If the bill amount is as expected, then consumers are happy, and if it's different they want to pick up the phone.
Both of these requirements can be met using interactive PDF email bills. Embedding bill details in CSV or OFX format means that an enterprise customer can upload the bill details into a spreadsheet or accounting package for further analysis and processing.  And a "Pay Now" button within the PDF makes it so easy to pay that both enterprise customers and consumers will pay early. Also, while I'm not so sure consumers want to "pick up the phone" (unless the process is easier than the frustrating, convoluted navigation through layers of IVR menus that I suffer when I call my Telco), they certainly want to easily contact the operator and highlight the query.  This can be done by simply allowing customers to reply to the email, through feedback forms within the PDF, or using dispute check-boxes against each line item (see credit-card example below).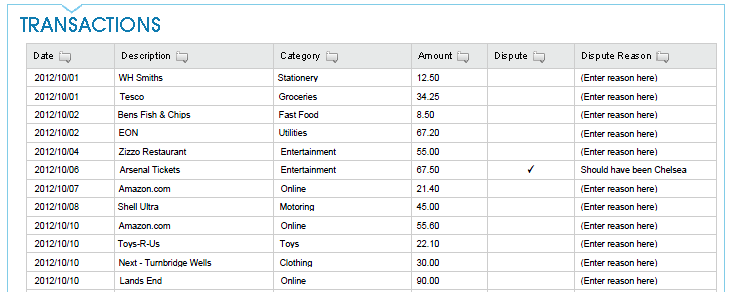 The Real Solution
It's clear that expecting customers to fetch their bills off a web portal, is killing the bill, so  replacing this option with dynamic  PDF email bills means that everyone will be happy: the consumer (with a user-friendly, useful eBill), the enterprise customer (with an eBill that facilitates their processes), the Telco's finance department (faster payments), the customer care department (less calls) and marketing department (continued up and cross-selling opportunities with trackable leads)!
*InfoTrends 2013 The Future of multichannel Transactional Communications in the USA study.
Updated resources available from InfoTrends 
Improve the customer experience with secure document delivery today