Digital accessibility is now do-or-die in the pandemic era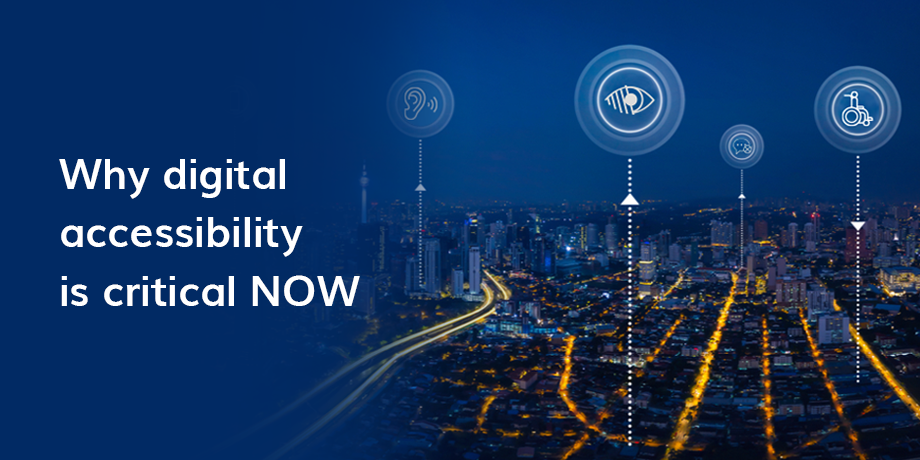 In a matter of weeks, COVID-19 achieved what years of lobbying and education had not – convincing organizations of the importance of making sure digital assets – like websites, emails and mobile apps – are easy to use and simple to navigate.
"When leaving your home presents challenges, access to digital resources is not a luxury. It is a requirement."
With the sudden upswing in digital demand and the almost overnight disappearance of physical interactions – it's become clear how someone who cannot leave their home is forced to rely on digital channels. And how frustrating it is for them if those digital channels are not optimized for accessibility.
This is a regular experience for people living with disabilities and Covid-19 has immensely highlighted how much we rely on digital communications and therefore, the need for digital accessibility is vital.
Understanding the need for digital accessibility
Making online content more accessible means ensuring that ALL people can read and understand it  – taking into account any disabilities they may have or assistive devices they could be using to access it. This includes those with:
impaired vision
motor difficulties
cognitive impairments or learning disabilities
deafness or impaired hearing
"At least 1 in 5 people in the UK have a long term illness, impairment or disability." While there are also many who have temporary disabilities.
Why digital accessibility is now more important than ever
The pandemic has accelerated the rate of digital transformation and with it, the need for digital accessibility. People with disabilities, who previously may have relied on physical interactions (when shopping, banking, etc.), are now also being forced to interact via digital channels instead.
It's therefore imperative that organizations consider this segment – they can start by assessing the accessibility level of all their digital content and changing the copy as well as layout/design where necessary. Taking these steps will not only ensure that all digital content can be consumed and understood by all, but that it also complies with accessibility laws. 
Some common accessibility standards include ensuring websites and emails are easily navigable on a mobile device or via keyboard only, creating PDF documents that can be read by screen readers and avoiding text with a poor color contrast – which is challenging for people with visual impairments.
In a recent study, it was noted that only "25 percent of financial services firms are embedding accessibility testing into software development." And that "attention to accessibility is usually driven by legal action or complaints."
This is concerning, considering that "as of September 23, 2020, all public sector bodies in the United Kingdom must comply with updates to UK digital accessibility regulations" 
Digital accessibility laws in the UK
The accessibility regulations in force in the UK are the Public Sector Bodies (Websites and Mobile Applications) (No. 2) Accessibility Regulations 2018.
These accessibility regulations are over and above current obligations to disabled people who fall under the Equality Act 2010 (or the Disability Discrimination Act 1995 in Northern Ireland), which say "all UK service providers must consider 'reasonable adjustments' for disabled people."
Why email accessibility should be a key focus in your digital accessibility strategy
Pre-pandemic, while physical interactions were still acceptable and in-store visits more common, email was already a popular communication channel for many consumers and businesses alike. 
Source: Oberlo
With the recent, sudden and unprecedented restrictions of movement imposed by governments across the globe, companies were forced to adjust their communication or risk losing touch with customers.
It was not surprising that a large number of companies turned to email as the channel of choice to reach out to customers with information about their business continuity plans. 
The result was a deluge of emails from brands wanting to make contact with customers and reassure them that new, digital ways of applying, buying and transacting would return things to business as usual. The value of these communications is undeniable, as is the value of email as a channel for everyone, so it makes sense that organizations make email accessibility a key focus in their digital accessibility strategy.
Applying accessibility principles requires designing and coding emails that work for customers with visual, auditory, motor and/or cognitive disabilities, but will also result in the best possible experience for all users. 
Making your customer emails accessible to the widest range of people is an important consideration for email UX; one that is gaining attention globally, for both ethical and legal reasons. It requires a clearly defined strategy, across a variety of teams within a company and includes having a digital communication vendor on the same page.
Read more about How to build accessibility into your email process
It is also important to note that accessibility is not just a coding change and requirement. Most of the principles that make emails accessible for people with disabilities are applied before the first line of code is written. It requires knowledge and participation from all involved throughout the workflow, which includes content writers, email designers, HTML coders and testers – every step needs to build on the good practices of the previous one.
Staying on top of all the usability and accessibility guidelines can however be challenging…
To get you started, here is a sample checklist of basic email readability and usability factors.