How an omnichannel customer engagement hub accelerates the superpowers of digital communication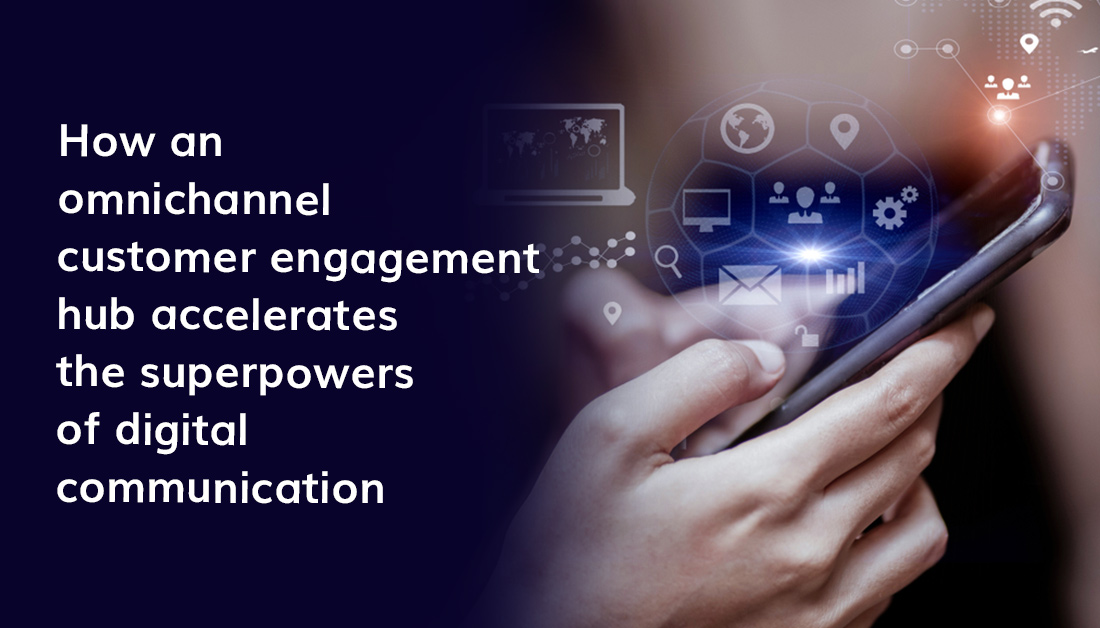 We know that great customer engagement translates into great customer experiences, which leads to happier, loyal customers who not only spend more, but also become great brand advocates. And a great way to achieve a superior level of engagement, is by prioritising and constructing an omnichannel customer engagement hub (CEH).
In short, an omnichannel CEH is a technology stack made up of platforms that are able to work in unison with each other to provide relevant, personalised, consistent, digital experiences across all channels.
Customer communication has an important role to play in the engagement hub, but where should it fit in?
In order for me to answer that, it's important that we first discuss the customer lifecycle.
The relationship between customer lifecycles and the CEH
A typical customer lifecycle is usually made up of the following phases – awareness, acquisition, onboarding, servicing, relationship, renewal, retention, and exit. There are several customer journeys within each phase, which we define as a set of actions a customer needs to perform in order to complete a task. And there are one or many communications that support each action.
Several customer engagement channels can be used to enable these customer journeys:
Customer services center

Digital communication

Web portal

Mobile app

Chatbot

IoT

Face-to-face engagement (which is increasingly being converted to digital equivalents)
In turn, there are several categories of digital communications, including marketing, lifecycle, operational and secure. There are also many channels including email, SMS, MMS and online presentation, and machine to machine communications.
The omnichannel customer engagement hub manages all of these categories and channels, but in order to understand how, it's worth touching on lifecycle and operational communications as examples.
So, for instance, by merging customer data from across the organisation, the CEH can help ensure that the customer communications are relevant to each customer, and based on where they are in their lifecycle. The content of future communications can then be designed to guide customers through to the next stage.
Operational messages are basically, the regular messages that businesses send out to their customers as part of their day-to-day services. These are communications like monthly bills, welcome emails, one time passwords, and purchase or payment confirmations.
Integrating these communications into an omnichannel CEH, allows them to be aligned with the rest of the organisation's communications, which will contribute to a consistent and positive digital customer experience and ultimately, an organisation's bottom line.
Accelerate the superpowers of digital communication with an omnichannel customer engagement hub
An omnichannel CEH can accelerate the superpowers of digital communication. Unlike other forms of customer engagement (web portal, mobile app, chatbot, IoT), you can 'push' digital communication to your customers and start the conversation, rather than waiting for them to initiate engagement.
By effectively integrating digital communication into your omnichannel communication engagement hub, you can:
initiate conversations

stitch journeys together

build relationships

drive digital adoption

nudge behaviour

create convenience.
The result is highly engaged customers and ultimately business success.
We can help your organisation accelerate the superpowers of digital communication with an omnichannel engagement hub