Introducing our Commercial Director for the UK, James Hall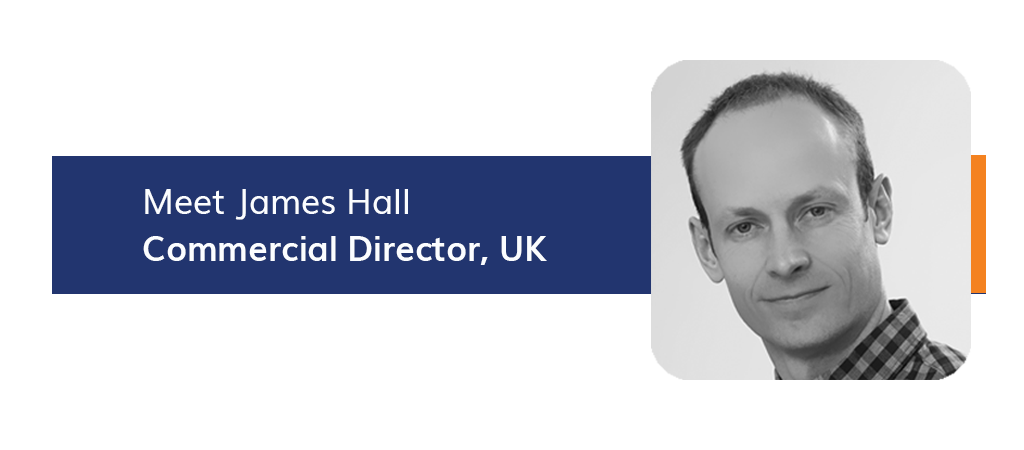 We shine the spotlight on our executive staff member, James Hall, Commercial Director for the UK.
What's your backstory (how did you come to be working for Striata)?
I have enjoyed a variety of roles since my career began, but the one constant has been technology. I have particularly enjoyed account management and business development, so when Striata offered me the opportunity to manage accounts in a digitally focused company, I knew it was the perfect fit for me.
How has the business changed since you joined?
It's grown! Striata UK has done a sterling job over the last five years and added a wide variety of exciting clients, ranging from global financial institutions to international logistics companies and more. It is fun place to work – with a good bunch of people who all work together to give our clients that little bit extra.
What has remained constant in the business since you joined?
The people. We have an excellent leadership team that has remained mostly unchanged at the helm. They have maintained the company drive for excellence, but also the company culture, which brings everyone together under one vision.
What do you appreciate most about working at Striata?
I enjoy the challenges presented to me every day. We are a solutions company with a can do attitude that our clients appreciate and it is something that I love to be a part of.
What's your personal split between bills by mail and electronic bills?
I receive about 80% of my bills electronically. The rest do not have a digital option.
You work for a digital company, what is it about digital that you are passionate about?
Anything and everything. I love having everything at my fingertips and expect to be able to find what I am looking for immediately. However, I believe that everyone is different and that communications should be tailored to the individual.
How do you think digital is going to change your life personally in the next 5 years?
Our lives are changing incredibly quickly. I am not sure if the primary function of a phone is actually to call people any more? It is now our connection to all digital communications and will provide the biggest changes in the next five years. In the longer term we can expect chip implants and to be doing all of these actions with just a thought but perhaps that is a little too futuristic.
How do you think digital is going to change businesses in the next 5 years?
GDPR has ruffled a few feathers and will continue to do so over the next period. Business will have to focus on their digital security and ensure they are protecting customer data.
Communications will become much more tailored to the individual's requirements. We will no longer send one message to all. Each message will be crafted and sent at just the right time, to catch that person's interest and strengthen their bond with the company they are engaged with.
What is the most important lesson the next generation needs to learn about operating in a digital world?
To teach us about it! On a more serious note, I think it is important they do not get too embedded in the digital or virtual world and know how to interact and enjoy the company of others.
How have you embraced technology at home?
My favorite bit of tech is my surround sound system that connects to spotify directly and plays in any room. Alexa has not been allowed in as yet though.