Do your employees suffer from the winter blues?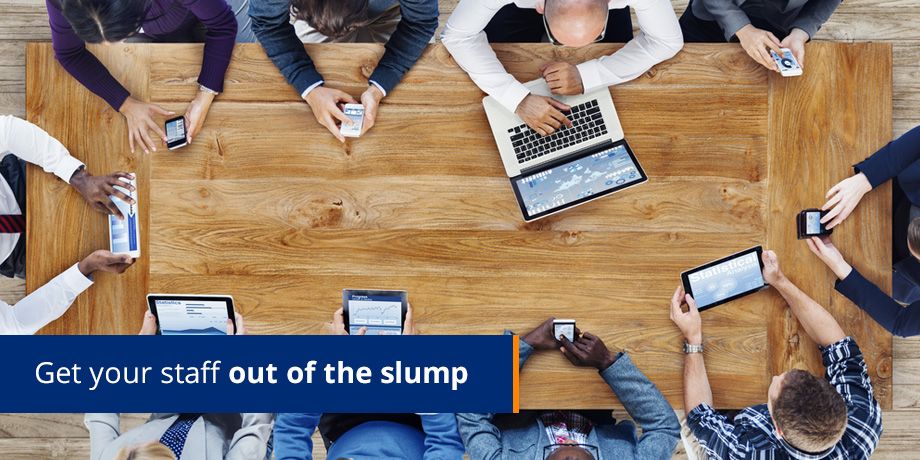 During the winter months, it seems work becomes just that much harder for our employees. Maybe it's the cold, maybe the early sunsets, but we definitely feel a mid-winter slump in office morale.
As an employer, you may not be able to banish everyone's melancholy. But, you can plan a couple of interventions to raise the spirit in the office.
Here are 4 strategies we have used in the past to give our employees a mid-winter lift:
1. Celebrate your victories, no matter how small
You should do this all year round, but it's especially important in the slump months. People need to know that, no matter their job function, their efforts are noticed. Make it a daily practice to send out a message of acknowledgment for a job well done. Celebrate a new sale or a contract signing with something out of the ordinary – we use a bell that gets rung in our office for every new sale. It's loud and it demands attention, so everyone claps and feels the excitement of that achievement.
2. Do unexpected, fun things for your office folk
When it's cold and grey outside, business-as-usual can seem especially dreary.  Plan an unexpected event for your employees that will get them away from their inbox for a short while. Make them laugh. We've had a magician and a "Minute to Win it" competition. Both were excellent for morale and for shaking off some of the blues.
Food is also a welcome treat in our offices: soup in winter, pizza on a Friday or just hot chocolate and marshmallows on a random, cold day.
3. Charity
Sometimes the best way to banish the gloom is to do something for those less fortunate. It's a proven fact that giving your time, energy and skills to a good cause brings feelings of accomplishment and goodwill. We're great supporters of events like Mandela Day, where the global community is encouraged to give 67 minutes of their time to help others (to commemorate the 67 years Nelson Mandela gave to the struggle for human rights in South Africa). And it's done on his birthday, which is mid-winter for us!
We also support Reach For A Dream's Slipper Day and the Shavathon in aid of the Cancer Association of South Africa (CANSA). I am sure there are similar initiatives in your region.
4. Work from home
For people that are set up to work from home, you could introduce a special winter arrangement that allows them work from home a couple days a week. It saves getting into the traffic or commuting, and you'll be surprised how much more productive people are without the stress of traveling and the office distractions.
We've seen a definite lift in spirits when employees get together to celebrate, laugh, eat or play. Just the camaraderie alone gives people hope that there is a light at the end of the cold winter tunnel and reassures them that they are part of a great team.
If you have great initiatives that you've used to banish the winter blues in your office,  I would love to hear them.
Improve the customer experience with secure document delivery today