Technology and digital accessibility empower disabled workers to bridge the skills gap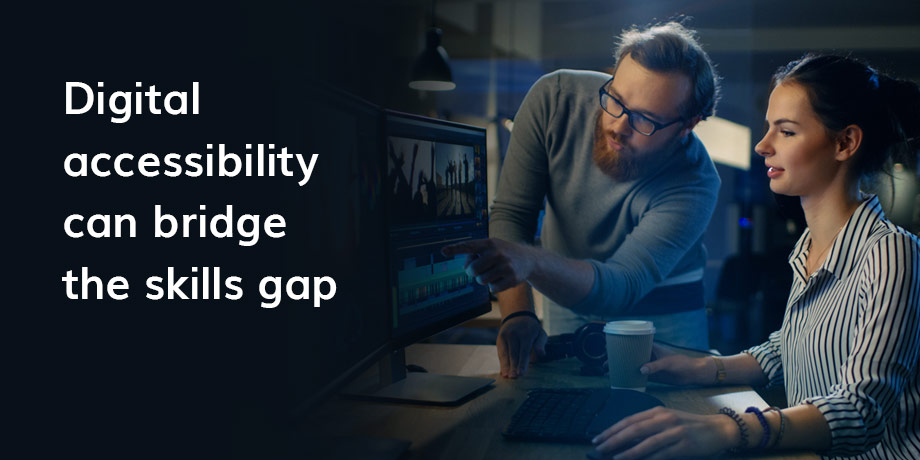 Every business has challenges, so it's a welcome surprise when one challenge promises to provide some respite from another. In this instance, the increased focus on digital accessibility could be a catalyst for broadening the skills pool.
The following two challenges are in Striata's spotlight for 2020:
Email accessibility: educating ourselves and our clients on how to make emails accessible to people with disabilities
Bridging the skills gap: addressing the shortage of key digital and development skills that is hampering growth (and causing sleepless nights)
What is email accessibility?
Part of the broader digital accessibility movement, email accessibility is the practice of making an email easy to consume for as wide an audience as possible, with a specific focus on people with disabilities.
This is important because a large segment of the global population (at least 1 billion people) lives with a disability. As communicators, we have an ethical and moral obligation to ensure our digital content is presented in a way that is accessible to all. Also, in many countries, digital accessibility is required by law.
Digital skills shortage
Although it sometimes feels like it, Striata is not alone in the struggle to keep up with the demand for digital and development skills.
According to the 2019 Gartner Future of HR Agenda Poll, "Organizations are struggling with a critical talent shortage, with nearly three-quarters of heads of recruiting reporting that talent shortages will have a major effect on their organizations."
Source: Gartner
So how could addressing one of these challenges, resolve parts of the other?
Technology and digital accessibility can bridge the skills gap and broaden the workforce.
The penny dropped while I was reading a Gartner report entitled Top Strategic Predictions for 2020 and Beyond. While organizations are battling to find digital skills, technology is advancing human augmentation in a way that will reduce the barriers for people with disabilities to provide scarce skills.
Gartner says, by 2023, the number of people with disabilities employed will triple due to AI and emerging technologies reducing barriers to access.
Source: Gartner
This puts into perspective the importance of digital accessibility and the use of assistive technologies, which are empowering a new workforce. Using technology, people with disabilities are able to perform tasks that they previously could not.
In addition, having disabled resources active in the workplace will provide new perspectives on things like product design and user experience – ensuring that accessibility is addressed from the get-go.
In short, organizations need to recognize disability as a source of diversity, talent and innovation. And to really leverage this resource, those organizations must create and nurture an inclusive environment.
Technology and digital accessibility bridges gaps for disabled workers
Artificial intelligence, digitalization, robotics, augmented reality and virtual reality are all technologies that will change the relationship between employees and their work, even more so for those with disabilities.
Let's look at some examples:
Artificial intelligence
AI-powered applications can bridge many gaps, allowing people with disabilities to take on more roles in the workplace. Whether the challenge relates to access or consumption of information – many of the biggest tech names are investing in this area.
Cited in an article on Silicon Valley are tools that enable visually impaired people to get descriptions of people, text, and objects read aloud to them – like Microsoft's Seeing AI app. Other AI tools help people with motor disabilities access and operate their devices using eye control, iris scan and facial recognition, for example, tools built by Intelligaze and Microsoft Hello.
Virtual assistants
According to TechCrunch, Juniper Research predicts the use of smart assistants like Alexa and Siri to reach 8 billion by 2023. These smart devices help blind users search, navigate and interact on the web.
According to one report, "users are discovering new ways to open up voice-based assistants to the deaf, too. One project made an Echo able to understand and respond in sign language using a webcam."
Writing assistants
For people with cognitive impairments – such as dyslexia (an estimated 5 – 10% of the global population) – there are many assistive technologies that can help overcome a range of challenges. From reading and writing pens, to text-to-speech readers, and spelling and grammar checking apps.
Whereas dyslexia used to be a disadvantage in the workplace, technological improvements and innovations are leveling out the playing field.
Commercial benefits
There are many benefits to organizations that actively recruit disabled workers.
Gartner says that companies employing people with disabilities can expect employee retention rates to improve.
According to Gartner's study, "organizations that actively employ people with disabilities have 89% higher retention rates, a 72% increase in employee productivity and a 29% increase in profitability".
There is a large and no doubt willing pool of available resources that is largely untapped.
Of the estimated 1 billion people with disabilities across the world – some 80% of those are of working age, according to the International Labor Organization. And only 36% of persons with disabilities of working age are in employment.
In order for evolution to take place, companies must "make it a core principle to build accessibility into everything they do". Which of course means ensuring that the implementation of any new systems has digital accessibility as a core requirement.
The challenge now for us, and maybe for you too, is to determine how to tap into this available skills base and identify ways to make our organizations, and our products, disability-friendly.
The 5 teams responsible for email accessibility