Apps need email like the lead role needs a supporting actor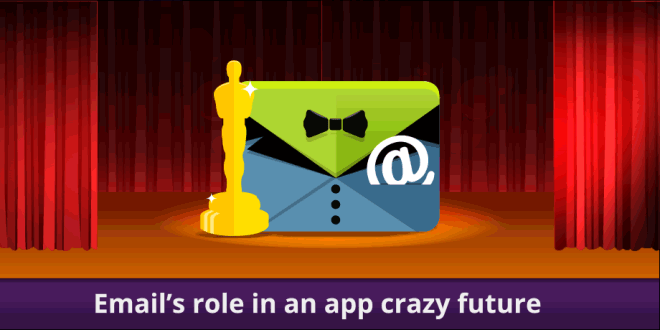 Unfortunately I'm old enough to remember the first wave of web portals when every business to consumer (B2C) organization launched a secure portal to encourage customer self service. That was the start of my love-hate relationship with passwords. Oh the inner-conflict when I had to set up strong passwords for all 18 portals I needed to access monthly versus actually being able to remember all those login details.
Here we are, almost 2 decades later and I'm starting to feel the same about customer self service mobile apps. B2C organizations have gone app crazy. Some brands have even launched more than one! There are apps to do banking, apps to order a cab and apps to monitor my loyalty points, fitness or follow the stats of our local rugby team. The home screen on my mobile phone is at least 6 swipes long (and that's with folders). I guess I'm feeling the start of 'app fatigue'…
Which brings me to my point about customer self service apps . . . what is the best way to attract app users and keep them active?
I believe the answer is email, and here's why:
Email is by far the best entry point to encourage downloads
The first challenge is to get customers to download the app. You could use traditional marketing methods, but one cannot click on a billboard while driving in traffic. You are more likely to succeed using digital channels, but again, some are more suitable to this task than others.
Consider this: Everyone with a smart device has an email address, meaning you can reach a large segment of your customer base. Also, the level of information and interactivity that email can handle makes for an excellent teaser. The trick is to provide a delicious taste of the convenience and functionality a customer will get using the app and then point them directly to the app store.
But app downloads are not really the best measure of success of a customer self service app. I would argue that converting downloads to active users is way more important.
Email can do a fantastic job of driving repeat traffic to your app
With email, you not only educate customers about the benefits of using the app, but with the aid of deep links you can move them directly from the email to that functionality inside the app. If they complete their task, query or transaction once in the app – then it has done its job of reducing traffic to the more costly engagement channels.
Here are a few examples of where you can include mobile app URI's in your emails:
Low Funds Notifications: An email notifying the customer of "low funds" – link to the account transfer section of the banking app with the amount pre-populated.
Utility Home Automation: An email notifying the customer of high energy usage – link to the home automation heating control section app to adjust the temperature.
Insurance Claims: An email notifying the customer that their claim has been received including their reference number – link to the claim section in the Insurance company's app so the customer can follow the status of the claim or provide more information.
Document history: An email bill with the secure attachment – link to the document history of past bills stored in the mobile app.
Product purchase: An email advertising the latest product range – link directly to the product page in the app for a one- click purchase.
Be Social: Make social updates on the mobile easy by linking your Social Media apps and pre-populating the message.
Mobile Payments: Enable payment from your secure email bill via PayPal or other mobile payment apps or wallets.
Will new channels relegate email to a minor supporting role?
I don't think so. Email will do such a great job of promoting your app that it will play a central role in the app-crazy future. As a channel, email is the best tool to drive engagement at all stages of the customer lifecycle. Our customers use email to:
educate and create awareness of the app;
promote in-app offers and specials;
re-engage lapsed or dormant customers;
launch new self-service functionality;
drive traffic to in-app customer feedback initiatives;
continually educate customers on self service channels;
provide loyalty points statements;
enable redemption of loyalty points;
cross-sell additional partner apps or functionality within an app.
If apps are the new lead actor, then email is the all-important supporting actor. The value of a self service app cannot be fully realized unless you drive downloads. And you won't achieve the potential engagement levels or customer service cost savings, unless you keep giving customers a reason to open the app.
And the award for best supporting actor in the app genre is … Email.
Improve the customer experience with secure document delivery today