5 Ways to personalize emails for better open rates and results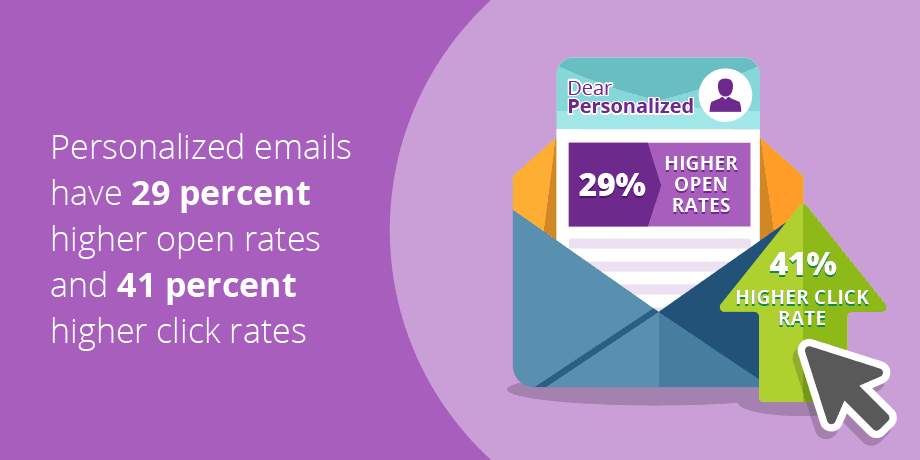 Email is an ideal medium for personalized communication. Not only is it easy to include relevant and targeted information, but the results show a greater ROI based on cost and effort compared to other media.
A recent study from Experian found that personalized emails have 29 percent higher open rates and 41 percent higher click rates. Even though many companies have made inroads into personalizing email, fully leveraging data to provide a far more targeted experience is proving more difficult.
Here are five ways you can use personalization to make your emails more relevant:
1. Gather data
First you need to know your audience. Many companies use an email signup form that allows subscribers to self-select, choosing their interest, demographic, location or the product or newsletter that appeals to them most. (However, many marketers still don't give customers the option to select the types of emails they want to receive – thus eliminating one of the easiest ways to segment and provide relevant communications.)
Marketers can get to know email subscribers and/or customers at multiple points after signup, by allowing them to self-select areas of interest or tagging them according to engagement and actions they've taken – either through the email, website or in-store (where applicable). Once you start collecting this data in your subscriber database, you can streamline the content to make it more far more personalized.
2. User personalization
When you know your users, you can personalize messages to make them resonate with each recipient, which can be as simple as using a first name.
The types of personalization that can be employed include psychographic segmentation (interests, hobbies, lifestyles, values and attitudes) and demographics (age, gender income level, notes social media). Once you've defined goals or have a clear understanding of the data at your disposal, you can decide on what type of personalization will work best for your campaign.
3. Behavioral personalization
One of the key ways to get personal in email is to make use of subscriber activity data, such as open and click activity, purchases they've made (reminders to purchase a product again) or purchases they didn't make (shopping cart abandonment emails). The triggered emails based on these or other behaviors are specific to an action taken by the user, so the user is likely to respond positively to the reminder.
Most of us have received an email that reminds us of a product we were viewing, but didn't purchase or an email that says we haven't visited a store or website in a while.
Emails to customers who have been inactive for a while, can also be effective in bringing them back, perhaps by offering them a special deal based on their purchase history.
4. Content personalization
Content personalization can start with design, such as using imagery appropriate to the user's age group or location. For example, many universtities and other nonprofits use different images based on the recipients' graduating class or age, so recipients will recognize a classmate or relate to someone like them.
When it comes to written content, there are several ways to segment effectively, including user interest, gender, website actions or newsletter types based on subscriber selection and customer personas, where you can create customer profiles based on relevant data points. Retailers often build male and female versions of emails in order to send promotions that reflect the subscriber's gender.
Emails can combine static content with dynamic data to increase relevance and promote available or high margin products, by pulling data from customer profiles, previous purchases and customer behavior. Insurance provider emails, for example, can include a range of static data, such as insurance type (home, auto, etc.), user location, and broker details. Retailers often use dynamic content to include product recommendations in an email, pulling products that fit the recipients' purchase profile, gender or cost range (while not recommending products previously purchased).
5. Time and location personalization
Time and geographical personalization help to make emails more relevant and increase user actions. When marketing databases include user address, state or zip code, marketers can drive traffic to stores by sending a well-timed email with a sale notification near the user's location.
Dynamic content can also present information relevant to the recipient. This type of content includes images and/or links to maps that match the user's location (again using geolocation data), or images such as a countdown clock, which displays the number of days or hours that remain in a particular promotion.
In Conclusion:
Of course, personalization alone won't guarantee improved campaign performance. Everything else must work in tandem – employing the right tone, design and look and feel, so everything accurately reflects the brand and resonates with the customer.
Once you've implemented personalization techniques, don't forget that measurement is vital. You won't know if it's working unless you track and measure results.