Getting your customers to move from paper processes to adopt digital communications alternatives is key to the success of your digital communication transformation.
Getting consent to market to a customer via digital channels is just as crucial and is required not only by industry good practice, but by legislation in many countries.
We will help introduce your customers to the digital process with our innovative electronic consent solution. It includes an easy-to-understand demonstration of what they will experience when they turn off paper and say 'yes' to digital.
Whether you are requesting consent to market via digital channels or encouraging customers to go paperless, our experts will help you maximize your conversion rate.
Get in touch with us
Keen to find out more or get an expert's opinion?
Motivate your customers to adopt digital communication
We can assist you to plan and execute programs to gain marketing consent and promote paperless adoption:
Strategy
We will help define your marketing consent and paperless adoption goals and provide expert advice on how to reach your targets.
Process design
By mapping the process, we will define communication stages, data flows, dependencies and feedback loops across multiple customer touch points.
Creative design
The goal of our creative designs is to maximize customer engagement across all your communications.
Education
We will train your customer facing teams to help them understand and support the adoption and consent programs.
Project management
Our project management teams are well equipped to help you manage your adoption and consent programs, including planning, execution and post-project learnings.
Data management
We provide detailed tracking and reporting on customer contact information and consent data.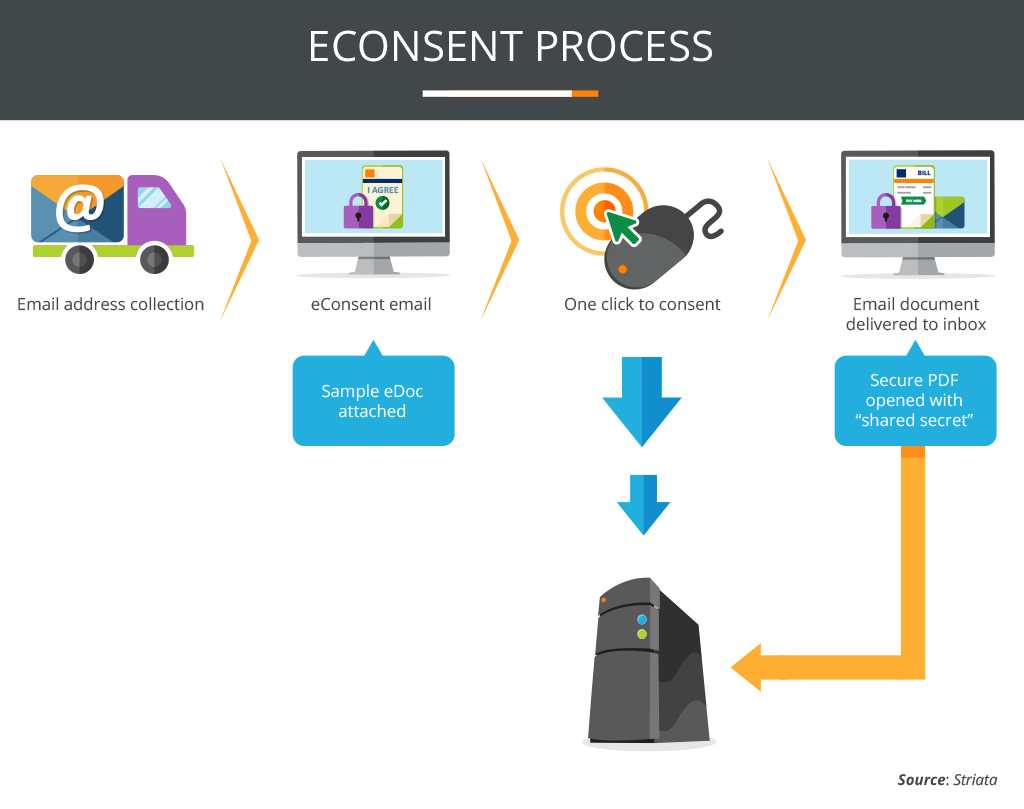 Striata eConsent Solution Overview
Discover how you can switch customers to electronic documents and drive paper turn-off with Striata eConsent - a simple, registration-free, process.
Get the Striata eConsent Solution Overview