Doxim Acquires Striata, Leading Digital-First CCM Platform
Published on 15 Sep 2020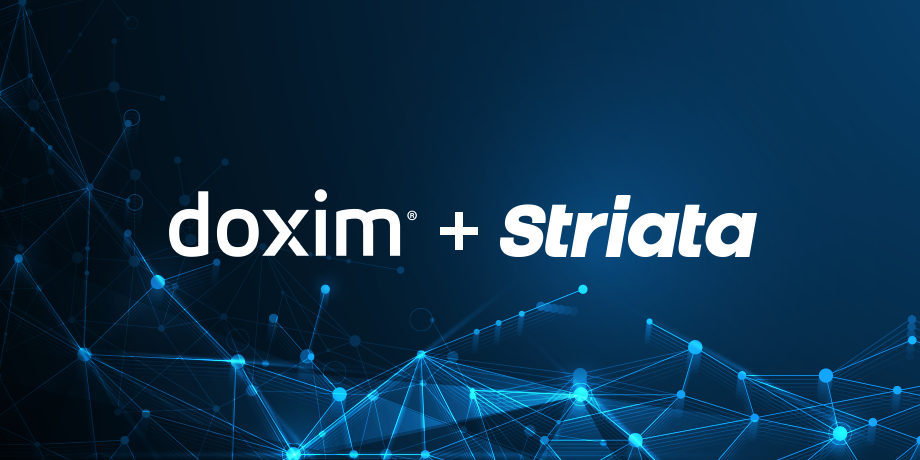 Doxim Acquires Striata, a Leading Digital-First CCM Platform
New Technology Further Enhances Doxim's Ability to Power Digital Customer Communications in Regulated Industries
Detroit, USA – 2020-09-15 – Doxim® , a leader in Customer Communications Management (CCM) software and services, today announced it has acquired Striata, a leading provider of customer communications management solutions specializing in secure digital document presentment, delivery, and data privacy.
"The acquisition of Striata will extend the Doxim CCM Platform, providing enhanced hyper-personalized interactive digital experiences, all within a secure and compliant framework," said Doxim President and CEO Mike Rogalski. "Requirements for communicating with customers are quickly shifting to digital channels. Especially with the impact of COVID-19, which has meant fewer face-to-face meetings, organizations need to find scalable ways to orchestrate and distribute multi-channel communications that are both personalized and legally compliant."
Striata offers advanced technologies and industry expertise that help organizations digitally transform complex customer communication streams. With multifactor authentication and encryption key management, Striata has differentiated itself with a deep focus on security and compliance, critical for regulated industries.
Striata's technology will be integrated into the Doxim CCM Platform, helping customers further leverage their investment in a complete omni-channel CCM platform. Rogalski added, "The acquisition is a strategic step towards Doxim's vision to further its integrated SaaS CCM platform, which is designed to support the entire lifecycle for personalized omni-channel customer communications. In addition, Striata's client-centric approach, backed by over two decades of experience, innovation, and passion for digital transformation, is closely aligned to Doxim's philosophy and promise to our clients".
"For over 20 years, Striata has been innovating in the CCM space by delivering digital-first solutions across multiple industries, channels and devices," said Striata CEO Michael Wright. "As the world evolves into a digital community, a platform approach to scalable and secure yet personalized communications will be critical. The joint strength of Striata and Doxim will power a world-class digital CCM platform and expert team for enterprises and small to mid-sized businesses."
Striata and its shareholders were exclusively advised by Novitas Capital Advisors.
About Striata
Striata provides strategy, software and professional services that enable digital communication across multiple channels and devices. Striata are experts in message design, generation, security, delivery and storage.
Clients choose our technology and services to encrypt, send and store confidential documents; execute integrated marketing campaigns; and distribute high volume electronic communications.
The world's largest financial services, utility, insurance, retail and telecommunications companies trust us to achieve unrivalled results in digital adoption and transformation, as well as keep their customers' personal information secure (we're ISO/IEC 27001:2013 certified).
About Doxim
Doxim is the customer communications management and engagement technology leader serving financial and regulated markets, providing omnichannel document solutions and transforming experiences to strengthen engagement throughout the entire lifecycle.
The Doxim Platform helps clients communicate reliably and effectively, improve cross-sell and upsell opportunities, and drive increased loyalty and wallet share through personalized communications.
The platform addresses key digitization, operational efficiency, and customer experience challenges through our suite of plug-and-play, integrated, SaaS software and technology solutions. Learn more at www.doxim.com.