Email Marketing
Achieve the maximum level of engagement with your target audience
---
Brings together all the elements needed to achieve the maximum level of engagement with your target customers.
Today's consumers are busy, mobile and distracted, meaning an email has to have all the right elements to successfully grab their attention. A communication that does not provide relevant content to the selected target group at the right time and using the appropriate channel, is likely to go unnoticed.
With years of experience in email marketing, our dedicated experts will work with you to achieve the specific goals of your campaign strategy: increasing sign-ups, pushing traffic to your website or mobile app, increasing sales, improving social media sharing or improving brand / product awareness.
Our full service email marketing solutions
Includes strategy, design, templates, testing and data flows that easily ingest into your systems, as well as monitored distribution.
Our email marketing self-service
Caters for organizations that have in-house digital marketing resources and need a robust, scalable and easy-to-use email marketing platform.
Our customer lifecycle messaging program
Involves automating a host of triggers to engage and delight your customers.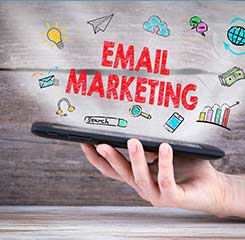 Striata Email Marketing Solution Overview
Expert services in strategy, planning, execution and distribution of integrated digital marketing campaigns. Technology is changing the way in which customers expect organizations to communicate with them. Advanced mobile devices and new communication channels continue to shape the ever-changing face of digital marketing. We offer a fully-outsourced digital messaging service - from concept through execution to performance analysis.
When you leverage our Email Marketing solutions, you have access to the following specialist services:
Strategy and insight
Strategic insight into what is required to meet and exceed your email marketing goals
Email collection
Specialist skills and years of experience in driving email collection strategies and email marketing registration
Data hygiene and enhancement
Proven methodologies that speed up the collection and cleaning of contact information, such as email addresses and mobile numbers
Design
Email templates that adhere to email standards and corporate identity requirements, with a mobile first approach
Campaign management
A full range of campaign services to supplement your internal skills – including testing, training and analysis of results
Distribution
A hosted messaging platform that supports the building and sending of large volumes of email marketing messages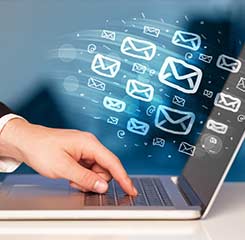 Email Marketing Data Quality Insight
Bad-quality data is obscuring performance and inflating campaign costs. Whether you are just embarking on an email strategy, or in full swing, but not sure whether you're achieving your objectives - the first step is to understand your own database. There is no point sending communications if you have no idea if anyone is receiving or engaging and you cannot show (with hard evidence) that the business is benefiting.
Improve the customer experience with secure document delivery today