Billing managers concern themselves with 3 important goals:
Getting paid
Getting paid faster
Reducing billing costs while getting paid faster
Electronic billing (eBilling or EBPP) is an obvious option for both getting paid faster and reducing billing costs. When evaluating electronic billing options to achieve these goals, the most important question to ask is: what kind of adoption rates can I expect?
Successful eBilling programs encourage high levels of customer adoption
If a primary goal of electronic billing is to reduce billing costs while getting paid faster, its effectiveness is best measured by the number of customers who opt to STOP receiving paper communications without affecting payment timescales.
An eBilling initiative is thus only as successful as the number of paper bills or statements that are eliminated.
It would seem obvious that if a customer is viewing and paying a bill electronically that the paper bill is automatically discontinued, but a large percentage of online bill pay customers still receive paper statements.
The challenge for online billers:
Nearly all the benefits of an electronic billing platform are dependent on having significant volumes of customers suppressing paper. In reality, actual adoption of web based electronic billing currently averages less than 10% across all industries.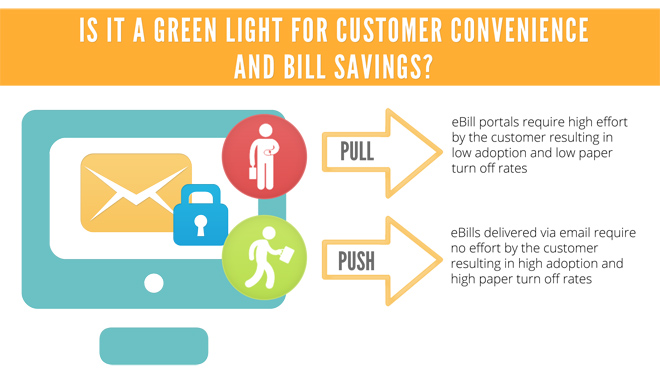 While online bill pay adoption rates have stalled at 10%, Striata eBilling clients universally achieve this within the first year, and often in the first month.
Have you achieved adoption rates of over 50% of your customer base? If not, speak to Striata about how this can be done...

Accounting for consumer preferences
The idea behind online bill payment is still a practical one. It just needs to meet with customer preferences.
While websites today try to be more persona-focused, the typical online bill pay portal is built without considering the customers preferences. These portals may be packed with features and relatively easy to use for a sophisticated web application, but they attempt to replace a process where bills are simply delivered to customers and can be paid without much effort.
Yet, instead of examining the customer experience or strategy for flaws, most businesses have simply lowered their expectations for online adoption.
Educating your customers: why marketing isn't enough
When tasked with online bill pay targets, the question is no longer how to reduce costs, but rather how to change consumer perception of the electronic billing process: It isn't enough to simply tell your customers that it is convenient, when in their perception, it is clearly not. Appealing to consumers with calls to save the environment has not impacted on enrolment.
Customer adoption strategies, based on "educating the customer" are bound to fail for the same reason. Consumers know what is convenient. They've been telling billers in large numbers. More than 90% still choose to receive and pay bills by mail or other electronic payment options. Thus the message to business could not be clearer.
Driving adoption of online bill pay with email bill presentment and integrated BillPay
Striata's 'BillPay' uses a strategically different methodology to electronic bill presentment and payment from the pull model of online bill pay sites – one that has proven to dramatically increase customer adoption of electronic communication.
Replacing paper bills with rich electronic documents that are delivered directly to the customer's inbox, rather than requiring them to 'fetch' the bill from a website, has proven to be key in generating the adoption rates necessary to realize return on investment.
On its own, without email presentment and delivery, an online bill pay portal is merely another payment channel which doesn't drive paper turn off. However, with email billing, the opportunity to succeed with adoption rates and enjoy the associated benefits is within every biller's grasp.
Striata's 'BillPay' can supplement and enhance proprietary payment portals and online kiosks, by expanding the rich, real-time functionality with customer-friendly alternatives.
Striata's solution is not meant to replace any web-internet initiatives, only the high volumes of paper bills, statements and other documents delivered each month by postal mail.
Key advantages of email bill presentment and payment
Cost reduction
Significantly reduces paper, printing and postage costs by substituting email for paper delivery

Low implementation cost and pay-per-use pricing make it an affordable option for all types of businesses
Increased self service
Advanced functionality can be included such as repayment calculators, change of address forms, call-back request forms, cross-selling tools and basic dispute resolution.

Email is a "comfort zone" for the majority of customers and therefore a successful communication channel. Customers who are not comfortable with online transactions or who are simply unwilling to commit to using the online portal on a regular basis can be encouraged to use the site by building up trust in the channel via email.
Improved cash flow by facilitating faster payments
Customers can still choose to pay using all existing online and offline channels, but the eBill arrives days sooner than paper.

Email bills can be paid securely within 30 seconds, and more than 50% of customers pay within two days of receiving the eBill.
Reduced environmental impact
Minimizes environmental impact by reducing paper output.
Security
The eBill is totally secure, using the latest in encryption technology, and remains encrypted when not in use, protecting confidentiality.

Any security risk is confined to a single recipient's data and not to an entire customer database, as in an EBPP website.
Increased loyalty and support for corporate e-communication and CRM initiatives
Email billing is often perceived by customers as a value-added service that helps build customer loyalty / retention.

Promotes interaction and direct communication with customers. Increased qualified customer traffic

eBilling provides effective marketing real estate that can be used for personalized, relevant offers.

Drives qualified, meaningful web traffic from unphishable links within the secure, trusted electronic document (statement or bill).
Expands and complements existing online services
The eBill is actually a mini website delivered to the user's inbox, providing a feature-rich channel, ideal for cross-selling and up-selling.

Allows for additional touch points with customers that create new CRM and marketing opportunities.

Transactional email is excluded from all Do Not Call and Do Not Mail lists. The marketing offers have wider and deeper reach and are therefore more effective than marketing campaigns because they are included inside the bill (which the customer obviously wants to see) and not as a separate document.
Customer experience insight gained
Detailed delivery reporting, open rates and click-tracking reports provide invaluable business intelligence regarding customer behavior.