Do your daily goals look anything like this?
1. Getting paid
2. Getting paid faster
3. Reducing billing costs while getting paid faster
If your primary goal for electronic billing is to reduce billing costs while getting paid faster, then you have to get more customers opting to STOP receiving paper communications.
Your eBilling initiative is only as successful as the number of paper bills or statements that are eliminated.
"Infotrends expects notable growth in consumer access of bills & statements via email over forecast period 2013-2018. We see a lot of the current growth – 25% CAGR, being driven by efforts from Striata" – Matt Swain, Infotrends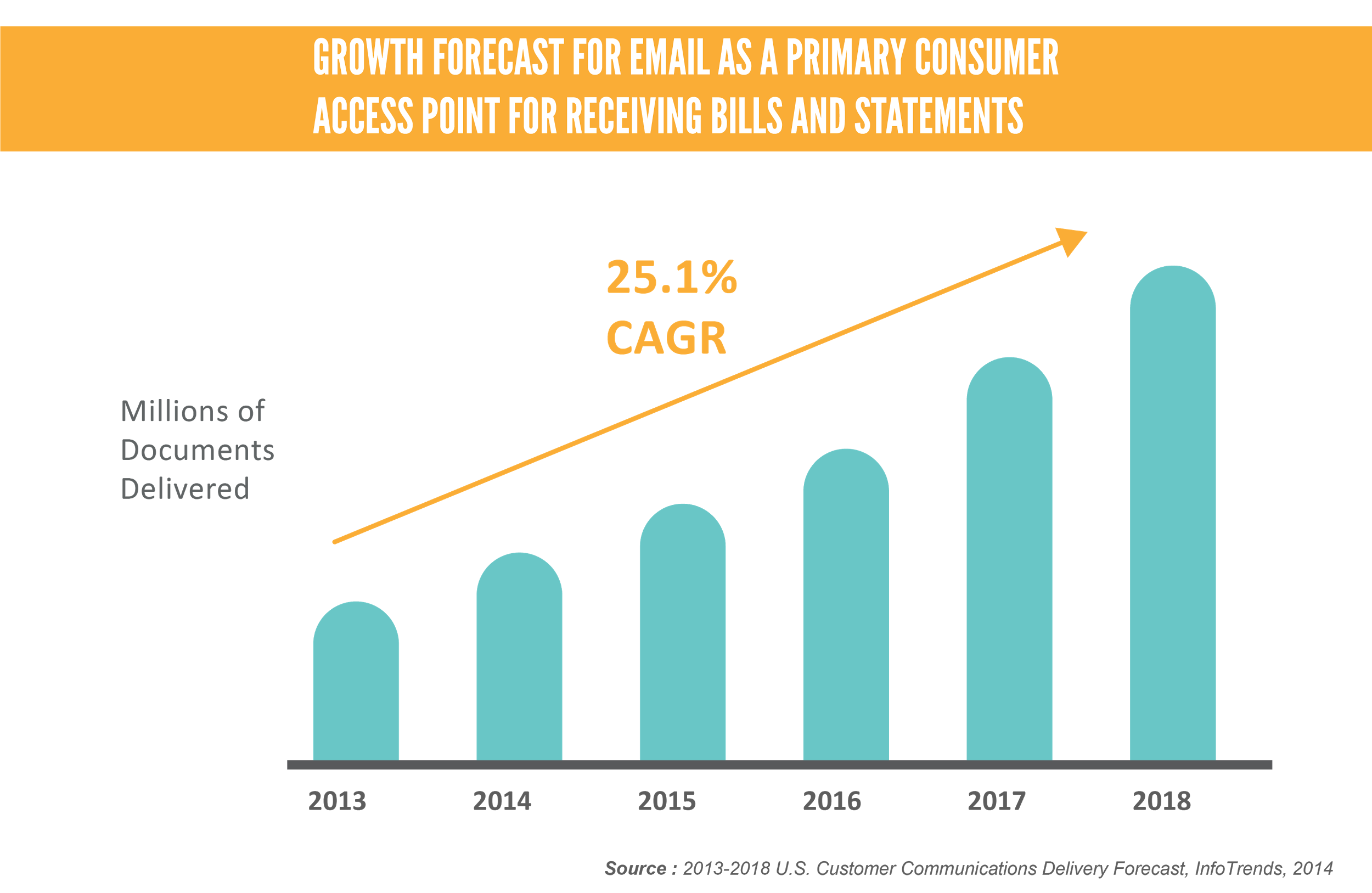 The challenge for online billers
Double dippers
Have you calculated the % of your portal customers who still receive the paper bill? You'd be surprised! "30% to 40% of consumers receive their financial statements and bills online and on paper—which is known as "double dipping." 2011 PayItGreen Research, conducted by Javelin Strategy and Research on behalf of NACHA — The Electronic Payments Association.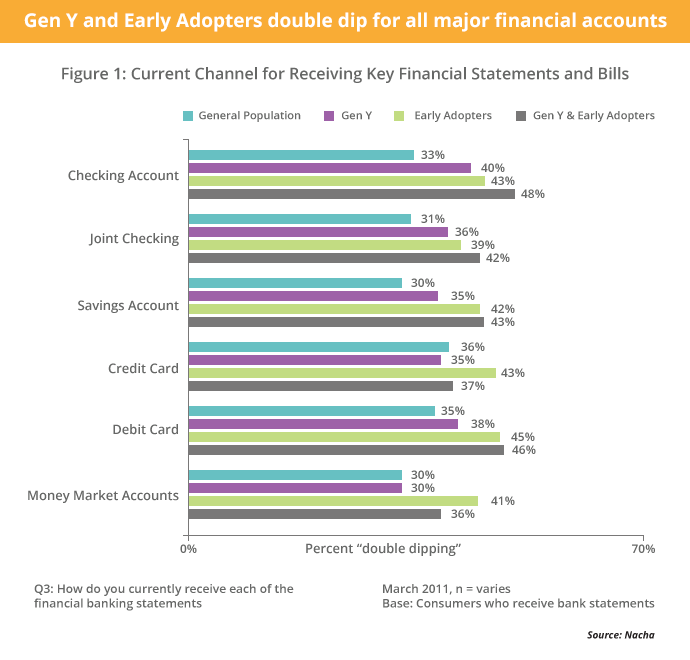 Understanding consumer behavior and preferences
Did you consider your customers' preferences when building your online bill pay portal? Most portals are packed with features and relatively easy to use, but they can't replace a process where bills are simply delivered to customers and can be paid without much effort.
Ensure a smooth, easy transition by making your customers' move to paperless as close to your current communication model as possible. And even better – enhance it. Your customers shouldn't have to do anything to go paperless, they are demanding an alternative solution to print that is convenient, easy to use, environmentally friendly and that can be accessed on multiple devices…
Educating your customers: why marketing isn't enough
It isn't enough to simply tell your customers that online billing is convenient when in their perception it is clearly not. This is evident in the graph below – The future of electronic presentment & payment in North America – Excerpt from the InfoTrends 2010 Report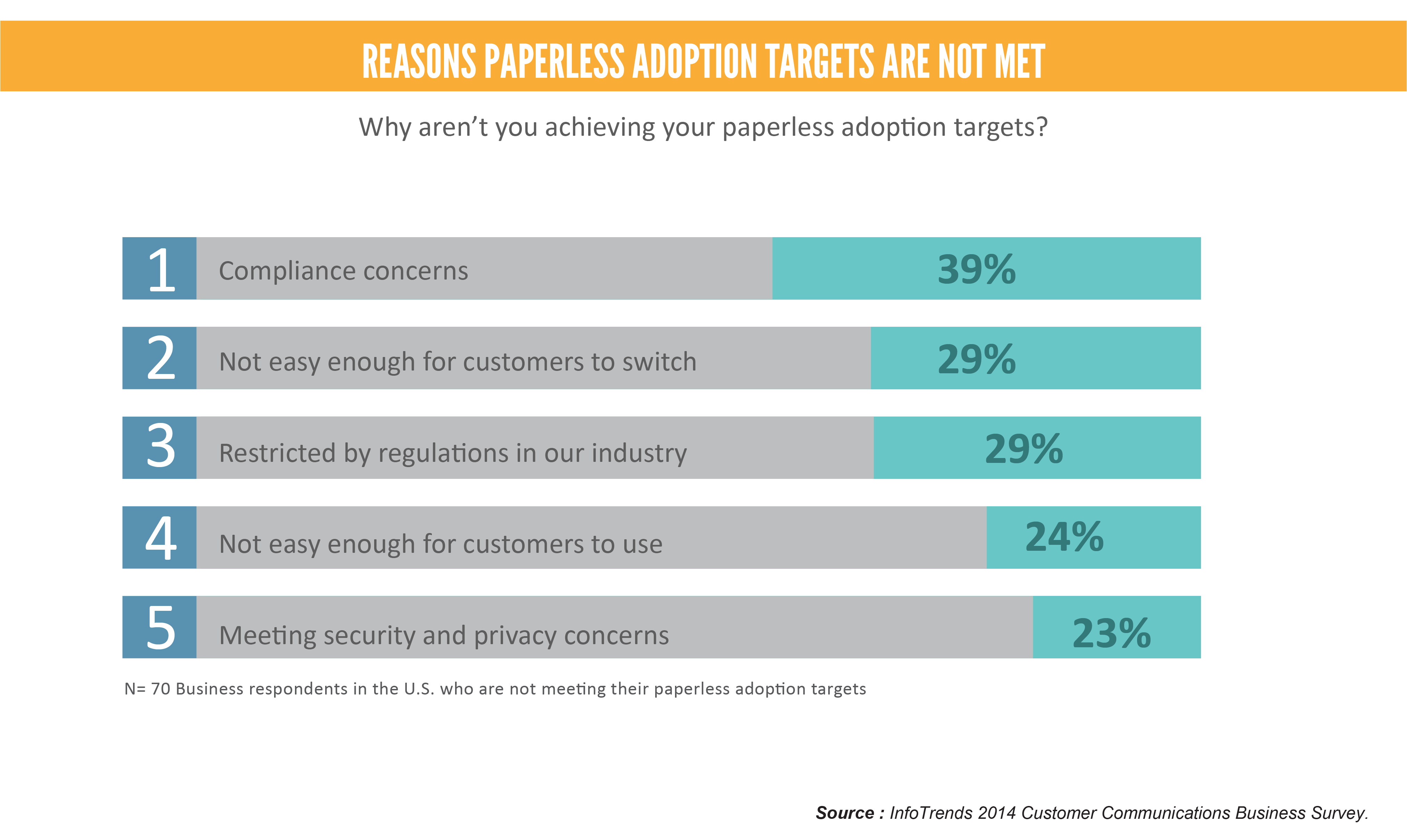 Key advantages of Striata email billing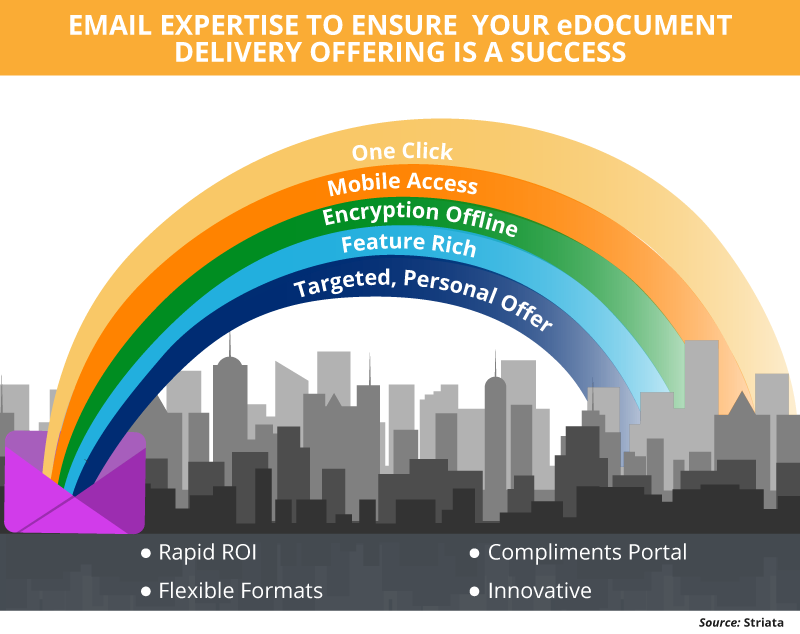 Cost reduction
Significantly reduces paper, printing and postage costs by substituting email for paper delivery
Low implementation cost and pay-per-use pricing make it an affordable option for all types of businesses
Increased self-service
Advanced functionality can be included such as repayment calculators, change of address forms, call-back request forms, cross-selling tools and basic dispute resolution.
Complements online channels
Email can help build trust with customers who are not comfortable with online transactions or who are simply unwilling to commit to using the online portal on a regular basis.
Improved cash flow by facilitating faster payments
Customers can still choose to pay using all existing online and offline channels, but the eBill arrives days sooner than paper.
Email bills can be paid securely straight away, and more than 40% of customers pay within two days of receiving the eBill. The chart below shows the distribution of payments by email billing customers of a major US utility utilizing Striata's innovative payment solution.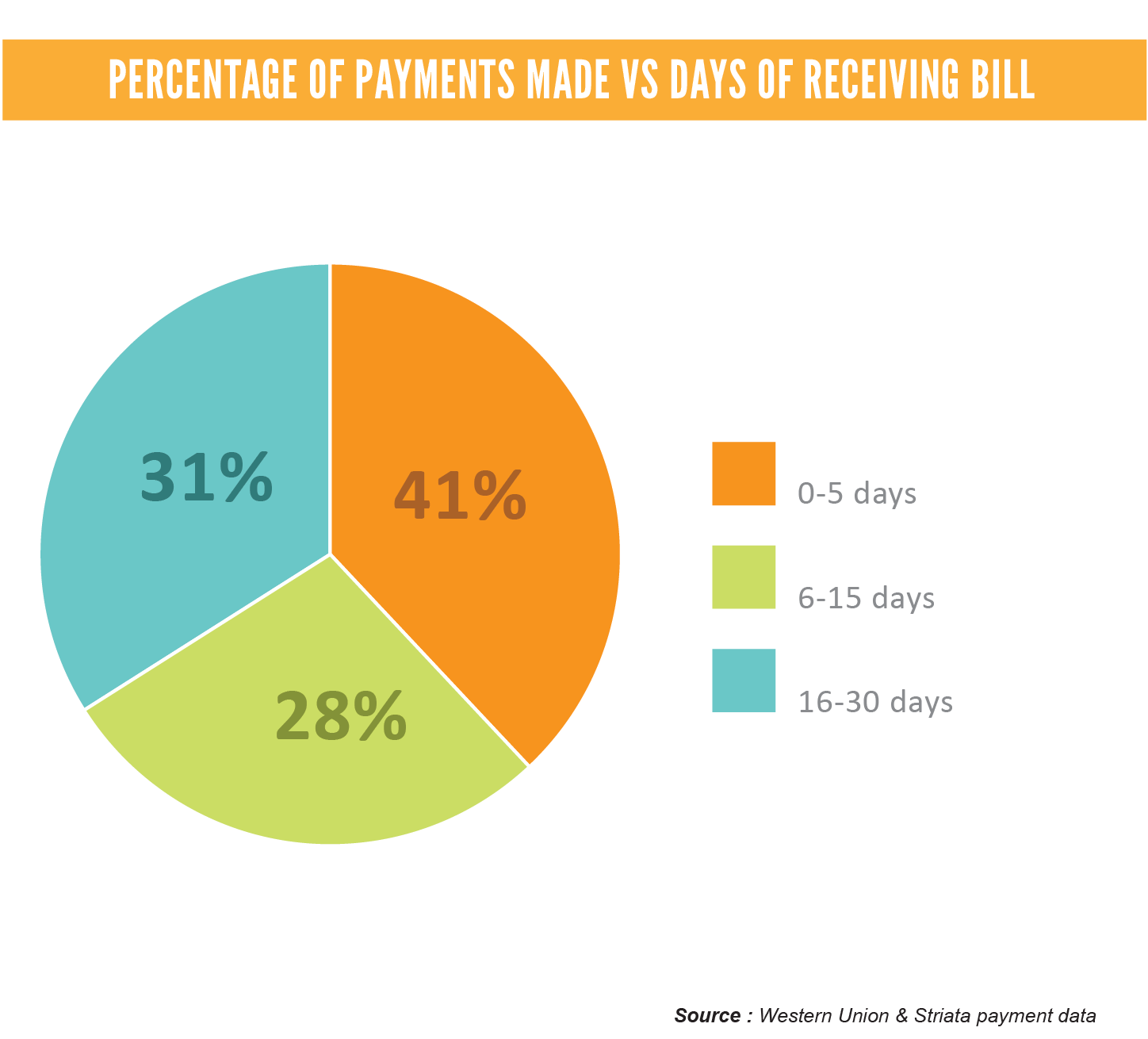 Read more about Striata BillPay and about our mobile bill pay options
Security
The eBill is secured using the latest in encryption technology and remains encrypted when not in use, protecting confidentiality.
Any security risk is confined to a single recipient's data and not to an entire customer database, as in an EBPP website.
Increased loyalty and support for corporate eCommunication and CRM initiatives
Direct delivery of these important communications helps build customer loyalty / retention.
Promotes interaction and direct communication with customers. The power of email enables effective targeted marketing for personalized, relevant offers.
Drives qualified, meaningful web traffic from the secure, trusted electronic document (statement or bill).
Expands and complements existing online services
The eBill provides your customer with a mini website experience delivered directly to their inbox. This feature-rich channel is ideal for cross and up-selling.
Opens additional touch points with your customers for new CRM and marketing opportunities.
Customer experience insight gained
Detailed delivery reporting, open rates and click-tracking reports provide invaluable business intelligence regarding your customers' behavior.
Reduced environmental impact
It's clear that email goes the last mile in achieving a true multichannel offering. This means giving customers a great eBilling experience, which ultimately results in significant paper turn-off.
Speak to us about how you can overcome your eBilling challenges, so you can start reaping the benefits...