Get to know our digital leader and ​Chief Marketing Officer (CMO), Alison Treadaway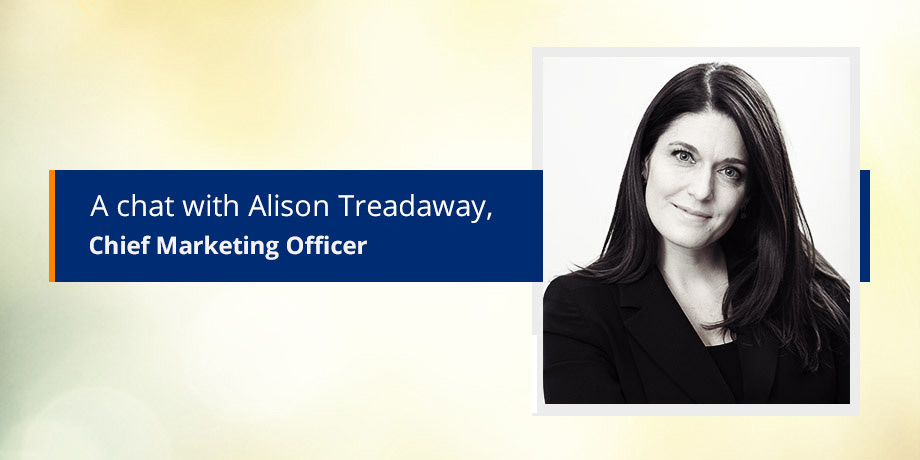 In this post in our blog series where we shine the spotlight on our executive staff members – our digital leaders, we introduce you to Alison Treadaway, our ​Chief Marketing Officer (CMO).
Alison only logs into a website or web portal if she needs to view historical documents and is 100% paperless! Read on to find out a little more about Alison…
What's your backstory (how did you come to be working for Striata)?
My career has always been related to the Internet. I worked for one of the first Internet Service providers in Africa. They were acquired by a large tech company which gave me experience in customer communication management. After a couple years, I knew I wanted to return to a more intimate business. Striata was a great choice and has been my work home for 16 years.
How has the business changed since you joined?
It's grown in so many ways – revenue, reach, people and solutions. We've rebranded, repositioned and reworked our message to keep it relevant and fresh. But we've stuck to our core offering: digital customer communication management and excelled at our primary differentiator – document security.
What has remained constant in the business since you joined?
We've managed to preserve the culture of the company through the growth in revenue, people and global footprint. Our company culture is a key part of our success and we work hard to communicate our values to new people so that they understand how we operate.
What do you appreciate most about working at Striata?
Working with smart people who believe in the 'digital first' approach. Our teams don't focus on 'ebilling' or 'emarketing', we focus on solving problems and improving efficiencies. It so happens that our current drive is to solve digital communication problems and improve customer service for our clients. In 5 years time, it might be a different problem with a new solution.
What's your personal split between bills by mail and electronic bills?
I am 100% paperless. I recently moved cities and I haven't bothered to get a new postal address. All my correspondence, including estatements and ebills, are delivered to me as a secure document attachment by email.
How often do you log into a website to view your personal documents?
I only log into a website or web portal if I need to view historical estatements or einvoices. I have all my historical correspondence sent by email anyway, which I can search and find quite quickly. Much easier than remembering a password to log onto a web portal. But if I need something specific, I want it to be available on the web and my information must be secure.
Is there any type of correspondence that is ONLY available to you through the mail?
I hope not. Since moving cities, I no longer have a postal address to which letters can be sent. I do all my banking and payments on the Internet.
You work for a digital company, what is it about digital that you are passionate about?
I am passionate about all of it. I can't understand why businesses still use manual processes when there are so many digital tools to communicate with customers. My personality tends towards needing order and efficiency and digital channels are for me the most efficient way to interact.
How do you think digital is going to change your life personally in the next 5 years?
Technologies like artificial intelligence and blockchain are going to disrupt many a complacent industry. The speed at which technology is changing our lives will continue to speed up. Our children will study in ways we never did, and get jobs that we battle to understand because the frame of reference has shifted (again).
What is the most important lesson the next generation need to learn about operating in a digital world?
Most important is to know how to leverage the digital world while staying safe. We teach our children emotional intelligence; it is just as important to teach them digital intelligence as well.