The Fundamental Business Drivers for Electronic Billing
Published on 20 Feb 2007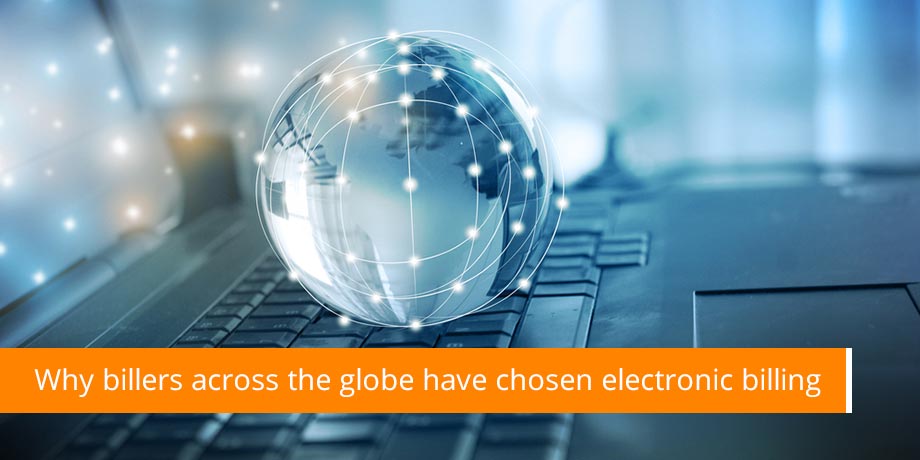 In today's newsletter we return to basics and detail the major fundamental reasons why the majority of billing organizations across the globe have undertaken electronic billing initiatives. (I have included various links in this newsflash, to other articles which expand upon the point being detailed.)
There are four main reasons why companies offer Electronic Bill Presentment & Payment, both to their consumer and business customers:
1. Cost Take Out
The biggest impact that Electronic Bill Presentment has on any organization is that of significant, instant & measurable cost reduction. It is volume dependent, however conservative hard cost take out ranges from 60% to over 90%. These savings are derived from paper suppression and include: printing, insertion, folding, paper, envelopes, and postage.
Additional benefits can also be attributed to 'soft' savings such as manpower, exception handling and general business process improvements. The business case is however so compelling that it is more often than not, unnecessary to measure or include these in ROI workings.
2. Instant Delivery
The fully automated processes involved with delivering your bills electronically, allow for completed delivery within one to three hours of completion of your daily billing run. Thus enabling a customer to receive their bill on average, 4 working days earlier. Our studies have further shown that +/-75% of ebill recipients open and read their ebill within 48 hours of delivery.
3. Quicker Recipient Response
Unless the document delivered is a statement or some other document type that does not require a response, there are typically two response types:
Electronic Payment: Receiving payments electronically is a meaningful requirement for all electronic billing initiatives. Whilst almost all the cost savings are gained from the presentment side of the equation, there are many reasons why electronic payment is very desirable. These include dramatically quicker payment activity and reduced DSO (Days Sales Outstanding), total reduction in expensive lockbox exceptions and dramatically improved reoccurring payment adoption.
Form completion & submission: Many electronic document delivery projects (policy documents, bank statements, commission statements etc) do not require any payment. Technology exists to append pre-populated forms for customer completion and submission with just a single click. This solution is particularly cost effective in updating customer records and taking manual intervention out of any form completion requirement.
4. Improved Marketing Capability
Inserting marketing material into paper bill envelopes is expensive, extremely challenging & expensive to personalize. Unfortunately, response rates have been declining to a point where they are now negligible. For the majority (65% to 80%) of customers, a biller's only touch point with them is the monthly bill / statement.
One of the key advantages of an electronic bill delivery solution is the personalized marketing opportunity. Due to the very nature of this billing medium, billers are able to store a range of marketing messages and apply these to the delivered electronic bill in conjunction with a set of pre-determined business rules. Thus allowing for the recipient to receive fully personalized, targeted and relevant messages. Furthermore, the ebill has new, unavoidable marketing 'real-estate' that is many more times effective than a bill stuffer.
The largest advantage however, is that these marketing opportunities are able to be harnessed at almost no cost at all.
Other than the four primary reasons above, additional eBilling efficiencies and advantages include:
For B2B projects, a significant advantage for the ebill recipient is an imbedded data file. This saves extensive manual capture of multiple line item invoices.
Line item dispute management can be automated and corrected invoices redelivered, all without any manual intervention.
Replies to the secure eBill can be efficiently routed and auto responders set.
Good customer 'action' visibility can be achieved. Reports include when the customer received their ebill, when they opened it and how many times and when it was paid.
Improved security: Due to the fundamental nature of 'push' secure eBilling's two-factor authentication, this type of billing is both more secure than paper as well as any username & password login website.
The many benefits of eBilling & eStatements are very appealing to billers and financial institutions alike. They key of course is to get maximum customer adoption.