Electronic billing and payment is proven to achieve faster payment cycles. By offering an easy electronic payment option, you can improve your customer experience and reduce days sales outstanding (DSO) too.
We partner with various payment providers globally, to give your customers the ability to pay their bill securely from a desktop or mobile device.
You can also automate your collections process using triggered messages to prompt delinquent customers to pay faster, and to avoid incurring collections charges.
Get in touch with us
Keen to find out more or get an expert's opinion?
Switch your customers to electronic bill payment and get paid faster
The advantages of electronic bill delivery and payment extend beyond faster payments:
You will realize significant cost savings when you deliver bills electronically and give customers an uncomplicated, user friendly way to pay.
Convenience
Repeat customers can make an immediate electronic payment directly from their email, without a long registration process.
Customer satisfaction
Increase customer satisfaction by providing an enhanced experience when customers pay their bills on both mobile and desktop devices.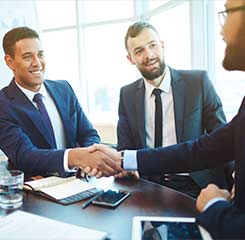 Striata Why Buy Striata Fact Sheet
Why companies choose Striata for all their customer communication needs.