Digital communication in telecoms is critical to build loyal relationships
Published on 26 Jun 2020
Telecom companies need a digital communication strategy that ensures a direct relationship between the telco and its customers. Too often, the underlying telecoms services are pushed into the background by Over The Top (OTT)  providers like Facebook and Instagram, who have direct contact and are able to build loyal relationships.
As with all consumer brands, communication in telecoms is a critical factor in influencing how a customer feels about his/her provider. 
Communication plays a key role in whether the overall customer experience (CX) is positive or negative. Erring on the side of too much or too little, leaves a negative impression, as does sending information that is not targeted or relevant. Both scenarios are a potential catalyst for customer churn. 
Telecoms providers must enhance CX through personalized and relevant communication. 
Digital agility, customer journeys and personalization are key
There are many ways in which a telco can enhance CX, one of them being to improve the quality and quantity of communication it sends to customers. From the customer's perspective, all communication they receive from their telco, regardless of the intention, channel or journey, should be consistent in every way. 
This is challenging because data sources reside in different systems, messages are sent via different platforms and managed by separate departments. It's not a simple process to integrate disparate systems and platforms to create a single view of customer communication.
To begin with, the telco must understand its current communication landscape, and then determine what it wants to achieve. 
1. Digital agility
If 2020 taught us anything, it's that fundamental change is just a virus outbreak away. This reinforces the need to build digital agility into the very core of a business.   To establish a digitally agile culture, organizations need to have the right people on board, which means making adjustments – starting with hiring, all the way through to leadership. A digitally agile culture not only manages change but embraces and takes full advantage of technological investments. 
2. Customer journeys
In order to improve customer experience, the telco needs to map each customer journey, and document every communication the customer receives. The best way to do this is to complete a customer communication audit in which every communication that is sent to customers is identified and the look, tone, frequency and intention is defined. This is the basis on which to build a strategy that aims to align and improve customer communication through each customer journey. 
3. Personalization of communications
Today's customers expect hyper-personalized communications that speak directly to their personal life stage and preferences. The personalization of digital communications has evolved from simply addressing customers by their names to using real-time data, artificial intelligence and prescriptive analytics to predict what an individual needs, and then successfully engaging them with the right content.  The key is the ability to gather and use behavioral data in real-time to define the best offer or next action for each individual customer. 
Fortunately, telcos are sitting on a fortune of customer data and leveraging it to create exceptional customer journeys with personalized experiences is both possible and essential. 
Delivering the 'next best offer' via the right digital channel at the right time, when it is needed, will result in an increase in spend, brand engagement and customer loyalty. In tough economic times when telcos are competing with OTTs for a share of a decreasing wallet, loyal customers are gold.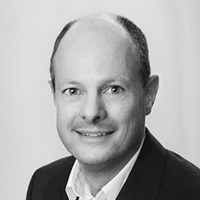 Ross Sibbald
Commercial Director, Africa
Need a digital communication strategy for your telco that will increase spend, brand engagement & improve customer experience?
Striata is a leading provider of digital customer communication solutions that improve customer experience and advance the digital transformation of a company's communication strategy.