Digital Communication Audit
Digital Communication Audit
Is your digital communication creating a fractured customer experience?
Understanding and improving your customer experience is crucial  and this is can be achieved through consistent, relevant digital communication.
But,  many organizations are delivering an incohesive messaging experience due to:
Having separate communication teams
Siloed data and point systems
Numerous outdated automated communications
Keen to identify inconsistencies in the value proposition, frequency, tone, branding and call-to-action, that are fracturing your customer experience?
Understanding the status quo is the first step to defining a cohesive, customer-centric strategy.
A digital communication audit is a great way to begin your enhancement strategy.
---
Striata can help you understand how fractured your current messaging really is, and recommend enhancements that will support an improved customer experience.
Our audit approach is to:
Map existing digital communication touchpoints

Identify both the gaps and the high priority touchpoints

Review key elements, such as value proposition, tone, branding and frequency

Define/amend digital guidelines to ensure consistent, on-brand messages across the board
The ultimate objective of the audit is to identify quick win projects that will remove any fractures, while working on the long term strategy for enhanced digital communication.
Contact us to discuss an audit of your digital communication
Complementary resources
---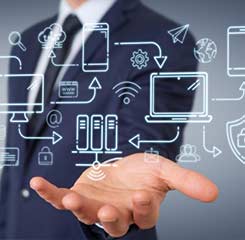 White Paper: Digital Maturity
Digitally transforming a business's communication processes is a massive undertaking. It requires new and upgraded technologies, top to bottom change management and the transformation of internal (employee) and external (customer) interactions.