COVID-19 shifts marketing spend in banking further towards digital communication and email marketing
Published on 16 Oct 2020
Future generations of kids will be learning about 2020 as the year of rapid digital transformation. Not only did consumers migrate in droves to digital channels, but businesses were forced to suddenly accelerate the digitization of processes and communication in the face of a socially distanced and physically restricted world. 
At the same time, a struggling economy has put pressure on marketing spend, and this was evident in financial institutions tightening their budgets. Pre-COVID-19 research by Salesforce didn't highlight budget as a challenge for marketers. That shifted quickly, once the effects of the pandemic became clearer. 
In a subsequent survey by Marketing Week and Econsultancy, 69% of respondents cited "Uncertainty about budgets, planning and events" as their number one challenge. 
The shift of marketing spend in banking – Where is it all going now? 
Financial and banking marketers had to shift their focus onto channels that were most likely to reach their target audience. Not surprisingly, 2020 saw marketing spend taken away from media such as outdoor advertising, print advertising, broadcast and in-branch promotions. Whereas, an increase in spend was observed in digital channels like email marketing, social media and content marketing [see Figure].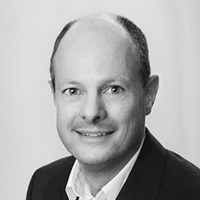 Ross Sibbald
Commercial Director, Africa
We can help your bank leverage the power of email, to earn and build consumer trust, while as well as deliver a great CX