Striata launches eConsent, a new paperless adoption process at FinovateEurope
Published on 08 Feb 2012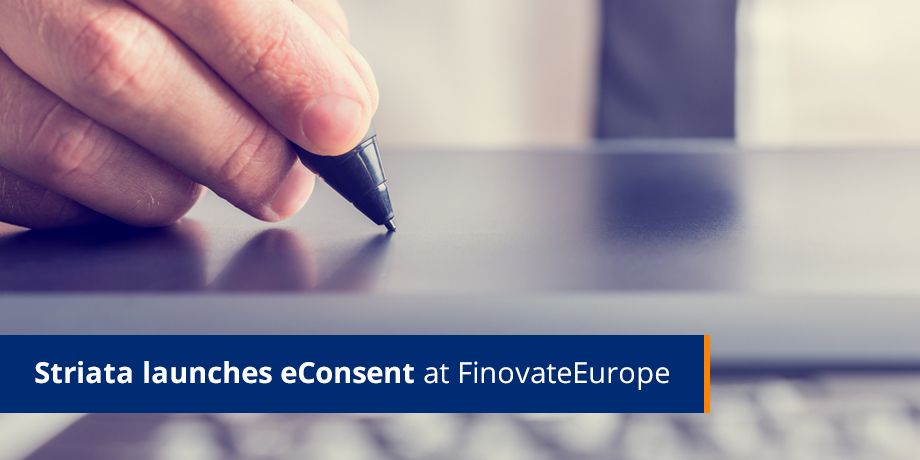 Striata, a global leader in paperless communication, will be launching eConsent, an innovative paperless adoption process at *FinovateEurope, in London on 07 February 2012. "It's time for billers to control the paperless conversion, instead of relying on their customers to proactively enroll and switch off paper," says Michael Wright, CEO, Striata. "Our innovative adoption techniques not only completely eliminate the registration barrier, but also enable customers to switch off paper in just one click."
Innovation at the adoption point is crucial to achieving ROI
"Banks and financial institutions invest heavily in online initiatives aimed at reducing paper, but fall short at the most important hurdle – getting customers to adopt the technology. To achieve ROI on paperless solutions, innovation at the adoption point is crucial. FinovateEurope provides us with an opportunity to demonstrate a seamless conversion, as customers are prompted to sign up for our paperless eBilling solution via a simple, one click eConsent process, "explains Wright.
Going paperless is not only about building the right solution but its success relies entirely on whether the end user adopts the alternative offered, thus switching off the existing solution. Today almost every major biller and financial institution (FI) enables their customers to view electronic versions of their bill / statement online. These 'Pull' solutions require the customer to proactively register and then remember to login at each subsequent visit with a username and password. Registration and the use of username and passwords create barriers to paperless adoption and as a result these billers and FI's are not realizing their paperless objectives – in fact, adoption based on 'Pull' methodology has stagnated at less than 20% across all industries.
Billers can now control the paperless conversion
Wright says that at FinovateEurope, Striata will show billers how they can control paperless adoption by utilizing the power of email. "The bill is delivered directly to the customer's inbox – all that is required is an email address and then the paper turn off consent process can be built into the interactive email bill. This process has enabled Striata to achieve adoption rates in excess of 85%."
"We will also demonstrate how our 'shared secret' technology eliminates the need for customers to remember usernames and passwords. The Secure PDF opens with a dialog box in the customer's existing PDF reader with no software download required. Payment can be facilitated directly off the face of the PDF, without having to visit a website. Our interactive PDF Bill delivers an added value experience for the end user, enabling navigation, multiple 'virtual pages'; sorting of data; interactive graphs; grouping of data; animations and videos ."
"Our registration-free adoption process paints a compelling story, which is bound to challenge the status quo," concludes Wright.
About FinovateEurope: FinovateEurope is a demo-based conference for innovative startups and established companies in the fields of banking and financial technology. Held in London, one of the world's premiere financial capitals, the event offers an insight-packed glimpse of the future of money via a fast-paced, intimate and unique format. FinovateEurope is organized by Online Financial Innovations. For more information on the event, or to view videos of previous demos, please visit http://finovate.com/.