Two-Click, No Registration, eBill Presentment AND Payment
Published on 11 Jan 2005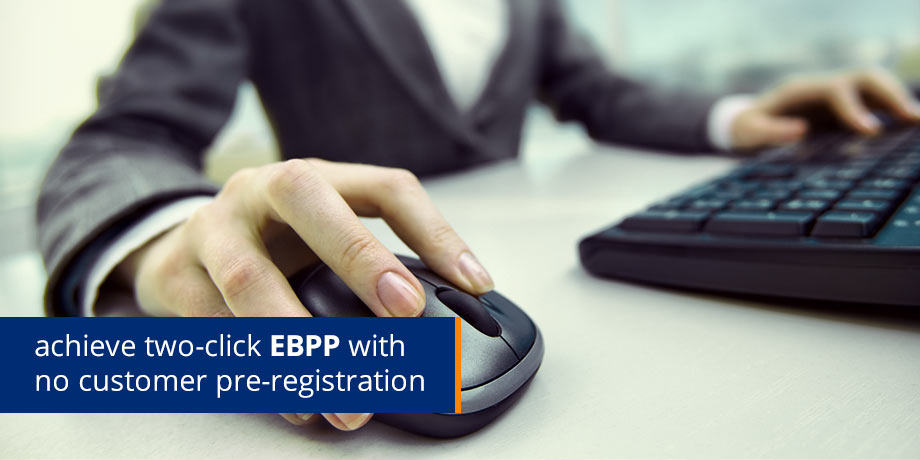 eBill Presentment & Payment
All of us at Striata worldwide would like to take this opportunity to wish you a very happy & prosperous 2005.
The number of clicks and time that a customer needs to view and pay their bill is of critical importance to all electronic billers and online banking divisions. The goal is always maximum convenience and minimum user effort. In today's article, we show how it is possible to achieve two-click EBPP with no customer pre-registration.
Please continue to forward this to whomever you think would find it of interest. Thank you.
Two-Click, No Registration, eBill Presentment AND Payment
Every biller would like to stop sending their customers costly paper bills and make it as easy as possible for every customer to view & pay their bills electronically.
To date, the challenge has been getting a significant number of customers to sign up and register for the Billers 'Internet eBilling' offering. (In our Newsflash of late November, we covered the various reasons why these efforts have not met with the desired success.)
In order to ensure that a large percentage of customers migrate to eBilling, it is essential for a Biller to achieve the following:
No upfront customer registration
No need to visit a website
No need for more than a dial up connection
No need to remember a user name & password
The ability to view & pay their bill in under 30 seconds
The ability to save their electronic bill (eBill) and pay it later
An eBill that looks the same as their paper one
Secure Email Billing takes care of all of the above!
The process works as follows:
The biller gets their customer's email address. (At account activation, when the customer calls in, etc. Every contact is an opportunity to get this information. Over 70% of a Biller's customers are actively using email here in the US.)
A 'shared secret' is chosen that is only known to the biller and the customer. This can be a Social Security Number, Account number, Existing Pin code etc.
The Biller sends the customer their next bill securely via Striata's email.
The Customer uses the 'shared secret' to decrypt and open their eBill. (CLICK ONE)
The eBill opens (offline or online) in the customer's web browser.
The eBill looks exactly the same as the paper one. The customer can print it out if required.
In the Payment Section at the top or the bottom of the eBill, the customer enters their checking and routing numbers, the amount they wish to pay (it is defaulted to the total amount due), and clicks on 'PAY'. (CLICK TWO – done)
The payment is then automatically submitted (without the need for the customer to visit a single website).
The customer receives an email confirming their payment.
The payment flows directly into the Biller's bank account exactly like any other ACH payment.
The Biller then automatically stops sending paper bills after one or two eBills have been successfully received and paid by the customer.
Note: Customers that pay by phone or have automatic recurring debits will still get their bill securely via email but will not have the payment facility.
It is as simple as that – no customer registration is required and just two clicks to view and pay the email Bill.
The entire process of viewing and paying an email Bill should take a customer less than 2 minutes at most. Once customers have viewed and paid their bills, they can then click through to other self-service functionality on the biller's website, should they require additional assistance.
Please feel free to contact us so that we may arrange a webcast / presentation showcasing a number of US and International companies who have effectively rolled out Striata solutions of this nature.
Improve the customer experience with secure document delivery today