Digital Transformation: new global study by sector
Published on 10 Jul 2020
A recent report by consulting firm, Trianz, presents new insight into the state of digital transformation within sectors such as telecoms, banking, insurance and utilities. Based on 9,000+ responses across 18 industries worldwide, the study defines digital transformation as the "reimagination of a company's portfolio of products and services to create exceptional customer and stakeholder experience chains." 
The measures used to score each sector are the level of digital transformation as a function of analytics capabilities and the level of process digitalization. The result is a grid, which maps the sectors as depicted in the figure below.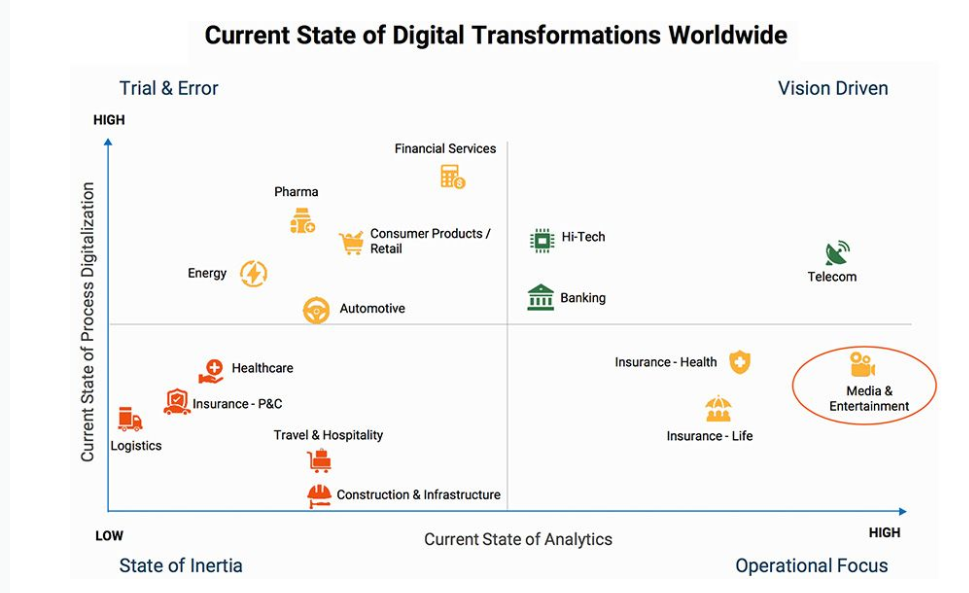 Insight from our digital transformation guru:
It must be said that the report has some startling findings – not least that 55% of all companies surveyed still believe digital transformation is about updating their websites and portals. 
What's more, only 71% of the respondents identified as 'Digital Champions', believe digital transformation is about the reinvention of the business. That leaves 29% of digital champions who do not believe this, illustrating a fundamental misalignment on the definition and scope of Digital Experience (DX).
This report has a couple of surprises in relation to digital transformation that really impacts customer experience, as opposed to digital transformation that improves back-end efficiencies.
Telecom & banking – are setting the pace
Hi-tech, banking and telecom are in the prime top/right quadrant, indicating that they are setting the pace for digital transformation. When it comes to telecoms, however, they may be vision-driven with a high capability in analytics – but is this digital transformation really improving the customer experience? Or are 'Over The Top' (OTT) providers continuing to strengthen their customer relationships at the expense of the telecom's direct line to the customer? offers, services and products.
Insurance – digital transformation differs by insurance type
Insurance is interesting as it's often seen as a single sector, when in reality the state of digital transformation is different based on the type of insurance – healthcare, P&C, or life.
The Trianz report shows this variance, with health insurers scoring highest on process digitalization, followed closely by life insurers. This indicates that health and life insurers are investing heavily in analytics. Meanwhile, P&C insurers are shown to be lagging on both metrics, with low placement for process digitalization and analytics capabilities.
Digital Transformation Catalyst for Insurance
Insurers are acutely aware of the sheer amount of paperwork involved with any one customer.
Utilities – digitalization is advanced, but analytics still a challenge
While it may not be representative of all utility services, the energy sector is mapped into the upper left quadrant, indicating that its process digitalization is advanced, but it hasn't yet cracked analytics. The study calls this approach 'trial and error' – these industries are reactive to market or competitive pressure and are digitizing processes without defining the big picture.
How technology can change communication in the utility sector
How utilities can leapfrog customer expectations in digital CX
This report not only maps the current state of digital transformation but also presents a two-year projection, based on estimated spend in process digitalization and analytics. The two-year outlook sees some interesting movement in the above sectors, most of which, bar one, are predicted to improve on their digital transformation. 
Get the full report: The State of Digital Transformation Worldwide 2020. Tip – the emailed report may go to the Promotions tab for Gmail users.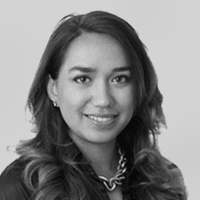 Elizabeth Stephen
VP of Customer Engagement, The Americas
Need to boost your digital transformation efforts? Start with your digital customer communication - Find out how...
Striata is a leading provider of digital customer communication solutions that improve customer experience and advance the digital transformation of a company's communication strategy.