How utilities can leverage technology to deliver a great CX
Published on 25 Feb 2020
Customer expectations of utility providers have evolved drastically over the last few years. Digital disruption is forcing organizations to adopt technologies that not only streamline their operational processes, but also enhance CX.  And customers now expect the same level of service and engagement from all their service providers.
There is no doubt that today's consumers are driving digital transformation and while keeping the lights on and water flowing does contribute to a good CX, it is just not enough anymore to ensure utility customers are 100% satisfied. 
Utilities lag in customer experience initiatives
A study by J.D Power shows that utilities "are among the lowest-performing industry groups when it comes to delivering distinct digital customer experiences, except for a few industry pioneers.
Prefer to use digital channels as their primary means of interactingwith a utility

45%

45%

Are doing so

22%

22%
What makes matters worse, is that most utilities are known to only communicate with their customers over the billing/payment period. Utilities cannot leverage much off this brief interaction to build customer relationships, nor customer loyalty for that matter. Consistency is key when it comes to customer communication and engagement.
Digital technology is enabling various organizations in other industries to engage with their customers more consistently and effectively.
The question is: 
How will digital technology enhance customer experience in utilities?
Advice from our CX expert:
Consumers want hyper-personalized interactions, more innovation and more options, as well as meaningful experiences that align with their lifestyles. 
This means utilities need to provide services and communications that resonate with their customers' needs and values. For example, informing increasingly environmentally aware customers of new, innovative ways the utility is reducing the consumption of resources that impact the environment. 
Innovating customer communications and engaging with customers digitally and instantly in the moments that matter, such as notifying them of service interruption or unusually high consumption, is a key driver of CX in the utility sector. 
And, today's consumers not only expect companies to know a lot about them, but they also expect a certain level of anticipation of their needs.  
Utilities can address customers' current and future needs in an instant, using digital technology, such as artificial intelligence, machine learning,  predictive analytics, voice integration, and chatbots to augment their customer communications.
Here are four ways digital technology can enhance CX in utilities:
1. Hyper-personalization & the next best offer
Using all customer data on hand, as well as AI to establish the next best offer, utilities are able to deliver relevant, personalized communications to their customers, which will more likely drive the required action. 
2. Customizing customer journey touch-points
When coupled with AI, utility providers can customize the customer journey touch-points. For example: If the customer has received a huge utility bill due to a burst water pipe, they expect any subsequent messaging to be specific to that incident and in the appropriate tone. 
3. Integrating voice tech
Due to its massive growth and adoption in other industries, integrating voice tech into customer processes is no longer  a nice to have, but rather a must-have for utilities. For example, enabling customers to ask when a payment is due.
Also consider sending an email communication, detailing a new, more efficient way for customers to save energy – such as installing solar panels and integrate the communication with voice in a way that allows the customer to immediately request the option, using their voice-enabled device.
4. Including chatbots in each touch-point
Integrating chatbots into digital customer communication channels, such as email, delivers great value to a customer. Drawing the email subject as well as customer data into that chat gives the customer a seamless experience. And it's a great opportunity to assist the customer immediately, without them having to call in or log into a portal to get the information they need.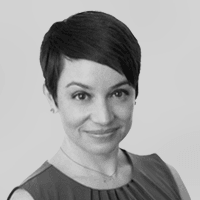 Mia Papanicolaou
COO, The Americas
We can help enhance your utility customer experience through personalized, interactive and relevant digital communication, via your customer's channel of choice.
Striata is a leading provider of digital customer communication solutions that improve customer experience and advance the digital transformation of a company's communication strategy.