Digital messaging: when hyper-personalization becomes 'creepy'...
Published on 24 Apr 2019
Digital messaging: when hyper-personalization becomes 'creepy'…
In today's convenience culture, consumers expect personalized experiences, especially when it comes to customer communication. Not only should a message be addressed to a recipient by name, it also needs to take into account personal preferences, engagement history and even external factors, such as location and weather, to stand out in a crowded inbox.
The application of artificial intelligence to real time data can produce the optimal "next best offer" for your customer – but at what point does personalization cross the line to become too personal?
Our guru opinion:
The goal of hyper-personalization is to utilize data to create a marketing or operational message that is relevant and timely.
And it's clear that customers want personalized experiences – this shows that a brand recognizes and cares about their specific needs. As much as 83% of consumers are willing to share their data to enable a personalized experience. However, the minute a customer's reaction to a message is "how did they know that?" – you've crossed a line.
There are several reasons for the 'creepy' factor. The first relates to consent – in a study by Accenture, 27% of respondents said a brand had communicated with them in a way that felt "too personal", and 64% of that group were uncomfortable because they didn't willingly provide the data used.
Another was the use of location to provide relevant offers – with 41% stating that it's creepy to get a text from a brand or retailer when they walk by a store.
Unfortunately, what's creepy and what's not, is ultimately a personal evaluation, meaning organizations must constantly measure their desire to utilize possibly intimate data, with the value this brings to the individual.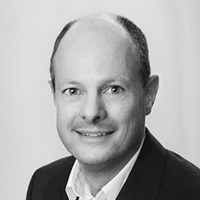 Ross Sibbald
Commercial Director, Africa
Striata is a leading provider of digital customer communication solutions that improve customer experience and advance the digital transformation of a company's communication strategy.