5 Things to consider when selecting your digital customer communication partner
Published on 23 Jun 2020
It's time to speed up your digital transformation efforts to take advantage of the increase in digital demand.  
The recent crisis has forced businesses, employees and consumers into a 'contactless' digital world.  Banking, healthcare, insurance and retail industries across the globe, have all accelerated their digital efforts by moving their physical processes online to accommodate a 'stay at home' consumer base.
Customer behavior is changing daily, so organizations have had to become more agile to meet their needs. Digital channels have now become the primary customer engagement tools and automated processes key to productivity. 
An article from McKinsey states that "businesses that once mapped digital strategy in one- to three-year phases must now scale their initiatives in a matter of days or weeks."
But, it's unrealistic to expect an internal digital transformation team to do this fast enough. You need to select a digital communication partner that can help you identify your organization's requirements, and work alongside your teams to execute that strategy.
How to select your digital customer communication partner
When selecting your digital communications partner, make sure you consider the following:
1. Consulting
Plotting the maturity of your organization's messaging strategy and digital communication is the basis from which to plan an enhancement strategy. You need a full picture of the status quo – that is the communication your organization currently sends to customers.  A single view of customer communication is the foundation on which to build a strategy that governs those messages.
2. Data privacy and security
While users should take some responsibility for document security, organizations must, at the very least, take steps to encrypt and protect the sensitive documents they make available on the web or by email. Security needs to be built into digital documents and communication solutions from the ground up.
You need a digital communication partner that:  ensures multiple layers of security to protect customer data throughout the processing thereof. And one that has developed a customer communication platform with the security of data and processes at its core, and has an information security framework that is ISO/IEC 27001:2013 certified.
3. CX Architecture
While there is no definitive path to building the ideal architecture, it is vital that your CX technology stack supports a single view of customer communication. Without this key ability, it's likely that your customers will continue to experience a fractured CX. There are a number of key considerations when designing the ideal CX architecture. Such as deciding to build vs buy the technology, and whether what you need a product only or a solution that includes supporting services.
You need a digital communication partner that: has a platform that can easily be integrated into a hybrid CX architecture, as part of a best-of-breed approach for other core CCM functions. And one that enables the design of a CX architecture that can flex as your requirements evolve. Security must also be a key consideration.
4. The complexity and value of data
At the center of all digital communication is data. You need accurate contact information to reach your customers. You also need information on their preferences and behavior to target each customer with the right message.
You need a digital communication partner that: has the expertise to help you obtain, clean, maintain and leverage your data to improve your reach and personalize your communications. Along with proven methodologies to speed up the collection and cleaning of contact information, such as email addresses and mobile numbers.
5. Support
Specialized project, technical and support services are needed to maximize the success of any digital customer communication initiative. You need experts in all the steps required to design, build, deploy, test and monitor your digital communication project, along with reliable email deliverability services that ensure your messages get delivered
You need a digital communication partner that: provides a full range of technical and operational services to ensure you get the best results from their technology. Whether you choose software as a service or deploy their platform in-house, you need access to expert advice on the infrastructure, security and systems integration requirements of their platform.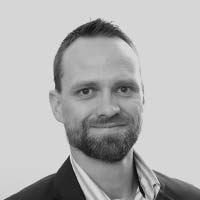 Brent Haumann
Managing Director, Africa
Need an indispensable digital customer communication partner to help drive your digital transformation initiatives and enhance customer experience?
Striata is a leading provider of digital customer communication solutions that improve customer experience and advance the digital transformation of a company's communication strategy.