Introducing our digital specialist, Greg Gatherer - Executive Head of Striata Document Solutions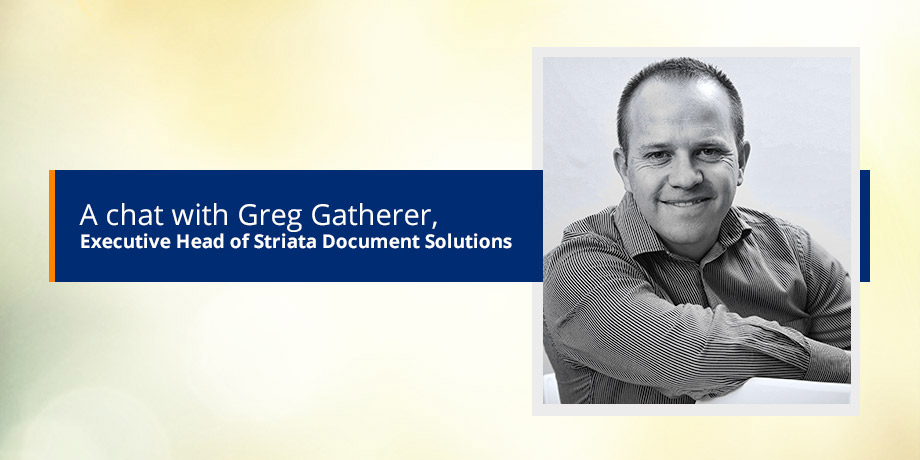 In this post in our blog series where we shine the spotlight on our executive staff members – our digital gurus, we introduce you to another digital specialist, Greg Gatherer, Executive Head of Striata Document Solutions.
Greg is 100% paperless, he receives 80% of his bills by email and accesses the other 20% via a mobile app. Read on to find out more about Greg's passion for digital and his life at Striata…
What's your backstory (how did you come to be working for Striata)?
Before working at Striata, I was working with the largest VDP (Variable Data Printing) company in South Africa, specializing in the printing of bills and statements (Data-Print-Mail). I Initially managed the sales team in Gauteng and then moved into an operational role as Regional Operations Manager, where I was fully responsible for all output communications. I was very involved in selling our email solution to traditional clients. I quickly realized how fast digital was taking over the traditional means of communication and started looking closely towards companies playing in the digital space. I started engaging with Striata and waited for the right time and opportunity to take up a position here as Executive Head of Document Solutions.
How has the business changed since you joined?
There were a lot of changes happening when I joined Striata, including fundamental changes to how Striata SA was structured. Cross-functional teams were put in place to increase customer centricity and further improve customer service. This has had a significant impact on the operations of the business and was the foundation of our multi-functional agency structure.
What has remained constant in the business since you joined?
Customer service and the focus on employee well being have remained top priority.
What do you appreciate most about working at Striata?
The people that work here. The culture is second to none across the organizations I have worked in. The company has a fantastic openness to challenge the status quo and identify new and better ways to work. The sincere interest in each and every employee is simply unsurpassed.
What's your personal split between bills by mail and electronic bills?
I get 80% of my bills by email and access the balance of 20% via a mobile app. I no longer receive any paper bills.
You work for a digital company, what is it about digital that you are passionate about?
The way digital has the ability connect people no matter where they are. We are all digital citizens.
How do you think digital is going to change your life personally in the next 5 years?
Massively … we already think, work, live and play in a connected digital way.
How do you think digital is going to change businesses in the next 5 years?
Traditional business will fall away. Companies are going to find it really hard to stay relevant unless they keep evolving. That's why it is so exciting to be part of a digital transformation business at this time.