Striata Unveils a New Logo, New Website
Published on 24 Mar 2014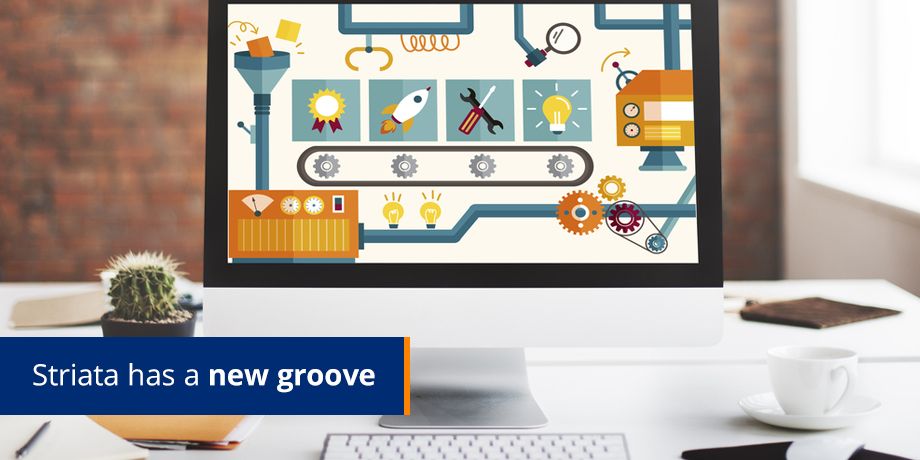 Striata, a global leader in Secure Electronic Customer Communication Management (SECCM) recently unveiled its brand new logo and website. "Striata has a new groove!" says Michael Wright, CEO Striata. "Last year we revisited our positioning to ensure our messages to market are still relevant. Through this exercise, we realized it was time to give our brand a 'facelift' – without losing our identity. This led to the creation of a brand new logo and great new functional website."
Striata's New Groove
The Logo

"We thrive on innovation and constantly adapt to the changing technology landscape and needs of our market, and we felt that updating our brand would strongly reflect this philosophy," says Wright.
Striata's new logo is more contemporary, with a slight slant forward – this represents constant innovation and forward thinking. The letters are bold and striking, which is representative of its commitment to clients in terms of delivering both proven solutions and cutting edge methodologies.
The Website
Striata's new website enables easy navigation via a slick new user interface. It has also been built around a responsive framework ensuring that it is has been optimized for all digital devices.
Wright emphasizes that the main goal behind Striata's website re-vamp was to enable a great user experience with up to date relevant content. "We designed it specifically with the user in mind – this included allowing for smooth navigation across all devices."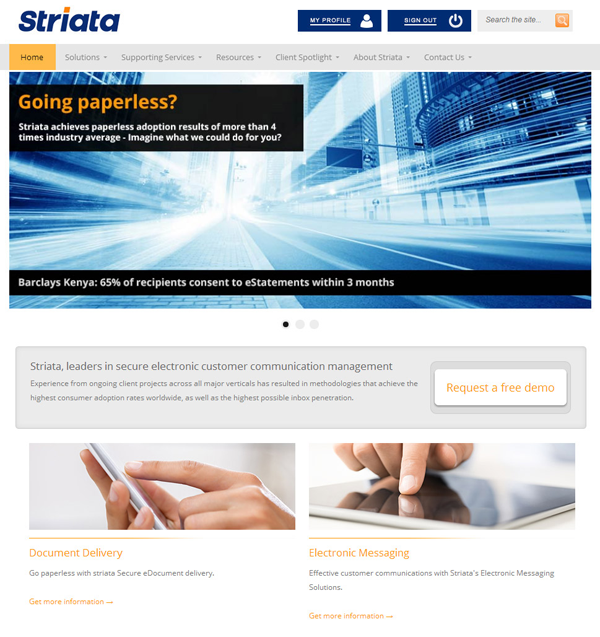 The new Striata website is packed with valuable information and resources, including white papers, case studies, weekly updates to the blog, newsletters, demos and more… all of which are easily accessible.
Punchy copy and tons of images – all of which have also been revamped with Striata's new look and feel – allow for easy comprehension of Striata's solutions and services.
Industry specific solutions – organizations from various industries will find information on Striata solutions and services specifically crafted to meet the needs of their respective industries under the 'Industry Specific Solutions' tab.
Industry specific demos – Striata enables users to experience Striata email document delivery solutions for themselves via great, functional industry specific demos that are accessible and available via the new website.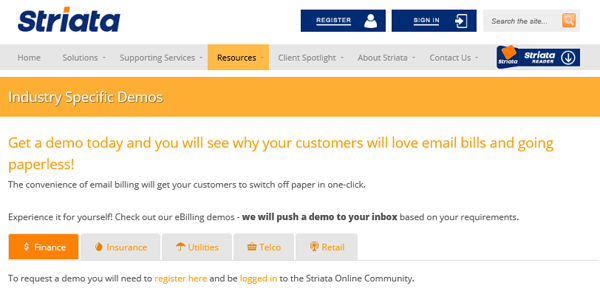 The website will be updated regularly with fresh, informative content. Says Wright, "We encourage users to register and login and join our online community. This way they can receive regular, up- to-date news & valuable information directly in their inboxes – including newsletters, blog posts and new resource announcements."
Users can select the email communications they wish to receive via a preference center which they have instant access to upon registration.
"Striata is sporting a new look, but our business approach remains the same. Trusted for more than 15 years by 300 clients in 20 countries, this is just another way we are ensuring our clients' paperless journey with us is a successful one!" concludes Wright.