Striata inks partnership with UK-based customer communications specialist, Communisis
Published on 10 Sep 2018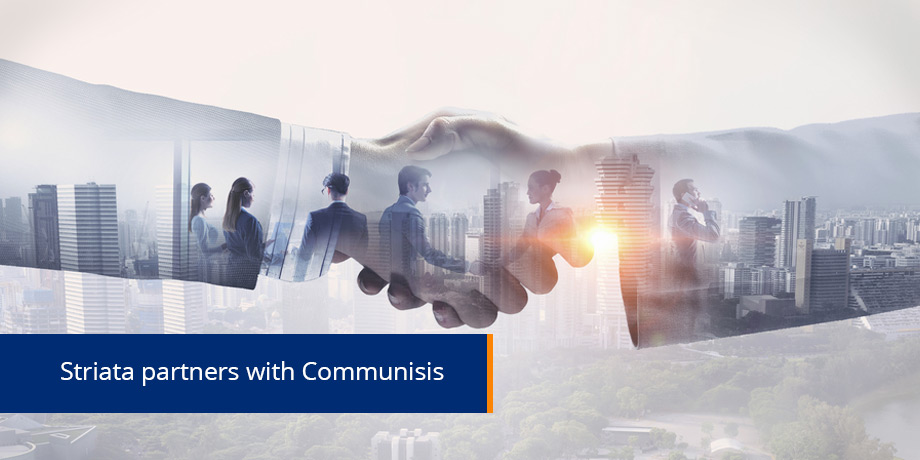 Johannesburg, September 2018 — Striata, a digital communications and document security specialist, has inked a partnership deal with UK-based customer communications specialist, Communisis.
As a result of the partnership, the two companies have created an integrated solution that helps companies in the banking, financial services, and healthcare spaces accelerate their digital transformation efforts. Importantly, it makes it easier to go paperless in scenarios where enterprise digital maturity may prevent wholesale improvements to customer experience, or where large groups of customers prove difficult to switch to digital channels.
The new integrated platform combines Striata's capabilities in creating secure, digitally interactive documents with Communisis' existing communications infrastructure, enabling all channels to be managed centrally and securely.
This means that organisations in these industries can provide their customers with interactive, easy-to-understand communications in an easily accessible manner.
The interactive nature of these secure documents, which include invoices, bills, statements and other customer communications, allows access to new levels of customer insight and engagement.
As a mark of how ready the industry is for this combination of technologies, two high-profile UK banks are already live on the platform.
According to Striata CEO Michael Wright, the partnership "has huge potential and will fulfill a vital need for businesses in regulated markets that is currently going unanswered".
"Communisis sets the industry standard when it comes to customer communications," he says, "and combining our digital expertise with their track record of delivering tailored solutions is an exciting prospect".
According to Nic Sheen, Group Solutions Director at Communisis, the partnership puts the two companies in a "awesomely excellent" position in the UK market.
"Sectors like financial services and healthcare are crying out for a more responsive way to speak to customers, while wrestling with very restrictive regulations around privacy and security," he says. "Working with Striata means we are now able to offer this as an end-to-end service."