Michael Wright - South African concept still best on the market
Published on 13 May 2015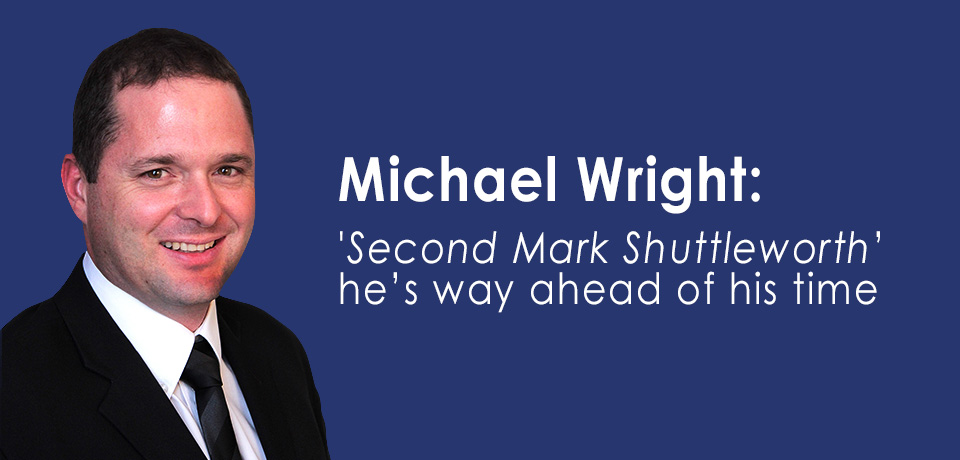 'Second Mark Shuttleworth' he's way ahead of his time
*By Vida Booysen Netwerk24, Sunday, May 10, 2015
He has been described as South Africa's second Mark Shuttleworth , but Michael Wright of Striata is a technology entrepreneur in his own right. He speaks with Vida Booysen.
What is one of the hardest things for a South African entrepreneur, when wanting to make a breakthrough in the international market?
It's to stop thinking in rands and cents and not to go "OUCH" when an expense is incurred in pounds or dollars.
Michael Wright is the founder of Striata, an organization that has enabled South African banks to send statements via e-mail, as encrypted attachments, since 2002.
He has been living in London for the past six years, where his company also has extensive business interests.
"It is only in the past two years that I have stopped converting all costs and just started doing calculations in pounds, so I don't cringe every time I realize how much of my South African profit I will be investing," Wright says via Skype from his office in London.
What is Striata?
Striata started in 1999 as an email company, and soon started specializing in electronic statements. Read more about Striata here.
By 2001 Wright and his young partners, launched the first encrypted e-reader in South Africa – incidentally one of the first worldwide that has been successfully developed commercially. The same team that started Striata 15 years ago is still at the helm.
South African customers include banks, namely Standard Bank and Absa, as well as companies such as MultiChoice and Liberty.
The breakthrough was the development of a symmetrical, encrypted system so advanced that it could not be cracked.
For the first time, a company could issue a statement to a customer safely and without the need for them to login on a web portal with a password to access their confidential banking information.
South African banks have adopted ed this method since 2002, long before the rest of the world and even today, it is the world's leading and most advanced e-mail encryption system.
The e-reader saves companies more than half of their paper costs and in a world where communication is increasingly taking place electronically, Striata is gaining more customers in international markets, namely the, UK, US, Australia, Singapore and Hong Kong.
Breakthrough
Wright says that it took a lot of patience to make a breakthrough in the international market, since his technological solution was ahead of its time.
"Back then, you could send a 40 bit encrypted PDF document as an attachment, which could easily be deciphered – because the regulation in the US states that you may not send any encrypted document that exceeds this limit. Their safety authorities wanted the first crack at it, "says Wright.
It took him two years of hard work to recruit his first UK customer, "and it was only a small client." Wright's immediate South African success had him firmly believing in the viability of the product .
He had no private investors available and therefore followed a very conservative strategy by using only one pioneer client in a specific industry, for example.
"We still follow this approach, but in countries where the language is not English, such as Indonesia, we are looking for local partners who have already established a customer base."
Wright says people look at technology success stories like Über or Slack and think they are overnight wonders. "Every year millions of these ventures start and only a few that launch at the right time and place, push the right product into the market. Luck plays a role, but it also takes years of hard work to make the breakthrough. "
Shuttleworth and Musk
Young South African entrepreneurs in recent years have made their voice (and wallet) heard in the global technology industry.
Think of names like Mark Shuttleworth, who sold his company, Thawte, for about R3.5 billion in 1999, Willem Botha, who started Mosaic Software, or the South African-born Elon Musk, who along with Roelof Botha established the electronic payment service PayPal.
Read: Runaway response to Tesla's new battery
When Wright, a former pupil of Jeppe High School for Boys, was asked why South African technology entrepreneurs performed exceptionally well overseas, there was a broad smile on his face long before Skyped conveyed his response…
"South Africans live by the quote of 'n' Boer maak n' plan' which translates as 'a farmer makes a plan'. In the USA you would pay a consultant to give you options and then pay someone else again, with experience , to choose one of those options. South African entrepreneurs will never do this. We know nobody will help us, so we simply work the options out ourselves – and then carry it further. "
It will take Striata's competitors 13 years of hard work to catch up on the 'farmers plan' that Wright has perfected.
*This is a translation of the original article , '2de Mark Shuttleworth' sy tyd ver vooruit – Network24