Aspire Customer Communications Management Leaderboard 2020
Published on 07 May 2020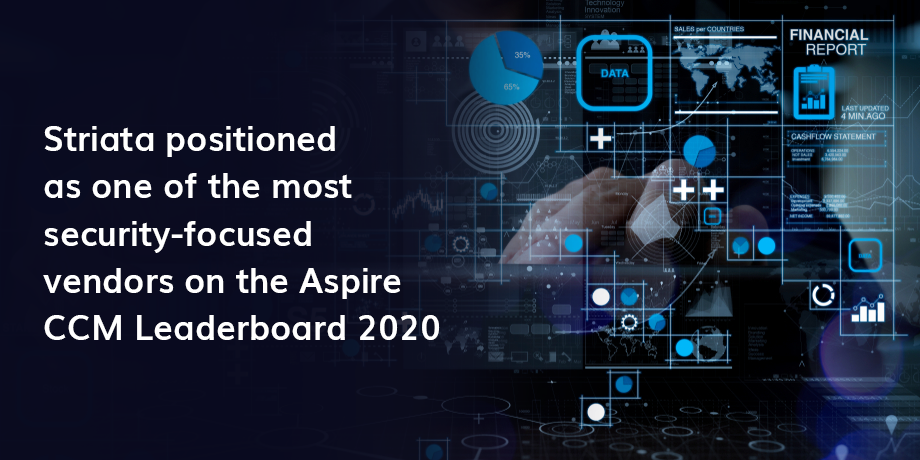 The 2020 Aspire Leaderboard of leading Customer Communications Management (CCM) Vendors has been released, and it positions Striata as one of the most security-focused vendors on the Leaderboard.
Aspire is a consultancy specializing in the Customer Communications Management (CCM) and Digital Customer Experience (DCX) industries, offering organizations deep market expertise and global insights into CCM. The Aspire Leaderboard is a vendor positioning tool that ranks vendors across the CCM industry according to their capabilities and vision.
The 2020 Leaderboard recognizes Striata for its strength in secure digital document presentment and delivery, including its ability to enhance data privacy compliance. It notes that Striata has made several recent advancements, mainly related to multifactor authentication and enhancements in encryption key management.
In Aspire's analysis of Striata, it cites its ability to transform static print communications into interactive and secure digital experiences as a key positioning. It also mentions the hyper-personalization of customer communications, and the impact this has on creating a better customer experience and driving higher engagement.
The Aspire Leaderboard positions Striata as a quick and cost-effective solution to deliver secure print-to-mobile migration at scale. It is also seen as an excellent fit to help drive customer communication transformation, as well as secure digital delivery and optimization to help organizations digitally transform complex customer communication streams. 
Access Striata's full review here https://www.aspireleaderboard.com/review-of-striata 
The full Aspire Leaderboard can be found here.
(Once-off registration is required to access the Aspire website)
Aspire Disclaimer
The Aspire Leaderboard™ is copyrighted by Aspire Customer Communications Services Ltd. and is based on the findings and opinions of Aspire's consultancy organization. Aspire does not endorse any vendor, product or service included in the Aspire Leaderboard. For tailored RFP support please contact the Aspire team here.
About Aspire
Aspire Customer Communications Services is a boutique consulting firm specializing in the Customer Communications Management (CCM) and Digital Customer Experience (DCX) industries. Through deep market expertise and global insights, Aspire works with technology providers, service providers, enterprises and investors to help them achieve their CCM goals. Find more information about how Aspire is helping organizations navigate the complexities of the customer communications world at http://www.aspireccs.com.